E-book
Samsung Galaxy Tab 4 NOOK For Dummies
ISBN: 978-1-119-00836-1
288 pages
October 2014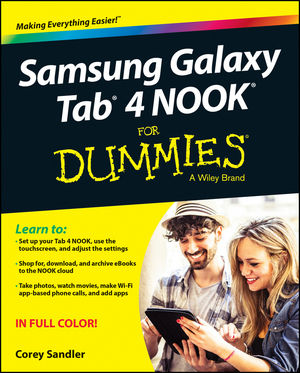 Your guide to the new Samsung Galaxy Tab 4 NOOK
Samsung Galaxy Tab 4 NOOK For Dummies provides you with all the information you need to get the most out of your NOOK tablet. You'll quickly get up to speed on the basics, like using the touchscreen technology, setting up wireless access, and performing software updates. Then you'll get introduced to the fun stuff: downloading and shopping for e-books, using the built-in web browser, streaming videos from Netflix, Hulu, and other sources, and creating cool slideshows of photos from your digital camera. If that's not enough to pique your interest, you'll find out how to use the Android-based applications that come with the Samsung Galaxy Tab 4 NOOK, interact with the device using the built-in microphone, create your own e-books, archive your e-books, and so much more!
Bringing together the absolute best of two worlds, the Samsung Galaxy Tab 4 Nook is a co-branded e-reader tablet produced by Samsung and Barnes & Noble. By teaming up with a thriving hardware brand, the creators of the NOOK have been able to focus on developing a more competitive device, giving you a better-performing and sleeker user-experience. With the help of this book, you'll get expert guidance on discovering everything this cool new tablet has to offer.
Four-color design brings the information to life
Offers clear instruction on navigating the touchscreen, browsing the web, and staying connected with email
Covers the latest books, apps, magazines, and more
Provides step-by-step guidance on streaming video, playing music, and reading e-books
If you've just purchased this awesome new device and want to find out everything it can do for you, you'll find Samsung Galaxy Tab 4 NOOK For Dummies out of this world.
See More
Introduction 1
Part I: Getting Started with Samsung Galaxy Tab 4 NOOK 5
Chapter 1: The First NOOK in the Galaxy 7
Chapter 2: Laying Hands on the Screen 25
Chapter 3: Typing by Tapping, Talking, Swiping 43
Chapter 4: Getting Set to Go 55
Part II: Communicating Across the Galaxy 77
Chapter 5: Making Further Connections 79
Chapter 6: Putting in Your Contacts 93
Chapter 7: We've All Got Email 109
Chapter 8: Using the Galaxy to Go World Wide (Web) 123
Part III: Reading Electronics 147
Chapter 9: Looking into the NOOK Library 149
Chapter 10: Finding Other eBook Sources 179
Part IV: Throwing in the Kitchen Sink: Camera, Video, and Music 189
Chapter 11: Snapping Pictures 191
Chapter 12: Getting into the Gallery 209
Chapter 13: Singing and Dancing in the Galaxy 221
Part V: The Part of Tens 233
Chapter 14: Ten Apps to Take Advantage Of 235
Chapter 15: Ten Steps to Maintaining the Galaxy 245
Chapter 16: Ten Galaxy Tips and Tricks 251
Index 257
See More
Corey Sandler is a pioneer in computer journalism. The first executive editor of PC Magazine, he also helped found several other technology publications and spent time as an Associated Press correspondent. Corey has written numerous computer books, including several in the For Dummies series.
See More