Salesforce Service Cloud For Dummies
ISBN: 978-1-119-01068-5
384 pages
March 2015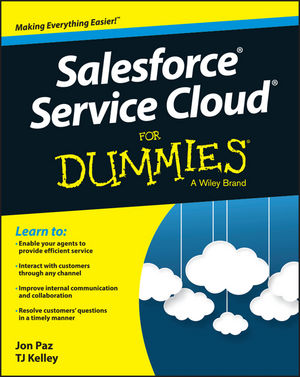 Learn how to provide top-grade customer service anywhere, anytime with Salesforce Service Cloud
Salesforce Service Cloud empowers your service organization to interact with customers through any channel and provide an individualized experience that will be worth sharing—for your customers and for your company. Salesforce Service Cloud For Dummies is one the first books to focus specifically on Salesforce Service Cloud software. With it, you'll discover how to set up a sophisticated support center for your business in a matter of a few hours. Whether you're a service executive, manager, support agent, or system administrator, you will discover how to maximize usage of Service Cloud through best practices and step-by-step guidelines. This book will help your customer service departments gain a holistic view of the customers they serve, and provide your customers with meaningful, efficient interactions.
Examines how to enable your agents to provide efficient service
Discusses how to interact with customers through any channel
Offers insights on improving internal communication and collaboration
Shows how to resolve customer's questions in a timely manner
Take advantage of this opportunity to be heard above your competition with the help of Salesforce Service Cloud For Dummies.
See More
Introduction 1
Part I: Getting Started with Salesforce Service Cloud 5
Chapter 1: Solving Business Challenges with Service Cloud 7
Chapter 2: Navigating Service Cloud 15
Chapter 3: Personalizing Service Cloud 35
Part II: Handling Customer Issues 49
Chapter 4: Creating and Managing Cases 51
Chapter 5: Solving Cases Efficiently 69
Chapter 6: Collaborating on Cases 95
Part III: Improving Your Service Organization's Effectiveness 111
Chapter 7: Capturing Cases in a Multi-Channel World 113
Chapter 8: Managing a Contact Center with Service Cloud Console 131
Chapter 9: Implementing the Service Cloud Console 139
Part IV: Leveraging Your Organizational Knowledge 151
Chapter 10: Planning Your Knowledge Implementation 153
Chapter 11: Setting Up Salesforce Knowledge 163
Chapter 12: Managing and Categorizing Articles 181
Part V: Recognizing When It Takes a Community 203
Chapter 13: Understanding Communities 205
Chapter 14: Creating a Community 215
Chapter 15: Optimizing Your Community 231
Part VI: Measuring Contact Center Performance 253
Chapter 16: Understanding Key Salesforce Contact Center Reports 255
Chapter 17: Customizing Reports 263
Chapter 18: Building Contact Center Dashboards 271
Part VII: Designing Your Service Solution with Forcecom 287
Chapter 19: Understanding the Configuration for Your Business 289
Chapter 20: Customizing Service Cloud with Forcecom 305
Chapter 21: Extending beyond Service Cloud 325
Part VIII: The Part of Tens 333
Chapter 22: Ten Questions to Ask Before Implementing Knowledge 335
Chapter 23: Ten Bad Habits to Leave with Your Legacy System 341
Index 347
See More
After working with various clients and industries to implement Service Cloud, Jon Paz has witnessed first-hand the transformative value of the product and evangelizes the need for it across verticals. TJ Kelley is a Salesforce.com partner and certified Service Cloud consultant.
See More