Rossi's Principles of Transfusion Medicine, 5th Edition
ISBN: 978-1-119-01299-3
754 pages
May 2016, Wiley-Blackwell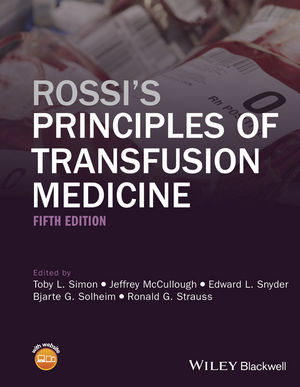 Rossi's Principles of Transfusion Medicine
is the most comprehensive and practical reference on transfusion science and medicine available
Led by a world class Editor team, including two past-presidents of AABB, a past- President of the American Board of Pathology and members of the FDA Blood Products Advisory Committee , and international contributor team
Comprehensive reference resource, considered the gold standard in transfusion
Covers current hot topics such as donor care – including the frequency of donation and management of iron deficiency/status), patient blood management, hemovigilance, cstem cell therapies, and global aspects of the organization of transfusion and transplant services
New material on molecular immunohematology
Companion website includes figures, full text and references
See More
1 Transfusion in the New Millennium
Ennio C. Rossi, Toby L. Simon
Section I. Contemporary Issues in Donation and Transfusion
2 Patient Blood Management
Darrell J. Triulzi, Mark H. Yazer, J.H. Waters
3 Clinical and Technical Aspects of Blood Administration
Eric Gehrie, Jocelyn Chandler, Edward Snyder
4 Recruitment and Screening of Donors and the Collection, Processing, and Testing of Blood
Kendall P. Crookston, Aaron E. Pritchard, Toby L. Simon
5 Adverse Reactions and Iron Deficiency after Blood Donation
Anne F. Eder, Joseph E. Kiss
6 Donor Vigilance and Hemovigilance
Øystein Flesland, Johannna C. Wiersum-Osselton
7 Global Perspective on Ensuring Blood and Blood Product Safety and Availability
Paul D. Mintz, Mark J. Weinstein
Section II. Blood Components and Derivatives
Part I. Red Blood cells
8 Red Blood Cell Production and Kinetics
Mark J. Koury
9 Red Blood Cell Metabolism, Preservation and Oxygen Delivery
John R. Hess, Bjarte G. Solheim
10 Anemia and Red Blood Cell Transfusion
Jeffrey L. Carson, Paul Hébert
11 Sickle Cell Anemia, Thalassemia and Congenital Hemolytic Anemias
Keith Quirolo, Elliott Vichinsky
12 Autoimmune Hemolytic Anemias and Paroxysmal Nocturnal Hemoglobinuria
Andrea M. McGonigle, Paul M. Ness, Karen E. King
13 Carbohydrate Blood Groups
Laura Cooling
14 Rh and LW Blood Groups
Connie M. Westhoff, Don L. Siegel
15 Other Protein Blood Groups
Jill R. Storry
16 Red Cell Immunology and Compatibility Testing
Connie M. Westhoff
Part II: Platelets
17 Platelet Production and Kinetics
Christopher A. Tormey, Henry M. Rinder
18 Platelet Immunology and Alloimmunization
Janice G. McFarland
19 Preparation, Preservation, and Storage of Platelet Concentrates
Ralph R. Vassallo, Jr.
20 Thrombocytopenia and Platelet Transfusion
Mike F. Murphy, Simon Stanworth, Lise Estcourt
21 Management of Immune-Mediated Thrombocytopenia
Donald M. Arnold, Ishac Nazi, James W. Smith, Theodore E. Warkentin
Part III: White Blood Cells
22 Neutrophil Production and Kinetics: Neutropenia and Neutrophilia
Lawrence Rice and Miho Teruya
23 Neutrophil Collection and Transfusion
Ronald G. Strauss
24 Leukocyte-Reduced Blood Components: Laboratory and Clinical Aspects
Tor Hervig, Jerard Segatchian
Part IV Plasma
25 Composition of Plasma
Peter Hellstern
26 Plasma and Cryoprecipitate for Transfusion
Simon J. Stanworth, Alan T. Tinmouth
27 The Purification of Plasma Proteins for Therapeutic Use
Joseph Bertolini
28 Recombinant Products for the Treatment of Hemophilia: Recent Advances
Michael Wilson, Andrew Nash, Iris Jacobs, Arna Andrews
29 Coagulation Factor Concentrates for Inherited Bleeding Disorders
Gary M. Woods, Amy L. Dunn
30 Coagulation Factor Concentrates and Pharmacologic Therapies for Acquired Bleeding Disorders
Neil Shah, Lawrence Tim Goodnough
31 Immunoglobulin Products
Melvin Berger
Section III: Apheresis, Transplantation, and New Therapies
32 Apheresis: Principles and Technology of Hemapheresis
Edwin A. Burgstaler, Jeffrey L. Winters
33 Therapeutic Apheresis
Bruce McLeod, Shanna Morgan, Jeffrey McCullough
34 Therapeutic Phlebotomy and Specialized Hemapheresis
Jeffrey A. Bailey, Robert Weinstein
35 Hematopoietic Growth Factors
David J. Kuter
36 Hematopoietic Stem Cells and Cord Blood
Jeffrey McCullough
37 Hematopoietic Stem Cell Transplantation
Sameh Gaballa, Amin Alousi, Sergio Giralt, Richard Champlin
38 Gene Therapy Applications to Transfusion Medicine
Eric A. Gehrie, Alexey Bersenev, Emanuela Bruscia, Diane Krause, Wade Schulz
39 HLA Antigens and Alleles
Christian Naper, Bjarte G. Solheim
40 Tissue Banking
Ralph M. Powers, Jeanne V. Linden
41 Adoptive Immunotherapy
Sarah M. Drawz, Jeffrey S. Miller, David H. McKenna
42 Tissue Engineering and Regenerative Medicine
Sumati Sundaram, Joshua Siewert, Jenna Balestrini, Ashley Gard, Kevin Boehm, Elise Wilcox, Laura Niklason
Section IV. Specialized Clinical Practice
Part I: Obstetrics and Pediatrics
43 Obstetric Transfusion Practice
Marieke B.Veenhof, Jos J.M. van Roosmalen, Anneke Brand
44 Fetal and Neonatal Hematopoiesis
Robert D. Christensen, Martha C. Sola-Visner
45 Hemolytic Disease of the Fetus and Newborn
Bjarte G. Solheim, Morten Grönn, Thor Willy Ruud Hansen
46 Red Blood Cell Transfusions for Neonates and Infants
Ronald G. Strauss
47 Platelet and Plasma Transfusions for Infants and Children
Jeanne E. Hendrickson, Cassandra D. Josephson
Part II: Surgery and Trauma
48 Perioperative Transfusion Needs
Leanne Clifford, Daryl J. Kor, James R. Stubbs
49 Transfusion Therapy in the Care of Trauma and Burn Patients
John R. Hess, John B. Holcomb, Steven E. Wolf, Michael W. Cripps

Part III: Oncology
50 Transfusion Support for the Oncology Patient
Wade L. Schulz, Edward L. Snyder
Section V. Hazards of Transfusion
Part I: Infectious Hazards
51 Transfusion Transmitted Virus Infections (TTVI)
Erhard Seifried, Michael Schmidt
52 Transfusion Transmission of Parasites
Bryan R. Spencer
53 Bacterial Contamination of Blood Components
Richard J. Benjamin
54 Prion Diseases
Marc L. Turner
55 Testing for Pathogens in Donors
Tho D. Pham, Susan A. Galel
56 Pathogen Reduction of Blood Components and Plasma Derivatives
Nathan J. Roth
Part II: Other Hazards
57 Hemolytic Transfusion Reactions
Robertson D. Davenport, Martin H. Bluth
58 Febrile, Allergic, and Non-immune Transfusion Reactions
Emmanuel Fadeyi, Gregory J. Pomper
59 Transfusion-Related Lung Injury
Ulrich J. Sachs, Jonathan P. Wallis
60 Transfusion-Associated Graft Versus Host Disease
Eric Gehrie, Edward Snyder, Alex Ryder
61 Transfusional Iron Overload
Sujit Sheth
62 Immunomodulatory and Pro-Inlammatory Effects of Allogeneic Blood Transfusion
Eleftherios C. Vamvakas, José O. Bordin, Morris A. Blajchman
See More
Dr. Toby Simon is senior medical director at CSL Behring, a biotherapeutics company that is a world leader in fractionation of plasma for blood derivatives. He has previous experience in both blood centers and transfusion services and did research in transfusion medicine for many years at the University of New Mexico School of Medicine and has most recently been a consultant to the NIH REDS II program. He is a past president of AABB and America's Blood Centers. He served on the American Board of Pathology Transfusion Medicine Test Development and Advisory Committee for over 25 years and is currently in his second term as Inudstry Representative on the FDA Blood Products Advisory Committee.
Dr. Jeffery McCullough is professor of laboratory medicine and pathology at the University Of Minnesota School Of Medicine where he has been since 1978 including service as Medical Director of the hospital blood bank.. He directed the entire American Red Cross Blood Program in the past and has also served as President of the American Board of Pathology and several terms as editor of Transfusion. He has directed national research programs and published extensively including a single authored book in Transfusion Medicine published by Wiley.
Dr. Edward Snyder is professor of laboratory medicine at Yale University School of Medicine. He also serves as associate chair of his department for clinical affairs and director of apheresis/transfusion service and blood bank. He was an editor of the third and fourth editions of this text. He is a past-president of AABB. He has published extensively and is currently an investigator in the NIH REDS III project.
Dr. Bjarte Solheim is Professor Emeritus at the Institute of Immunology at Rikshospitalet University Hospital and University of Oslo School of Medicine in Oslo, Norway. He was an editor of the fourth edition and was instrumental in making this text an international one by recruiting many European authors. While officially retired, he remains active in clinical and research aspects of transfusion medicine.
Dr. Ronald Strauss is Professor Emeritus of Pathology and Pediatrics at the University Of Iowa School Of Medicine. Since his retirement from Iowa he has remained active in transfusion medicine research and has also been serving as associate medical director of LifeSource/Institute of Transfusion Medicine in Chicago. He serves on the American Board of Pathology Transfusion Medicine Test Development and Advisory Committee. He has a long research career with several NIH grants and roles in national research studies. He was an editor of the third and fourth editions.
See More
The book has been substantially revised and updated, making it even more a patient-oriented publication with challenging contributions on advanced treatment modalities, including gene therapy, tissue engineering, and regenerative medicine.

The book clearly demonstrates the current position of transfusion medicine, bridging the bedside with
the community.
Those experienced and interested in the field of transfusion medicine as well as those who want to explore the field are urged to use this comprehensive, patient-oriented book on the principles of transfusion medicine for the continued development and improvement of their practices, including the teaching and mentoring of students and learners. This jubilee edition brings the reader right in the middle of this exiting, but still young and rapidly expanding, field of health sciences transfusion medicine. (International Journal of Clinical Transfusion Medicine review- November 2016)
"The book s greatest strength is its section on apheresis, transplantation and new therapeutic methods, which introduces the reader to a number of areas at the frontier of medicine...It is still slanted towards the USA, but also has much to offer practitioners in transfusion medicine and clinicians with an interest in transfusion medicine in other countries." (The Journal of the Norwegian Medical Association 24/02/2017)
See More