E-book
QuickBooks Online For Dummies
ISBN: 978-1-119-01611-3
312 pages
January 2015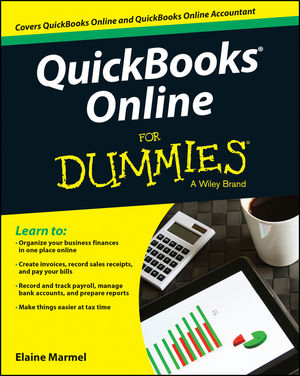 The fast and easy way to manage the books with QuickBooks Online
Searching for a cloud-based accounting solution for your small business? Use this guide to master the fundamentals of QuickBooks Online—the world's most popular software for fast and easy mobile accounting! Inside, you'll find hands-on, practical guidance for using QuickBooks Online to build the perfect budget, process payroll, simplify tax return preparation, create invoices and credit memos, and manage inventory. Plus you'll discover how to track job costs, generate income statements and financial reports, and balance accounts—all with quick and easy access to this cloud-based software. All you'll need is an Internet connection!
QuickBooks Online allows small businesses to manage their accounting and financial tasks and easily collaborate with their accountant or bookkeeper. Now, QuickBooks Online brings all of the software's convenient tools to your browser, which you can use at any time and from any device. QuickBooks Online For Dummies takes the intimidation out of this new technology and shows you how to make it work—painlessly and productively—for you and your small business. It doesn't get easier than that!
Find out how to organize your finances in one place
Create invoices, record sales receipts, and pay your bills
Track inventory, figure job costs, and create reports to monitor your business
Use QuickBooks Online to take the stress out of tax season
This book covers QuickBooks Online and QuickBooks Online Accountant
If you're a small business owner, manager, or employee looking for a fast, affordable, convenient way to manage your company's finances, QuickBooks Online For Dummies has everything you need to get up and running fast.
See More
Introduction 1
Part I: Getting Started with QBO and QBOA 5
Chapter 1: Introducing QBO and QBOA 7
Chapter 2: Embracing the QBO/QBOA Format 15
Part II: Managing the Books for the End User 25
Chapter 3: Creating a Client Company in QBO 27
Chapter 4: Managing List Information 49
Chapter 5: Dealing with the Outflow of Money 67
Chapter 6: Managing the Inflow of Money 85
Chapter 7: Working in Registers 109
Chapter 8: Handling Bank and Credit Card Transactions 117
Chapter 9: Paying Employees 135
Chapter 10: How's the Business Doing? 155
Part III: Managing the Books for the Accountant 169
Chapter 11: Setting Up Shop in QBOA 171
Chapter 12: Adding Companies to the QBOA Client List 189
Chapter 13: Exploring a Client's Company from QBOA 209
Chapter 14: Working in a Client's Company 219
Chapter 15: Using Accountant Tools 231
Part IV: The Part of Tens 241
Chapter 16: Almost Ten Things about the Chrome Browser Interface 243
Chapter 17: Ten Ways to Use Chrome Effectively 255
Index 273
See More
Elaine Marmel is President of Marmel Enterprises, LLC, an organization specializing in technical writing and software training. She has authored or coauthored more than 90 books on QuickBooks, Quicken, Peachtree, Windows, and various Microsoft products.
See More