Contracting-out Welfare Services: Comparing National Policy Designs for Unemployment Assistance
ISBN: 978-1-119-01649-6
184 pages
February 2015, Wiley-Blackwell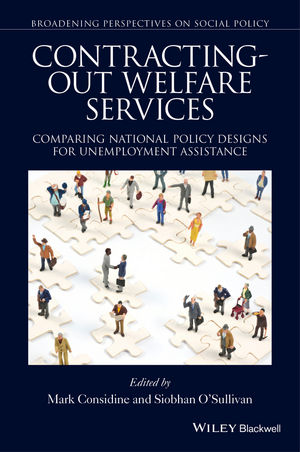 Contracting-out Welfare Services focuses on the design and overhaul of welfare-to-work systems around the world in the light of the radical re-design of the welfare system; internationally based authors utilise a national/program case study, considering employment services policy and activation practices.


International contributors bring a global comparative perspective to the subject
Contributors are all experts in their field, who also draw on a much longer intellectual legacy
Uses employment services as a case study to advance understanding in relation to a host of broader principles and concepts
Each paper included within the text uses a national/program case study, and each considers employment services policy in general, and activation practices in particular
See More
List of Contributors vii
Introduction: Contracting ]out Welfare Services: Comparing National Policy Designs for Unemployment Assistance 1
Mark Considine and Siobhan O'Sullivan
1 Local Worlds of Marketization – Employment Policies in Germany, Italy and the UK Compared 11
Katharina Zimmermann, Patrizia Aurich, Paolo R. Graziano and Vanesa Fuertes
2 Varieties of Market Competition in Public Employment Services – A Comparison of the Emergence and Evolution of the New System in Australia, the Netherlands and Belgium 33
Ludo Struyven
3 Governance, Boards of Directors and the Impact of Contracting on Not-for-profits Organizations – An Australian Study 55
Mark Considine, Siobhan O'Sullivan and Phuc Nguyen
4 Quasi-markets and the Delivery of Activation – A Frontline Perspective 75
Rik van Berkel
5 Conditionality and the Financing of Employment Services – Implications for the Social Divisions of Work and Welfare 91
Isabel Shutes and Rebecca Taylor
6 Support for All in the UK Work Programme? Differential Payments, Same Old Problem 109
James Rees, Adam Whitworth and Elle Carter
7 Broken Hierarchies, Quasi-markets and Supported Networks – A Governance Experiment in the Second Tier of Germany's Public Employment Service 129
Matthias Knuth
8 The Public Accountability of Privatized Activation – The Case of Israel 151
Avishai Benish
Index 167
See More
Mark Considine is Professor of Political Science and Dean of Arts at the University of Melbourne. He has a long-standing interest in employment services having studied the evolution of the Australian, UK and Dutch systems over many years. He has published widely in the field, including Enterprising States: The Public Management of Welfare-to-Work (2001) and Making Public Policy: Institutions, Actors, Strategies (2005).

Siobhan O'Sullivan is a Research Fellow in the School of Social and Political Sciences at the University of Melbourne, where her research specialises in the delivery of employment services in Australia, the UK and the Netherlands. She is the author of Animals, Equality and Democracy (2011).
See More
More in this series