Football For Dummies, 5th Edition
ISBN: 978-1-119-02263-3
384 pages
May 2015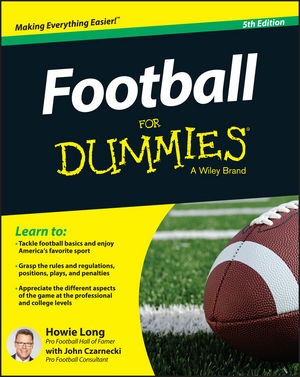 Tackle everything about football with this comprehensive guide from the pros!
Always wanted to understand football, but don't know your X's from your O's? Football For Dummies has you covered! This fun, easy-to-read guide offers a comprehensive overview of the game. Former professional player and current NFL analyst Howie Long teams up with professional football consultant John Czarnecki to guide you through the game like no one else can, with analysis of football positions, basic and advanced offensive and defensive strategies, and the latest updates to the game and the rules. Learn about the latest NFL stadium technologies, new stars in the game, and get details about football that apply to every level, from pee wee to high school, college, and the pros!
Perfect for both knowledgeable fans as a reference, or to those new to the sport, this fun guide makes learning football easy. Jump in and you'll be talking the football talk in no time!
Offers a perfect comprehensive and updated guide to football for both new fans and old pros
Provides detailed explanations of positions, offensive and defensive plays, and analysis of approaches to various game situations
Includes updated content on new stadium technology, new players, and the latest rules and regulations
Packed with information that's applicable for every level
Dive right in to Football For Dummies to get the latest in-depth analysis to the most popular sport in America!
See More
Introduction 1
Part I: Getting Started with Football 5
Chapter 1: America's Greatest Game 7
Chapter 2: Meet Me on the Gridiron 17
Chapter 3: Them's the Rules (And Regulations) 31
Part II: Go, Offense! 59
Chapter 4: The Quarterback, Football's MVP 61
Chapter 5: The Passing Game 77
Chapter 6: Hitting the Ground Running 91
Chapter 7: The Offensive Line at Work in the Trenches 111
Chapter 8: Examining Offensive Plays and Strategies 125
Part III: The Big D 151
Chapter 9: These Guys Are Huge: The Defensive Line 153
Chapter 10: The Secondary: Last Line of Defense 169
Chapter 11: Delving into Defensive Tactics and Strategies 187
Part IV: Meet the Rest of the Team 205
Chapter 12: Special Teams, Masters of the Kicking Game 207
Chapter 13: Coaches, General Managers, and Other Important Folks 229
Part V: Football for Everyone 241
Chapter 14: Armchair Quarterbacks and Other Fabulous Fans 243
Chapter 15: Youth Leagues and High School Football 253
Chapter 16: College Football — Where It All Started 263
Chapter 17: Taking a Look at the NFL (And Other Professional Leagues) 277
Chapter 18: Playing Fantasy Football 293
Part VI: The Part of Tens 301
Chapter 19: The Ten (Or So) Greatest Defensive Players of All Time 303
Chapter 20: More Than Ten Top Non ]Quarterback Offensive Players 313
Chapter 21: The Ten Greatest Quarterbacks of All Time 323
Chapter 22: The Ten Greatest Coaches in the History of the Game 331
Appendix 341
Index 353
See More
Howie Long is a former Oakland/Los Angeles Raider defensive end with eight Pro Bowl appearances, one Super Bowl win, and a spot in the Pro Football Hall of Fame. John Czarnecki is a pro football consultant.
See More