Paleo Desserts For Dummies
ISBN: 978-1-119-02280-0
312 pages
May 2015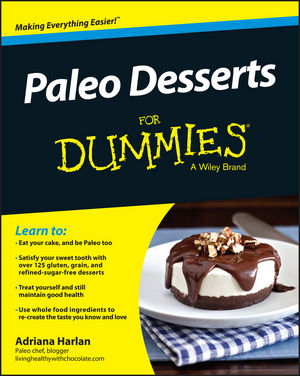 More than 125 simple and sweet recipes for Paleo-friendly desserts
Following a Paleo Diet doesn't mean you have to give up your favorite desserts and treats. Paleo Desserts For Dummies offers up more than 125 tasty and delectable dessert recipes that you can enjoy while staying true to the Paleo lifestyle. From chocolate cake and blueberry muffins to maple-walnut ice cream and cookie dough Oreo cookies—there's something to please every palate in this collection of Paleo-friendly desserts.
The Paleo diet is one of the hottest diet and healthy-eating approaches around, as more and more people discover an appealing and sustainable alternative to the restrictive diets that can lead to burnout and failed weight loss efforts. Using natural foods to achieve great health and a perfect physique, the Paleo diet can lower the risk of cardiovascular disease, blood pressure, and markers of inflammation, as well as help promote weight loss and optimal health. Plus, it has become a lifesaver for the millions of Americans with celiac disease who benefit from eating natural and gluten-free foods.
Provides recipes that are all made with nourishing, whole foods with no added refined sugars, gluten, grains, or soy
Includes Paleo recipes for holiday treats, like chocolate pumpkin pie, Halloween ghost truffles, and a fudgy peppermint bark
Gives you access to a handful of additional Paleo dessert recipes on dummies.com
Helps you discover the healthy alternatives to sugar and chemical-laden junk food
With the satisfying recipes in Paleo Desserts For Dummies, you'll soon discover how sweet it is to give in to primal cravings!
See More
Introduction 1
Part I: Reaping the Benefits of Paleo Desserts 5
Chapter 1: What is Paleo? 7
Chapter 2: The Paleo Kitchen Makeover 23
Chapter 3: The Nuts and Bolts of Paleo Dessert ]Making 39
Part II: Guilt ]Free Paleo Desserts — Time to Get in the Kitchen 59
Chapter 4: Brownies, Bars, and Fudge 61
Chapter 5: Classic Breads 83
Chapter 6: Cakes and Pies 93
Chapter 7: Decadent Chocolates and Truffles 121
Chapter 8: Cookies 143
Chapter 9: Ice Cream and Frozen Treats 169
Chapter 10: Muffins and Cupcakes 191
Chapter 11: Sauces, Fruit Spreads, and Nut Butters 215
Part III: Sweet Holiday Paleo Desserts 225
Chapter 12: Paleo Halloween 227
Chapter 13: Paleo Thanksgiving 233
Chapter 14: Paleo Christmas and Hanukkah 243
Part IV: Part of Tens 253
Chapter 15: Ten Tips for Making Paleo Desserts 255
Chapter 16: Ten Nutritious Paleo Food Substitutions 261
Index 267
See More
Adriana Harlan is the author of the award-winning blog Living Healthy with Chocolate (livinghealthywithchocolate.com), where she shares new recipes and tips for healthy living weekly. Her recipes have been featured in a number of Paleo and gluten-free magazines and blogs around the globe.
See More