E-book
Getting the Job You Want After 50 For Dummies
ISBN: 978-1-119-02285-5
360 pages
August 2015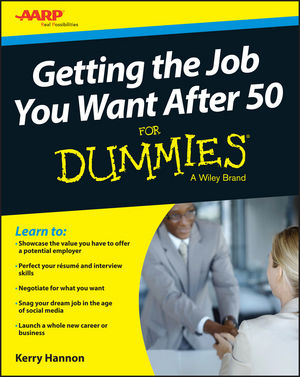 Your guide to navigating today's workplace and snagging that perfect job
Whether you're searching for a new job by choice or necessity, consider this book your life raft. You'll find all the resources you need to job-hunt—from building an online presence and revitalizing your résumé to negotiating a salary and landing that job!
The power of people — harness the power of the people you know — friends and family, former colleagues, social media contacts, and more — to network your way to your next job
Mirror, mirror on the wall — rehab your résumé and cover letter, build a positive online presence, acquire social media street smarts, and market yourself on LinkedIn
Hang your own shingle — join the growing ranks of the self-employed with advice on launching your own business, working as a freelancer, turning a hobby into a profit, and cashing in on your natural gifts
Scope it out — discover which jobs are in demand and expected to grow, what they pay, and whether you're qualified
See More
Introduction 1
Part I: Getting Started with Finding a Job After 50 5
Chapter 1: Scoping Out Your Prospects 7
Chapter 2: Using Skills to Your Advantage 31
Chapter 3: Harnessing the Power of Other People 47
Chapter 4: Tackling Common Financial Issues 69
Part II: Launching Your Job Search 85
Chapter 5: Scoping Out Promising Job Markets 87
Chapter 6: Joining the Growing Ranks of the Self?]Employed 115
Chapter 7: Dealing with Special Circumstances 141
Part III: Marketing Yourself 155
Chapter 8: Rehabbing Your Résumé and Cover Letter 157
Chapter 9: Creating a Strong Online Presence 179
Chapter 10: Marketing Yourself on LinkedIn 205
Chapter 11: Clearing the Application Hurdle 229
Part IV: Taking the Stage: The Interview and Its Aftermath 241
Chapter 12: Prepping for a Job Interview 243
Chapter 13: Acing Your Job Interview 263
Chapter 14: Negotiating for What You Want 279
Part V: The Part of Tens 299
Chapter 15: Ten Great Jobs for Workers Over 50 301
Chapter 16: Ten Common Interview Questions Answered 307
Chapter 17: Ten Steps for Career Changers 313
Index 321
See More
Kerry Hannon (kerryhannon.com) is a nationally recognized authority on career transitions and retirement, a frequent TV and radio commentator, and author of numerous books, including Love Your Job (Wiley/AARP), What's Next? (Berkley Trade/AARP), and Great Jobs for Everyone 50+ (Wiley/AARP). Hannon is AARP's Jobs Expert and a regular contributor to The New York Times, Forbes, and Money magazine.
See More