E-book
Rapid Midwifery
ISBN: 978-1-119-02338-8
136 pages
March 2016, Wiley-Blackwell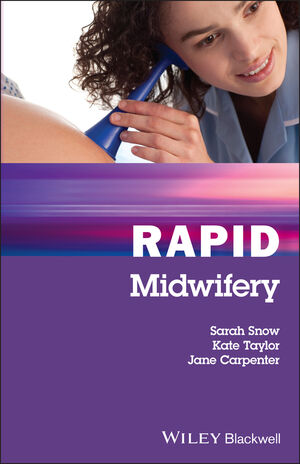 A concise, pocket-sized, rapid reference handbook on all key areas of midwifery, aimed at students and newly qualified staff.
Covers a broad range of midwifery topics which are mapped against the 6Cs essential to compassionate midwifery care
Each section is structured around the key criteria used in midwifery examinations
Bite-sized information supported by the latest evidence-base, making it the perfect revision tool for OSCEs and written examinations
Every chapter includes key points, essentials of midwifery care, professional accountability, and links to further resources
See More
Preface, vii
Acknowledgement, ix
I Antenatal Care, 2
Antenatal Health Assessment, 3
Anxiety and Depression, 6
Bio-physical Tests, 8
Bleeding in Pregnancy, 15
Fetal Growth and Development, 18
Gestational Diabetes Mellitus, 21
Infections in Pregnancy, 23
Intrahepatic Cholestasis of Pregnancy, 33
Minor Disorders of Pregnancy, 35
Pre-conceptual Health, 37
Pre-eclampsia, 39
Preparation for Parenthood, 42
References, 43
II Labour and Birth, 49
First Stage of Labour, 50
Promoting Normality, 58
Second Stage of Labour, 61
Third Stage of Labour, 67
Challenges, 70
Cord Prolapse, 70
Eclampsia, 71
Primary Postpartum Haemorrhage, 74
Shoulder Dystocia, 77
References, 78
III Postnatal Care, 85
Contraception and Sexual Health, 86
Facilitating Breastfeeding, 88
Postnatal Health Assessment, 91
Mental Illness After Childbirth, 94
References, 96
IV Hot Topics, 99
Breech Birth, 100
Domestic Abuse, 104
Obesity, 106
Recognising the Deteriorating Woman, 108
Sepsis, 110
References, 112
Conclusion: Top Tips for Examination Success, 115
Preparation – Revision, 115
Trying a Different Strategy, 116
Being in the Exam, 116
Reference, 117
Index, 119
See More
Sarah Snow, PGCert (teacher health & social care); MSc; BSc; DPSM/ADM; RM; RGN, is principal lecturer and lead midwife for education at Oxford Brookes University.
Kate Taylor, MSc; RM; BSc, is senior lecturer at the University of Worcester.
Jane Carpenter, DPhil; MRes; BSc, is a third year MSc pre-registration midwifery student at Oxford Brookes University.
See More
More in this series