A Companion to the Punic Wars
ISBN: 978-1-119-02550-4
570 pages
May 2015, Wiley-Blackwell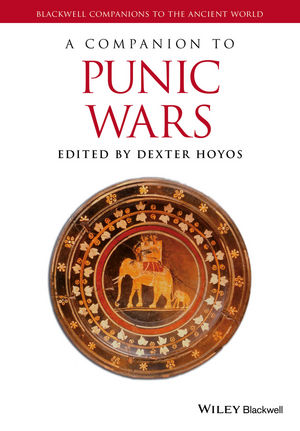 A Companion to the Punic Wars
offers a comprehensive new survey of the three wars fought between Rome and Carthage between 264 and 146 BC.
Offers a broad survey of the Punic Wars from a variety of perspectives
Features contributions from an outstanding cast of international scholars with unrivalled expertise
Includes chapters on military and naval techniques, strategies, logistics, and Hannibal as a charismatic general and leader
Gives balanced coverage of both Carthage and Rome
See More
List of Tables viii
List of Maps ix
Notes on Contributors x
List of Abbreviations xvi
Introduction: The Punic Wars 1
Dexter Hoyos
Part I Background and Sources 7
1 The Rise of Rome to 264 9
John Serrati
2 Early Relations between Rome and Carthage 28
Barbara Scardigli
3 The Rise of Carthage to 264 39
Walter Ameling
4 Manpower and Food Supply in the First and Second Punic Wars 58
Paul Erdkamp
5 Phalanx and Legion: the "Face" of Punic War Battle 77
Sam Koon
6 Polybius and the Punic Wars 95
Craige B. Champion
7 Principal Literary Sources for the Punic Wars (apart from Polybius) 111
Bernard Mineo
PART II T he First Punic War and Aftermath 129
8 The Outbreak of war 131
Dexter Hoyos
9 A War of Phases: Strategies and Stalemates 264–241 149
Boris Rankov
10 Roman Politics in the First Punic War 167
Bruno Bleckmann
11 Roman Politics and Expansion, 241–219 184
Luigi Loreto
12 Carthage in Africa and Spain, 241–218 204
Dexter Hoyos
PART III T he Second Punic War 223
13 The Reasons for the War 225
Hans Beck
14 Hannibal: Tactics, Strategy, and Geostrategy 242
Michael P. Fronda
15 Hannibal and Propaganda 260
Richard Miles
16 Roman Strategy and Aims in the Second Punic War 280
Klaus Zimmermann
17 The War in Italy, 218–203 299
Louis Rawlings
18 War Abroad: Spain, Sicily, Macedon, Africa 320
Peter Edwell
19 Rome, Latins, and Italians in the Second Punic War 339
Kathryn Lomas
20 Punic Politics, Economy, and Alliances, 218–201 357
Pedro Barceló
21 Roman Economy, Finance, and Politics in the Second Punic War 376
Toni Ñaco del Hoyo
PART IV T he Last Half-Century of Carthage 393
22 Carthage and Numidia, 201–149 395
Claudia Kunze
23 Italy: Economy and Demography after Hannibal's War 412
Nathan Rosenstein
24 The "Third Punic War": The Siege of Carthage (148–146 bc) 430
Yann Le Bohec
PART V Conclusions 447
25 Death and Transfiguration: Punic Culture after 146 449
M'hamed-Hassine Fantar
26 Spain, Africa, and Rome after Carthage 467
John Richardson
27 Carthage and Hannibal in Roman and Greek Memory 483
Giovanni Brizzi
References 499
Index 531
See More
Dexter Hoyos is retired Associate Professor in Classics and Ancient History from the University of Sydney, Australia. He has published extensively on Latin teaching and aspects of Roman and Carthaginian history (including on Hannibal's actual route over the Alps). His books include Unplanned Wars (1998), Hannibal's Dynasty (2003), Truceless War (2007), and Hannibal: Rome's Greatest Enemy (2008).
See More
More in this series