Project Management for Dummies - UK, 2nd UK Edition
ISBN: 978-1-119-02573-3
424 pages
April 2015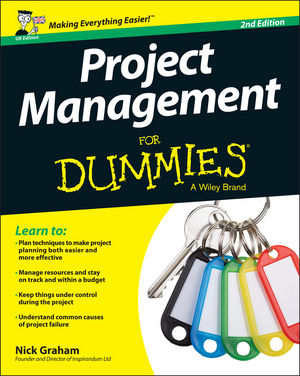 Get projects done on time, on budget, and with maximum efficiency - fully updated UK edition!

In today's time-pressured and cost-conscious global business environment, reliable project management and competent delivery are more important than ever. Increasingly, project management is being seen as an essential management skill for all, as well as a career choice for many. This new UK edition of Project Management For Dummies, 2nd UK Edition quickly introduces you to the principles of successful project management with a clear and logical approach to help you deliver your projects, not only successfully, but also more easily. Unique to the UK edition, you'll find clear guidance on using the highly logical product-based approach to project planning, along with advice on how to release the great power of the technique, not only for effective planning, but also for project control.
Updated with fresh content, tips, and tactics that cover everything you need to know from a project's start to finish, this accessible guide takes you through every stage of project management. You'll discover how to make project planning easier and more effective, manage resources and stay on track within a budget. Then you'll find help and advice to help you motivate and manage your teams to help them perform at their best. To help you stay at the leading edge, you'll also find two new chapters in this edition explaining project governance and the increasingly important international standard ISO 21500. In short, this book will help you master a highly valuable skill for advancing your career.
Provides clear descriptions of who should do what in a project to prevent communication and control problems
Presents the latest concepts in project management techniques
Discusses how to keep risks under control during the project
Includes access to online project management templates and checklists to aid in learning
If you're a manager taking on a project for the first time or a more experienced project professional looking to get up to speed on the latest thinking and techniques, Project Management For Dummies, 2nd UK Edition equips you for project management success.
See More
Introduction 1
Part I: Understanding Projects and What You Want to Achieve 5
Chapter 1: Success in Project Management 7
Chapter 2: Thinking Through the Life of Your Project 19
Chapter 3: Defining the Scope and Producing a Business Case 35
Chapter 4: Knowing Your Project's Stakeholders 53
Part II: Planning Time: Determining What, When and How Much 71
Chapter 5: Planning with Deliverables First 73
Chapter 6: Planning the Activities 95
Chapter 7: Looking At Staff Resources 127
Chapter 8: Planning for Other Resources and Developing the Budget 149
Chapter 9: Planning at Different Times and Levels 163
Chapter 10: Venturing into the Unknown: Dealing with Risk and Uncertainty 173
Part III: Putting Your Management Team Together 197
Chapter 11: Organising the Project 199
Chapter 12: Working With Teams and Specialists 217
Chapter 13: Being an Effective Leader 237
Part IV: Steering the Project to Success 251
Chapter 14: Tracking Progress and Staying in Control 253
Chapter 15: Keeping Everyone Informed 279
Chapter 16: Bringing Your Project to Closure 299
Part V: Taking Your Project Management to the Next Level 313
Chapter 17: Managing Multiple Projects 315
Chapter 18: Using Technology to Up Your Game 325
Chapter 19: Monitoring Project Performance with Earned Value Management 339
Chapter 20: Project Governance and Why It's Really Important 349
Chapter 21: ISO 21500:2012 361
Part VI: The Part of Tens 369
Chapter 22: Ten Questions to Ask Yourself as You Plan Your Project 371
Chapter 23: Ten Tips for Writing a Convincing Business Case 377
Chapter 24: Ten Tips for Being a Better Project Manager 383
Index 387
See More
Nick Graham is Founder and Director of Inspirandum Ltd, a consultancy and training firm. His consultancy work has ranged from helping plan complex projects to advising top managers on how to implement project and project governance approaches.
See More