Investing for Dummies - UK, 4th UK Edition
ISBN: 978-1-119-02576-4
360 pages
April 2015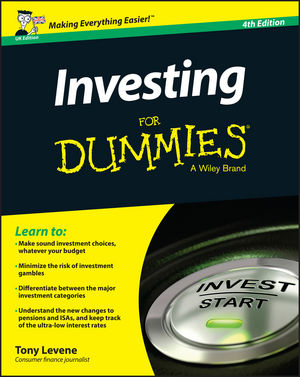 The easy way to demystify the intimidating world of investing in the UK market

Think investing is only for the super-rich? Think again! Packed with tons of expert advice, Investing For Dummies UK 4th edition shows you step-by-step how to make sound, sensible investment choices—whatever your budget. All the major investment categories are covered for the smart beginner, while more advanced and alternative investments are presented for the more adventurous and experienced. Wherever you fall on the investing spectrum, there's something for you!
This new UKeditionof Investing For Dummies has been updated with the latest financial information, including all the new trends and developments that have affected the world of investment, with an emphasis on the new pensions legislations and changes to Individual Savings Accounts. Whether you're interested in assessing your financial means, gauging risks and returns or increasing your personal wealth, with the help of this friendly guide, you no longer need to work in finance to make sense of the facts and figures behind your investments!
Offers tips on how to minimize the risk of investment gambles
Covers the FCA's more stringent risk analysis for investors using advisers
Contains new sections on pensions, ISAs, the DIY/self-directed investor, and ultra-low interest rates
Includes new online templates to help simplify the investing process
If you want to go it alone in the investment arena, but need the support of a straightforward, reassuring guide to help you make the best decisions—and get the highest returns from your investments—this is the book for you.
See More
Introduction 1
Part I: Getting Started with Investing 5
Chapter 1: First Steps on the Money Trail 7
Chapter 2: Checking Your Personal Life Before You Invest 23
Chapter 3: Recognising What Makes an Investor Tick 33
Chapter 4: Squaring Risks with Returns 45
Chapter 5: Being Aware of Small Print – and of Print that Isn't There 59
Part II: Shares, Bonds and Other Investibles 71
Chapter 6: Comprehending How Stock Markets Work 73
Chapter 7: Taking the Cat walk Route to Investment Success 93
Chapter 8: Investing in Markets 109
Chapter 9: Analysing Stock-Market-Quoted Companies 125
Chapter 10: Banking on Bonds 145
Chapter 11: Conquering Commodities and Getting into Gold 161
Part III: Collective Investments and Pension Funds 173
Chapter 12: Looking at Fund Management 175
Chapter 13: Investing with a Trust 191
Chapter 14: Saving Up for Your Retirement 213
Chapter 15: Disinvesting During Your Retirement 229
Chapter 16: Selecting a Stockbroker or Financial Adviser 241
Chapter 17: Hedging Your Fund Bets 257
Chapter 18: Investing at Random and with the Intellectuals 267
Part IV: Property and Alternatives 277
Chapter 19: Investing in Bricks and Mortar 279
Chapter 20: Delving into Derivative Investments 297
Part V: The Part of Tens 311
Chapter 21: Ten Tips for Fact-Finding 313
Chapter 22: Ten Helpful Hints for You 323
Index 327
See More
Tony Levene writes on issues ranging from investments to tax to consumer rights and financial fraud. He has been a financial journalist for national newspapers for nearly 40 years, including 12 years at The Guardian. He has also contributed to magazines and investment websites, and commented on financial matters for BBC TV, BBC Radio and other radio stations.
See More