E-book
Bookkeeping and Accounting All-in-One For Dummies - UK, UK Edition
ISBN: 978-1-119-02661-7
488 pages
March 2015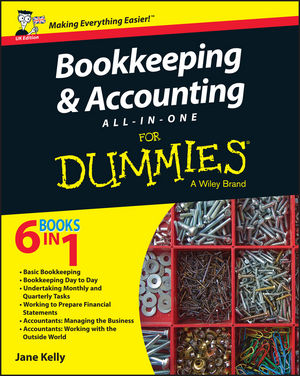 UK bookkeeping and accounting basics for the rest of us
Unless you're one of those rare "numbers people," the thought of accounting and bookkeeping probably make your head spin. While these pragmatic and confusing practices may not be fun for the rest of us, mastering them is absolutely essential in order to run and maintain a successful business. Thankfully, Bookkeeping & Accounting All-in-One For Dummies, UK Edition, is here to take the intimidation out of crunching numbers and offers easy-to-follow, step-by-step instruction on keeping your business' finances in order with information specific to a business in the United Kingdom.
Written in plain English and packed with loads of helpful instruction, this approachable and all-encompassing guide arms you with everything you need to get up and running on all the latest accounting practices and bookkeeping software. Inside, you'll find out how to prepare financial statements, balance your books, keep the tax inspector off your back, and so much more.
Gives you access to supplemental online samples of bookkeeping forms, accounting templates, and spreadsheets
Includes many practical bookkeeping and accounting exercises and templates
Simplifies every aspect of accounting and record-keeping
Shows you how to run your business "by the books"
If you're a small business owner or employee who is confused and intimidated by managing your accounts and books, this comprehensive guide empowers you to take charge of those pesky figures to keep your business afloat.
See More
Introduction 1
Book I: Basic Bookkeeping 5
Chapter 1: So You Want to Do the Books 7
Chapter 2: Getting Down to Bookkeeping Basics 19
Chapter 3: Outlining Your Financial Roadmap with a Chart of Accounts 39
Chapter 4: Looking at Ledgers 57
Book II: Bookkeeping Day to Day 83
Chapter 1: Planning and Controlling Your Workload 85
Chapter 2: Counting Your Sales 99
Chapter 3: Buying and Tracking Your Purchases 125
Chapter 4: Doing Your Banking 141
Book III: Undertaking Monthly and Quarterly Tasks 155
Chapter 1: Adding the Cost of Value-Added Tax (VAT) 157
Chapter 2: Employee Payroll and Benefits 171
Chapter 3: Adjusting Your Books 191
Book IV: Working to Prepare Financial Statements 209
Chapter 1: Producing a Profit and Loss Statement 211
Chapter 2: Developing a Balance Sheet 227
Chapter 3: Cash Flows and the Cash Flow Statement 245
Book V: Accountants: Managing the Business 269
Chapter 1: Discovering Different Business Types 271
Chapter 2: Choosing Accounting Methods 281
Chapter 3: Managing Profit Performance 307
Chapter 4: Cost Conundrums 331
Chapter 5: Business Budgeting: 355
Book VI: Accountants: Working with the Outside World 379
Chapter 1: Getting a Financial Report Ready for Prime Time 381
Chapter 2: How Investors Read a Financial Report 401
Chapter 3: Professional Auditors and Advisers 431
Index 445
See More
Jane Kelly is a chartered management accountant and author of Sage 50 Accounts For Dummies, Bookkeeping Workbook For Dummies and Accounting Workbook For Dummies. Her training company has taught the mysteries of accounting and bookkeeping to many small business owners and employees.
See More