E-book
Macroeconomics For Dummies - UK, UK Edition
ISBN: 978-1-119-02668-6
336 pages
October 2015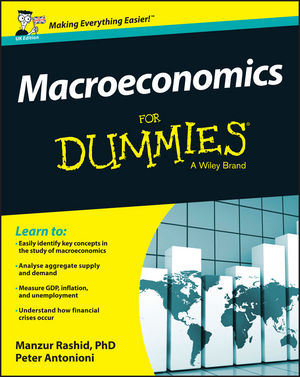 An accessible and engaging introduction to the big picture of UK and international economics
Are you studying macroeconomics, but don't know inflation from stagflation? Have no fear! This easy-to-understand guide, written specifically for the UK market, is packed with real-world examples and cases that easily illustrate the key concepts you'll need to know to fully grasp macroeconomics and ace your exams. Taking a fun, step-by-step approach to the topic, this great guide provides an engaging introduction to macroeconomics and then delves into more specific topics, such as business cycles, inflation, unemployment, domestic output, monetary policy, and much more.
When it comes to the interaction of politics, business decisions, consumer actions, and monetary policy, the study of economics is international in scope. That means you must understand not just the economies of nations, but also the interrelatedness of national economies throughout the world. This easy, accessible guide will help you:
Find out how many different financial, business, consumer, and political factors interact to create the overall economic reality of nations
Understand business cycles, economic growth, and fiscal and monetary policies
Study the relationships of various economic indicators, such as inflation, unemployment, and domestic output
Gain a solid understanding of macroeconomics by building on microeconomic principles and using real-world examples
If you're struggling with your economics course or you need to get up to speed on the topic of macroeconomics quickly, Macroeconomics For Dummies has you covered!
See More
Introduction 1
Part I: Getting Started with Macroeconomics 5
Chapter 1: Discovering Why Macroeconomics Is a Big Deal 7
Chapter 2: Looking at Key Questions and Concepts 21
Chapter 3: Curing a Sick Economy of Four Afflictions 35
Part II: Measuring the Things that Matter 47
Chapter 4: Totting up a Country's Economic Activity: Gross Domestic Product 49
Chapter 5: Facing the Fact of Increasing Prices: Inflation 67
Chapter 6: Unemployment: Wasting Talent and Productivity 87
Part III: Building a Model of the Economy 105
Chapter 7: Working Out a Country's Economic Demand 107
Chapter 8: Determining How Much Stuff an Economy Can Produce 125
Chapter 9: Using the AD–AS Model to Analyse Shocks to the System 139
Part IV: Examining Macroeconomic Policy 161
Chapter 10: Using Monetary Policy to Influence the Economy 163
Chapter 11: Fiscal Policy: Balancing the Books – Perhaps 183
Chapter 12: Seeking Low Unemployment and Low Inflation: The Phillips Curve 197
Chapter 13: Following Rules or Using Discretion: Two Approaches to Economic Policy 213
Part V: Understanding the Financial Crisis 227
Chapter 14: Considering Fundamental Weaknesses of the Financial System 229
Chapter 15: Getting Away with Excessive Risk‐Taking: Moral Hazard 245
Chapter 16: Considering the Lessons of the 2008 Financial Crisis 265
Part VI: The Part of Tens 283
Chapter 17: Getting to Know Ten Great Macroeconomists 285
Chapter 18: Ten Top Tips to Take Away 291
Index 299
See More
Manzur Rashid, PhD, is a Lecturer of economics at University College, London. Peter Antonioni is a senior teaching fellow at the Department of Management Science and Innovation, University College, London, and coauthor of Economics For Dummies, 2nd UK Edition.
See More