Big Data For Small Business For Dummies
ISBN: 978-1-119-02703-4
256 pages
January 2016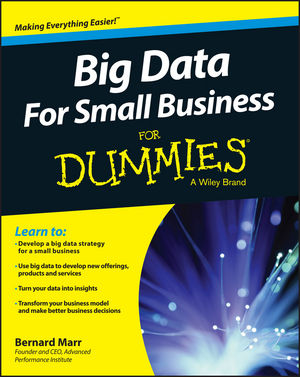 Capitalise on big data to add value to your small business
Written by bestselling author and big data expert Bernard Marr, Big Data For Small Business For Dummies helps you understand what big data actually is—and how you can analyse and use it to improve your business. Free of confusing jargon and complemented with lots of step-by-step guidance and helpful advice, it quickly and painlessly helps you get the most from using big data in a small business.
Business data has been around for a long time. Unfortunately, it was trapped away in overcrowded filing cabinets and on archaic floppy disks. Now, thanks to technology and new tools that display complex databases in a much simpler manner, small businesses can benefit from the big data that's been hiding right under their noses. With the help of this friendly guide, you'll discover how to get your hands on big data to develop new offerings, products and services; understand technological change; create an infrastructure; develop strategies; and make smarter business decisions.
Shows you how to use big data to make sense of user activity on social networks and customer transactions
Demonstrates how to capture, store, search, share, analyse and visualise analytics
Helps you turn your data into actionable insights
Explains how to use big data to your advantage in order to transform your small business
If you're a small business owner or employee, Big Data For Small Business For Dummies helps you harness the hottest commodity on the market today in order to take your company to new heights.
See More
Introduction 1
Part I: Getting Started with Big Data Basics 5
Chapter 1: Introducing Big Data for Small Businesses 7
Chapter 2: Digging into the Essence of Big Data 23
Chapter 3: Identifying Big Data Uses in Small Businesses 39
Part II: Unpacking Big Data 53
Chapter 4: Unpacking the Many Types of Data 55
Chapter 5: Discovering New Forms of Data 69
Chapter 6: Understanding the Technology Changes that Underpin Big Data 87
Part III: A Brave New World for Small Business 101
Chapter 7: Focusing on the Value of Insights 103
Chapter 8: Developing and Accessing Big Data Competencies 115
Chapter 9: Building a Big Data Infrastructure 131
Part IV: Show Time! Making Big Data Work for Small Business 149
Chapter 10: Creating a Big Data Strategy 151
Chapter 11: Applying Data in Your Business: Decision Making 163
Chapter 12: Applying Data in Your Business: Operations 185
Chapter 13: Creating a Big Data Culture in Your Business 199
Part V: The Part of Tens 211
Chapter 14: Ten Biggest Big Data Mistakes to Avoid 213
Chapter 15: Ten Free Big Data Sources 219
Chapter 16: Ten Key Big Data Collection Tools 225
Index 231
See More
Bernard Marr helps companies to better manage, measure, report and analyse performance. His leading-edge work with major companies, organisations and governments across the globe makes him an acclaimed and award-winning keynote speaker, researcher, consultant and teacher.
See More