Textbook
The Complete Guide to Creating Enduring Festivals
ISBN: 978-1-119-03036-2
400 pages
February 2015, ©2016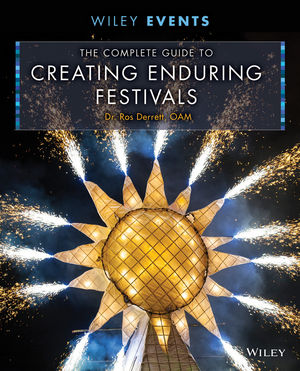 Festivals provides a realistic framework to explore how arts-based and community-based cultural festivals around the world thrive. Festivals highlights the big picture, as well at the intricate details that comprise the delivery of a festival to plan and execute a successful festival. Festivals will benefit experienced festival planners as well as those who aspire to enter or develop their skills in the dynamic field of festival making. Its approach is systematic, using case studies of numerous internationally iconic festivals and interviews with experts in the field. The book provides, for the first time, concrete evidence of how with proper planning, design and leadership, communities may benefit from hosting local festivals.
See More
A mosaic approach is taken in the organization of the material in this book. The reader will be able to access relevant knowledge gleaned from practitioners and will recognize good practice by exploring further the themes, ideas and issues identified in the text.
Real-life examples of planning and executing festivals from across the world
Interviews with industry professionals contained in each chapter
On-line resources available to complement the numerous exercises present at the end of each chapter.
See More
"Creating Enduring Festivals is a welcome and much-needed addition to the growing body of event education literature. Ros Derrett brings great experience and insight to the enduring world of festivals, illustrated by a wide variety of case studies of festivals across the globe. - John Allen AM, Foundation Director, Australian Centre for Event Management, University of Technology, Sydney, Co-Chair of Judges, Australian Event Awards
"A good piece of art impacts and resonates with each individual in different ways; inspiring, teaching, leading the imagination on new journeys to new destinations. Ros Derrett has succeeded in creating a dynamic mosaic that allows the reader (professional or student) to reflect upon and explore each piece individually, while never losing sight of how all of the pieces must fit and work together to create an enduring festival masterpiece. The greatest legacies that we can leave for our industry and global communities are to never quit learning from what has come before and to never quit imagining the possibilities of what lies ahead. Creating Enduring Festivals provides a pathway to both destinations". - Steven Wood Schmader, CFEE, President and CEO, International Festivals and Events Association (IFEA) World Headquarters, "The Premiere Association Supporting and Enabling Festival and Event Professionals Worldwide"
"Finally the considerable experience and wisdom of Dr Ros Derrett has been captured in her latest book Creating Enduring Festivals, providing the perfect resource for event planners, managers and students. Over her extensive career, Ros has identified the key elements of enduring festivals and has now compiled the many aspects of event management in her unique mosaic approach. This book significantly contributes to our knowledge of festivals and to what makes them succeed over time, providing unique and personal insights into the key elements of success." - Jo Mackellar PhD, Former Post Doctoral Fellow - Griffith University, Australia, Manager - Destination Research and Development
See More