Blender For Dummies, 3rd Edition
ISBN: 978-1-119-03953-2
528 pages
April 2015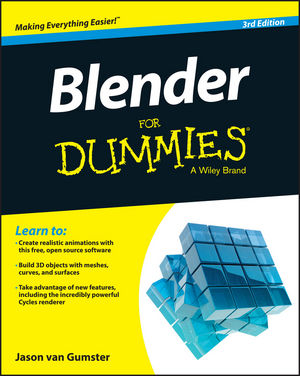 Learn 3D animation the easy way with this complete step-by-step guide
Blender For Dummies is the quick and easy guide to learning 3D modeling and animation using the popular, free, open source Blender software. You'll learn how to create models, animate movement, and render well-lit scenes as you master the powerful features that rival the more expensive professional animation software. This third edition is updated to cover the latest features added in Blender, including digital sculpting with dynamic topology, rendering with the incredibly powerful Cycles renderer, and more advanced simulation tools. You'll learn the shortcuts and tricks that make creating animation a reality for anyone at any level. The companion web site provides access to additional tutorials that give you the confidence you need to start animating quickly. This useful guide blends the functionality of a reference with the hands-on learning that develops your skills and understanding in a flash.
Create 3D objects with meshes, curves, and surfaces
Add color, texture, shades, reflections, and transparencies
Set your models in motion with animation and rigging
Create expert-level scenes with lighting and camera placement
If you want to learn 3D animation, but don't want to spend thousands of dollars getting started, Blender is just the solution you need. Blender For Dummies is the ultimate learning companion.
See More
Introduction 1
Part I: Getting Started with Blender 7
Chapter 1: Discovering Blender 9
Chapter 2: Understanding How Blender Thinks 27
Chapter 3: Getting Your Hands Dirty Working in Blender 67
Chapter 4: Working in Edit Mode and Object Mode 81
Part II: Creating Detailed 3D Scenes 111
Chapter 5: Creating Anything You Can Imagine with Meshes 113
Chapter 6: Using Blender's Non ]mesh Primitives 157
Chapter 7: Changing That Boring Gray Default Material 189
Chapter 8: Giving Models Texture 221
Chapter 9: Lighting and Environment 261
Part III: Get Animated 299
Chapter 10: Animating Objects 301
Chapter 11: Discovering the Tools Used in Rigging 335
Chapter 12: Animating Object Deformations 359
Chapter 13: Letting Blender Do the Work for You 377
Part IV: Sharing Your Work with the World 409
Chapter 14: Exporting and Rendering Scenes 411
Chapter 15: Compositing and Editing 423
Part V: The Part of Tens 455
Chapter 16: Ten Problems (and Solutions) for Newbies 457
Chapter 17: Ten Tips for Working More Effectively in Blender 467
Chapter 18: Ten Excellent Community Resources 475
Index 481
See More
Jason van Gumster has used Blender for over 15 years to produce animations and visual effects. He has spoken and given Blender demonstrations internationally for students, professionals, and hobbyists.
See More