Laptops For Dummies, 6th Edition
ISBN: 978-1-119-04180-1
336 pages
November 2015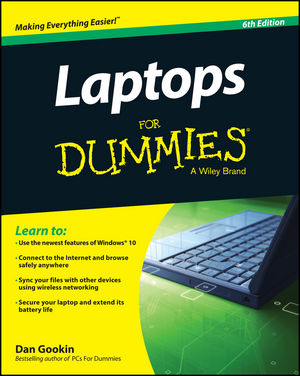 The fast and easy way to get up and running with a laptop
Are you new to the world of laptops? You've come to the right place! Laptops For Dummies covers the many topics and issues unique to laptops, including synchronizing with the desktop, coordinating email pick-up between two machines, remotely accessing the desktop, networking, power management, storage, security, and more. This new edition also provides updates to cover the latest technology, current processors, and steps to update memory and hard drive capacities.
In business—while they spend most of their time in a desktop docking station—laptops are absolutely essential for providing mobility to professionals. In the home, they've begun to replace desktop PCs, as they now offer larger displays, longer battery power, and speeds equal to desktop computers. Plus, you can do just about everything with a laptop that you can do with a traditional desktop, minus the big, bulky machine and multiple cords. If you're just making the switch over to a laptop, this hands-on, easy-to-follow guide makes the transition easy!
Covers the latest hardware and technology updates you need to get up and running with your laptop
Includes updates on the new Windows 10 operating system, wireless networking, smartphone tethering, and using productivity applications on laptops
Walks you through everything you need to deal with add-ons, networking procedures, and connectivity and communication
Presents complex material in a way that makes it simple and accessible
Whether you've never logged onto a laptop or are just looking to stay up-to-date with the latest information on operating systems and software, Laptops For Dummies has you covered.
See More
Introduction 1
Part I: This Laptop Thing 5
Chapter 1: The Portable Computing Quest 7
Chapter 2: A Laptop of Your Own 21
Part II: Say Hello to Your Laptop 31
Chapter 3: From Laptop Box to Lap 33
Chapter 4: To Turn On a Laptop 43
Chapter 5: To Turn Off a Laptop 55
Chapter 6: Traditional Laptop Tour 67
Chapter 7: The Tablet PC Tour 79
Chapter 8: Your Laptop and Windows 93
Part III: Out and About with Mr. Laptop 109
Chapter 9: You and Your Laptop 111
Chapter 10: Portable Power 129
Chapter 11: The Printing Chapter 141
Chapter 12: Expanding Your Laptop's Universe 153
Chapter 13: O the Places You'll Go 165
Chapter 14: Presentation Information 177
Chapter 15: A Laptop at Play 187
Part IV: Laptop Networking 203
Chapter 16: The Networking Thing 205
Chapter 17: Network Life in Laptop Land 215
Chapter 18: Your Files from Afar 227
Part V: Security and Maintenance 237
Chapter 19: Internet Safety 239
Chapter 20: A More Secure Laptop 255
Chapter 21: Laptop Troubleshooting 269
Chapter 22: Laptop Maintenance and Upgrading 279
Part VI: The Part of Tens 285
Chapter 23: Ten Battery Tips and Tricks 287
Chapter 24: Ten Handy Laptop Accessories 293
Chapter 25: Ten Things to Throw in Your Laptop Bag 299
Index 303
See More
Dan Gookin has penned a plethora of computer books—more than 130—with 12 million copies in print, translated into more than 30 languages. His DOS For Dummies, published in 1991, launched the For Dummies series and became the world's fastest-selling computer book. Visit Dan at www.wambooli.com.
See More