E-book
Michael Allen's Guide to e-Learning: Building Interactive, Fun, and Effective Learning Programs for Any Company, 2nd Edition
ISBN: 978-1-119-04633-2
432 pages
September 2016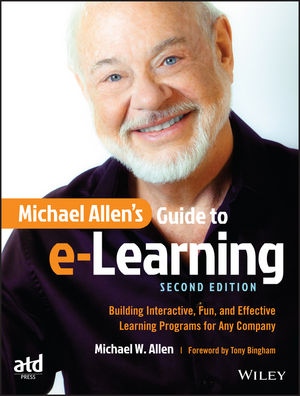 Explore effective learning programs with the father of e-learning
Michael Allen's Guide to e-Learning: Building Interactive, Fun, and Effective Learning Programs for Any Company, Second Edition presents best practices for building interactive, fun, and effective online learning programs. This engaging text offers insight regarding what makes great e-learning, particularly from the perspectives of motivation and interactivity, and features history lessons that assist you in avoiding common pitfalls and guide you in the direction of e-learning success. This updated edition also considers changes in technology and tools that facilitate the implementation of the strategies, guidelines, and techniques it presents.
E-learning has experienced a surge in popularity over the past ten years, with education professionals around the world leveraging technology to facilitate instruction. From hybrid courses that integrate technology into traditional classroom instruction to full online courses that are conducted solely on the internet, a range of e-learning models is available. The key to creating a successful e-learning program lies in understanding how to use the tools at your disposal to create an interactive, engaging, and effective learning experience.
Gain a new perspective on e-learning, and how technology can facilitate education
Explore updated content, including coverage regarding learner interface, gamification, mobile learning, and individualization
Discuss the experiences of others via targeted case studies, which cover good and not so good e-learning projects
Understand key concepts through new examples that reinforce essential ideas and demonstrate their practical application
Michael Allen's Guide to e-Learning: Building Interactive, Fun, and Effective Learning Programs for Any Company, Second Edition is an essential resource if you are studying for the e-Learning Instructional Design Certificate Program.
See More
Foreword by Tony Bingham xiii
Preface xv
Acknowledgments xix
Chapter 1 What's New? 1
PART I THE BUSINESS PERSPECTIVE 15
Chapter 2 Plain Talk 17
Chapter 3 What You Don't Know Can Kill (Your e-Learning) 29
Chapter 4 Making Success Possible 41
Chapter 5 Executive's Guide to Good e-Learning 73
Chapter 6 Where Does e-Learning Fit? 83
PART II GREAT E-LEARNING DESIGN 95
Chapter 7 Seven Simple Success Strategies 97
Chapter 8 The Serious e-Learning Manifesto 109
Chapter 9 Motivation in Learning 121
Chapter 10 Seven Magic Keys to Motivational e-Learning 131
Magic Key 1: Build on Anticipated Outcomes 133
Magic Key 2: Put the Learner at Risk 144
Magic Key 3: Select the Right Content for Each Learner 156
Magic Key 4: Use an Appealing Context 171
Magic Key 5: Have the Learner Perform Multistep Tasks 192
Magic Key 6: Provide Intrinsic Feedback 198
Magic Key 7: Delay Judgment 201
Chapter 11 Navigation 211
Chapter 12 CCAF and Interactive Instruction 235
Chapter 13 Interactivity Paradigms That Work 267
Chapter 14 Successive Approximation and SAM 297
PART III SERIOUS LEARNING GAMES 327
Chapter 15 Serious Learning Games: Where Rules Rule 329
Chapter 16 Integrating Instructional Content and Games 341
Chapter 17 Learning Games, Serious or Not? 357
About the Author 379
References 381
Additional Resources 387
Index 389
See More
MICHAEL W. ALLEN is a recognized pioneer and leader in the design of interactive multimedia learning tools and applications. He is the founder and former chairman of Authorware, Inc. He is Chairman and CEO of Allen Interactions Inc., which builds interactive learning systems, develops custom courseware, and provides multimedia consulting and training.
See More