Student Services: A Handbook for the Profession, 6th Edition
ISBN: 978-1-119-04959-3
640 pages
October 2016, Jossey-Bass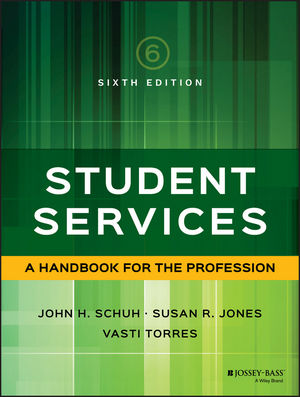 The bestselling student affairs text, updated for today's evolving campus
Student Services is the classic comprehensive text for graduate students in student affairs, written by top scholars and practitioners in the field. Accessible and theoretically grounded, this book reflects the realities of contemporary practice in student affairs. This new sixth edition has been updated throughout to align with current scholarship, and expanded with four new chapters on student development, crisis management, programming, and applications. Twenty new authors join the roster of expert contributors, bringing new perspective on critical issues such as ethical standards, campus culture, psychosocial development, student retention, assessment and evaluation, and much more. End-of-chapter questions help reinforce the material presented, and unique coverage of critical theoretical perspectives, counseling and helping skills, advising, leadership, environmental theories, and other useful topics make this book a foundational resource for those preparing for a student affairs career.
The student affairs staff has the responsibility for a vast array of services and support roles for students on every type of campus. This book provides a thorough overview of the field's many facets, with invaluable real-world insight from leading practitioners.
Understand the theoretical bases of development, learning, identity, and change
Delve into the organizational frameworks vital to any institution
Learn the historical context of higher education and the student affairs role
Master essential competencies including professionalism, supervision, crisis management, and more
As colleges and universities offer more and more services to an increasingly diverse student population, the responsibility for these programs falls to student affairs educators. The role requires a broad skill set, and conceptual grounding in a number of disciplines. Student Services provides the most complete overview of the foundations, philosophies, ethics, and theories that guide today's student affairs professional.
See More
About the Authors ix
Preface xxvi
Part One: Historical CONTEXT 1
1 Historical Overview of American Higher Education 3
John R. Thelin and Marybeth Gasman
2 The History of Student Affairs 20
Robert Schwartz and Dafina-Lazarus Stewart
3 Philosophies and Values 39
Robert D. Reason and Ellen M. Broido
Part Two: Professional Context 56
4 Institutional Identity and Campus Culture 58
Kristen A. Renn and Lori D. Patton
5 Campus Climate and Diversity 73
Kimberly A. Griffin
6 What Is Ethical Professional Practice? 89
Sue A. Saunders and Christine M. Wilson
7 Legal Foundations and Issues 107
Thomas Miller
Part Three: Theoretical Bases of the Profession 121
8 The Nature and Uses of Theory 137
Susan R. Jones and Elisa S. Abes
9 Holistic Development 153
Marcia Baxter Magolda and Kari B. Taylor
10 Cognitive Development 169
Patricia M. King
11 Psychosocial and Identity Development 185
Vasti Torres and Brian L. McGowan
12 Critical Theoretical Perspectives 205
Ebelia Hernández
13 Organization Theory and Change 220
Adrianna Kezar
14 Environmental Theories 236
Samuel D. Museus
15 Student Retention and Institutional Success 252
Amy S. Hirschy
Part Four: Organizational Aspects of Professional Practice 268
16 Framing Student Affairs Practice 270
Kathleen Manning, Jillian Kinzie, and John H. Schuh
17 Organizational Structures and Functions 288
Maureen E. Wilson
18 Strategic Planning and Finance in Student Affairs 308
Brian A. Burt and John H. Schuh
19 Assessment and Evaluation 327
Ann M. Gansemer-Topf and Lance C. Kennedy-Phillips
20 Left Behind: How the Profession of Student Affairs Is Underprepared to Meet Students Where They (Digitally) Are 344
Jeffrey Rokkum and Reynol Junco
21 Academic and Student Affairs Partnerships 359
Elizabeth J. Whitt
Part Five: Essential Competencies 375
22 Professionalism 377
Jan Arminio and Anna M. Ortiz
23 Multicultural Competence and Change on Campus 392
Raechele L. Pope and John A. Mueller
24 Leadership 408
John P. Dugan and Laura Osteen
25 Staffing and Supervision 423
Joan B. Hirt, Tara E. Frank, and Patricia A. Perillo
26 Teaching and Facilitation 437
Stephen John Quaye
27 Counseling and Helping Skills 452
Amy L. Reynolds
28 Advising Student Organizations 466
Norbert W. Dunkel and Nancy E. Chrystal-Green
29 Crisis Management 484
Mahauganee D. Shaw and Larry D. Roper
30 Designing Programs for Engaging Difference 499
Sherry Watt, Cindy Ann Kilgo, and Wayne Jacobson
31 Applying Theories and Research to Practice 514
Florence A. Hamrick and Jillian Kinzie
Part Six: The Future 531
32 Evolving Roles and Competencies: Professional Development Reconsidered 532
Peter Magolda and Jill Ellen Carnaghi (with contributions from Aleidra Allen and Hoa Bui)
33 Shaping the Future 550
Susan R. Jones, John H. Schuh, and Vasti Torres
Name Index 567
Subject Index 579
See More
The Editors
JOHN H. SCHUH is distinguished professor emeritus of Educational Leadership and Policy Studies at Iowa State University and currently director of the Emerging Leaders Academy at Iowa State. Schuh is the author, coauthor, or editor of over 275 publications, including Student Services, Fifth Edition (Jossey-Bass, 2011), Assessment Methods for Student Affairs (Jossey-Bass, 2009), and Student Success in College (Jossey-Bass, 2005). He was coeditor of the New Directions for Student Services series for 20 years.
SUSAN R. JONES is a professor and program chair in the Higher Education and Student Affairs Program at Ohio State University. Jones is the author, coauthor, or editor of over 45 publications, including Identity Development of College Students: Advancing Frameworks for Multiple Dimensions of Identity (Jossey-Bass, 2013), Negotiating the Complexities of Qualitative Research: Fundamental Elements and Issues, Second Edition (Routledge, 2014), and Student Services, Fifth Edition (Jossey-Bass, 2011). She is currently coeditor of the New Directions for Student Services series.
VASTI TORRES is a professor in the College of Education at the University of South Florida. She has authored or coauthored four books, including Identity Development of Diverse Populations: Implications for Teaching and Administration in Higher Education (Jossey-Bass, 2003) and over 62 other publications.
See More
Learn more about