Introduction to Information Literacy for Students
ISBN: 978-1-119-05469-6
256 pages
April 2017, Wiley-Blackwell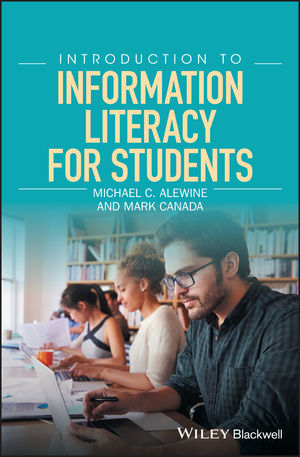 Introduction to Information Literacy for Students
presents a concise, practical guide to navigating information in the digital age.
Features a unique step-by-step method that can be applied to any research project
Includes research insights from professionals, along with review exercises, insiders' tips and tools, search screen images utilized by students, and more
Encourages active inquiry-based learning through the inclusion of various study questions and exercises
Provides students with effective research strategies to serve them through their academic years and professional careers
Ensures accessibility and a strong instructional approach due to authorship by a librarian and award-winning English professor
See More
List of Figures xi
Preface xiii
Acknowledgments xvii
Flowchart xix
Part I The Method
1 Think Like a Detective 3
Information: The Key to Just about Everything 4
Join the Information Conversation 6
Start Detecting 9
Survey the Research Landscape 13
Take Research One Step at a Time 14
Conclusion 16
Steps to Success 16
Works Cited 16
2 Ask a Compelling Question 18
It All Begins with a Research Question 19
Explore Your Own Interests and Personality 20
Consider the Assignment 22
Brainstorm Ideas 24
Draw a Concept Map 26
Check an Idea Generator 27
Explore the News 29
Test and Refine a Topic 31
Conclusion 32
Steps to Success 33
3 Search for Answers 34
Good News and Bad News 35
Create a Research Log 36
Identify Keywords 39
Truncate KeywordsWhen Necessary 41
Identify Concept Phrases 42
Combine Keywords with Boolean Operators 43
Keep an Open Mind 44
Conclusion 46
Steps to Success 46
Works Cited 47
4 Explore Possible Sources 48
So Many Sources…So Little Time! 49
Distinguish among the Three Categories of Sources 50
Survey the Range of Source Formats 53
Conclusion 62
Steps to Success 62
5 Evaluate Sources 64
Is It Legit—For Real? 65
Is It Relevant? 66
Is It Reliable? 67
Is It Recent? 71
Critically Evaluate Books 72
Critically Evaluate Periodicals 74
Critically Evaluate Webpages 76
Conclusion 77
Steps to Success 78
6 Create a Paper Trail 79
The Case forDocumentation 80
Know Why, What, and How to Cite 81
Cite As You Go 89
Compile an Annotated Bibliography 91
Conclusion 91
Documentation Formats 91
Steps to Success 92
7 Mine Your Sources 93
Getting the Most from Your Sources 94
Interrogate Your Sources 95
Take Effective Notes 97
Follow Leads 101
Conclusion 104
Steps to Success 104
Part II Types of Sources
8 Reference 109
Start in the Right Place 110
Choose the Right Reference Source 111
Search the Online Catalog 115
Check the Ready Reference Collection 116
Search for Online Reference Sources 116
Find and Study Entries in Reference Sources 117
Conclusion 120
Steps to Success 121
9 Books 122
Books: More Than Mere Life-changers 123
Search a Library's Online Catalog 124
SearchWorldCat 130
Use Item Records 131
Locate Books on Library Shelves 132
Use Interlibrary Loan 134
Look for E-books and Online Books 135
Mine a Book's Contents 136
Conclusion 137
Steps to Success 137
10 Periodicals 139
Periodicals: Something for Everyone 140
The Basics—Not So Basic 142
Search Databases 145
Manage the Results List 147
Check for Relevance 149
Locate the Complete Article 149
Try Advanced Searching 152
Check Google Scholar and Open Access Journals 155
Browse Periodicals 156
Conclusion 158
Steps to Success 158
11 Statistics 159
The Numbers Game 160
Find Statistics Online 161
Check Government Sources 162
Explore Specialized Sources 163
Conclusion 164
Steps to Success 165
12 Government Sources 166
The World's Most Prolific Publisher 167
Types of Government Sources 169
Beware of Bias 172
Limit a Catalog Search to Government Sources 172
Search FDsys 173
Run Searches in the U.S. Government Portal or on the Internet at Large 174

Search for Bills and Laws 175
Check Microforms 175
Conclusion 176
Steps to Success 176
13 Webpages 177
An Old Friend in a New Light 178
Cyberspace: It's Real—and Manageable 179
Run Keyword Searches in Search Engines 182
CaptureWebpages 183
Check Web Directories 184
Follow Links in Librarians' Subject Guides 185
Be Wary of Wikipedia 185
Conclusion 186
Steps to Success 187
14 Other Sources 188
ButWait, There's More! 189
Take the Broad View 190
Study Images and Artifacts 191
Listen to orWatch Recordings 192
Interrogate Social Media 193
Interview an Expert 194
Check Newsletters, Brochures, Etc. 198
Conclusion 199
Steps to Success 199
15 Now What? 201
The Value of Information in Your Life 202
Prepare for Future College Courses 203
Prepare for Graduate School 205
Apply Research in the Professional World 208
Use Research to Improve Your Life and Community 210
Conclusion 212
Steps to Success 212
Glossary 213
Index 229
See More
Michael C. Alewine is the Outreach and Distance Education Librarian at the University of North Carolina at Pembroke. He teaches information-literacy courses and research seminars, and he has published and presented on information literacy, student learning and motivation, and teaching and learning in online environments.
Mark Canada is Vice Chancellor for Academic Affairs and Professor of English at Indiana University Kokomo. A 2008 recipient of the University of North Carolina Board of Governors' Award for Excellence in Teaching, Dr. Canada is author of Literature and Journalism in Antebellum America (2011), and editor of Literature and Journalism: Inspirations, Intersections, and Inventions from Ben Franklin to Stephen Colbert (2013) and Out of the West: Notes from Thomas Wolfe's Final Western Journey (2014).
See More