Essentials of Rorschach Assessment: Comprehensive System and R-PAS
ISBN: 978-1-119-06075-8
384 pages
November 2016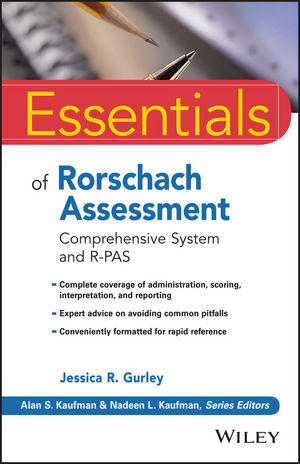 Essentials of Rorschach Assessment provides an invaluable resource for clinicians, offering the only step-by-step guidance toward all aspects of the Rorschach Comprehensive System and Rorschach Performance Assessment System (R-PAS). Beginning with an overview of the tests' history and development, the discussion delves into each test separately before placing the two side by side for direct comparison of administration, coding, and interpretation. The same case study is used for both tests, providing a start-to-finish example of how the Comprehensive System and R-PAS differ, and practical resources including checklists, charts, and sample forms help ease implementation, use, and transition. Thorough explanations break down the jargon and technical language to give clinicians a clearer understanding of both tests without sacrificing precision or depth of information, providing a quick and easy reference for Rorschach personality assessment.
See More
Series Preface xi
One Overview and History of the Rorschach Technique 1
The Rorschach 3
History of the Rorschach 7
Test Yourself 12
Two Comprehensive System Administration 15
Preparing to Administer the Rorschach CS 17
What Is Needed for a Valid Administration 22
Administering the CS 22
Accommodating Individuals with Disabilities and Using Interpreters 35
Conclusion 36
Test Yourself 36
Three Comprehensive System Scoring 39
Location 40
DQ: Developmental Quality 44
Determinants 47
FQ: Form Quality 71
Contents 74
Populars 83
Z Scores: Organizational Activity 85
Special Scores 86
Conclusion 98
Test Yourself 99
Four Comprehensive System Interpretation 101
Controls and Stress Tolerance 107
Situation -Related Stress 115
Affect 123
Information Processing 135
Cognitive Mediation 142
Ideation 151
Self -Perception 158
Interpersonal Perception 164
Conclusion 168
Test Yourself 169
Five Comprehensive System Case Sample 171
Background Information 171
Administration 175
Coding 175
Interpretation 179
Summary and Recommendations 182
Test Yourself 184
Six R -PAS Administration 187
Preparing to Administer R -PAS 188
What Is Needed for a Valid Administration 192
Administering R -PAS 192
Accommodating Disabilities and Using Interpreters 204
Conclusion 205
Test Yourself 205
Seven R -PAS Coding 207
Things to Remember Before Coding an R -PAS Protocol 210
Coded Response Behaviors 210
Location Codes and Numbers 212
Coding All Location Numbers 214
SR and SI: Space Responses 214
Content Codes 215
Object Qualities 221
2: Pairs 223
FQ: Form Quality 224
P: Populars 227
Determinants 228
Special Scores 245
Scoring Platform 258
Conclusion 258
Test Yourself 258
Eight R -PAS Interpretation 261
Interpretation 262
Page 1 Variables 265
Page 2 Variables 284
Conclusion 296
Test Yourself 296
Nine R -PAS Case Sample 299
Background Information 299
Administration 303
Interpretation 308
Summary and Recommendations 310
Test Yourself 312
Ten Comparison of the CS and R -PAS: Strengths and Weaknesses of Both Systems 315
Standardization and Norms 316
Reliability and Validity 319
Administration 321
Coding (Scoring) 323
Interpretation 324
Comparison of the CS and R -PAS 325
Final Thoughts on the CS and R -PAS 330
Test Yourself 330
Appendix Sample Computerized Score Reports 333
CS: Sequence of Scores and Summary of Approach 333
CS: Structural Summary 336
CS: Constellations 343
R -PAS: Code Sequence 346
R -PAS: Protocol Level Counts and Calculations 348
R -PAS: Summary Scores and Profiles 350
References 355
Index 361
About the Author 372
See More
JESSICA R. GURLEY, PHD, is a faculty member in the Doctor of Psychology program in Clinical Psychology at the American School of Professional Psychology at Argosy University, Washington D.C. She maintains a private practice, while also conducting evaluations and critiquing other mental health professionals' psychological evaluations.
See More
This is the only quick and easy reference for learning how to interpret and administer both the Rorschach Comprehensive System and the R-PAS
Covers all aspects of Rorschach assesment, including administration, coding, and interpretation
Incorporates the latest research
Uses Rapid References, Caution Boxes, end-of-chapter questions and other reader-friendly features throughout the text
Includes downloadable resources such as sample forms to help administration, coding, and interpretation; checklists to use when scoring and interpreting exams to reduce mistakes; and charts which compare the two systems to help the reader transition from one to the other
See More