A Companion to American Literary Studies
ISBN: 978-1-119-06251-6
592 pages
August 2015, Wiley-Blackwell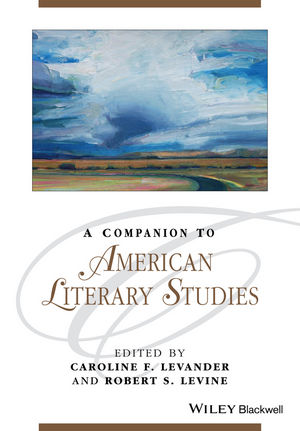 A Companion to American Literary Studies
addresses the most provocative questions, subjects, and issues animating the field. Essays provide readers with the knowledge and conceptual tools for understanding American literary studies as it is practiced today, and chart new directions for the future of the subject.
Offers up-to-date accounts of major new critical approaches to American literary studies
Presents state-of-the-art essays on a full range of topics central to the field
Essays explore critical and institutional genealogies of the field, increasingly diverse conceptions of American literary study, and unprecedented material changes such as the digital revolution
A unique anthology in the field, and an essential resource for libraries, faculty, graduate students, and advanced undergraduates
See More
Notes on Contributors
x
Introduction 1
Caroline F. Levander and Robert S. Levine
Part I. Forms 13
1 Poetry, Prose, and the Politics of Literary Form 15
Russ Castronovo
2 The Critical Work of American Literature 29
Joel Pfister
3 Women's Worlds in the Nineteenth-Century US Novel 46
Shirley Samuels
4 The Secularization Narrative and Nineteenth-Century American Literature 61
Elizabeth Fenton
5 Literatures of Technology, Technologies of Literature 77
Paul Gilmore
6 Excluded Middles: Social Inequality in American Literature 93
Gavin Jones
7 Narrative Medicine, Biocultures, and the Visualization of Health and Disease 108
Kirsten Ostherr
8 Performance Anxieties: The A-Literary Companions of American Literary Studies 125
Catherine Gunther Kodat
9 Drama, Theatre, and Performance before O'Neill 141
Jeffrey H. Richards
10 Disliking It: American Poetry and American Literary Studies 158
Mary Loeffelholz
11 After the New Americanists: The Progress of Romance and the Romance of Progress in American Literary Studies 173
Jennifer L. Fleissner
12 Mass Media and Literary Culture at the Turn of the Twentieth Century 191
Nancy Bentley
Part II. Spaces 209
13 Cabeza de Vaca, Lope de Oviedo, and Americas Exceptionalism 211
Anna Brickhouse
14 Worlding America: The Hemispheric Text-Network 228
Susan Gillman and Kirsten Silva Gruesz
15 Worlds of Color, Gender, Sexuality, and Labor in Early American Literary History 248
Michelle Stephens
16 Transatlantic Returns 264
Elisa Tamarkin
17 American Literature in Transnational Perspective: The Case of Mark Twain 279
Shelley Fisher Fishkin
18 Southern Literary Studies 294
John T. Matthews
19 New Regionalisms: US-Caribbean Literary Relations 310
Sean X. Goudie
20 American Literature as Ecosystem: The Examples of Euclides da Cunha and Cormac McCarthy 325
George B. Handley
21 Settler States of Feeling: National Belonging and the Erasure of Native American Presence 342
Mark Rifkin
22 Tribal Nations and the Other Territories of American Indian Literary History 356
James H. Cox
23 Globalization 373
Paul Giles
Part III. Practices 387
24 Democratic Cultures and the First Century of US Literature 389
Dana D. Nelson
25 American Literature and Law 406
Brook Thomas
26 Sexuality and American Literary Studies 422
Christopher Looby
27 Exquisite Fragility: Human Being in the Aftermath of War 437
Priscilla Wald
28 The Posthuman Turn: Rewriting Species in Recent American Literature 454
Ursula K. Heise
29 Narrative and Intellectual Disability 469
Michael Bérubé
30 Reading for Asian American Literature 483
Colleen Lye
31 Untangling Genealogy's Tangled Skeins: Alexander Crummell, James McCune Smith, and Nineteenth-Century Black Literary Traditions 500
Carla L. Peterson
32 Speculative Realism and the Postrace Aesthetic in Contemporary American Fiction 517
Ramón Saldívar
33 The New Life of the New Forms: American Literary Studies and the Digital Humanities 532
Matt Cohen
Index 549
See More
Caroline F. Levander
is Carlson Professor in the Humanities, Professor of English, and Vice President for Strategic Initiatives and Digital Education at Rice University, USA. She is author of
Hotel Life (with Matt Guterl, 2015), Where Is American Literature? (2013), Voices of the Nation: Women and Public Speech in Nineteenth-Century American Culture and Literature
(1998) and
Cradle of Liberty: Race, the Child and National Belonging from Thomas Jefferson to W.E.B. Du Bois
(2006); she is co-editor of
The American Child: A Culture Studies Reader
(2003),
Hemispheric American Studies
(2008), and
Teaching and Studying the Americas
(2010).
Robert S. Levine is Distinguished University Professor of English at the University of Maryland, USA. He is the author of Conspiracy and Romance (1989), Martin Delany, Frederick Douglass, and the Politics of Representative Identity (1997), Dislocating Race and Nation (2008), and The Lives of Frederick Douglass (forthcoming); he is also the editor of a number of volumes, including Martin R. Delany: A Documentary Reader (2003), The Norton Anthology of American Literature, 1820-1865 (2007, 2012), and Hemispheric American Studies (with Caroline F. Levander, 2008).
See More
More in this series