The Severe and Persistent Mental Illness Treatment Planner, 2nd Edition
ISBN: 978-1-119-06305-6
336 pages
December 2014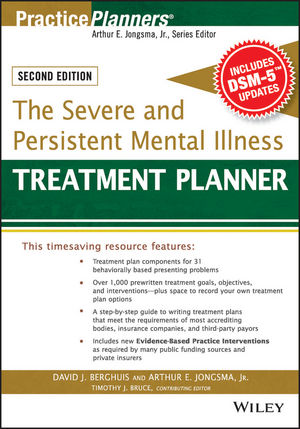 This timesaving resource features:
Treatment plan components for 31 behaviorally based presenting problems
Over 1,000 prewritten treatment goals, objectives, and interventions—plus space to record your own treatment plan options
A step-by-step guide to writing treatment plans that meet the requirements of most accrediting bodies, insurance companies, and third-party payors
Includes new Evidence-Based Practice Interventions as required by many public funding sources and private insurers
PracticePlanners® THE BESTSELLING TREATMENT PLANNING SYSTEM FOR MENTAL HEALTH PROFESSIONALS
The Severe and Persistent Mental Illness Treatment Planner, Second Edition provides all the elements necessary to quickly and easily develop formal treatment plans that satisfy the demands of HMOs, managed care companies, third-party payors, and state and federal agencies.
New edition features empirically supported, evidence-based treatment interventions
Organized around 31 main presenting problems, including employment problems, family conflicts, financial needs, homelessness, intimate relationship conflicts, and social anxiety
Over 1,000 prewritten treatment goals, objectives, and interventions—plus space to record your own treatment plan options
Easy-to-use reference format helps locate treatment plan components by behavioral problem
Designed to correspond with The Severe and Persistent Mental Illness Progress Notes Planner, Second Edition
Includes a sample treatment plan that conforms to the requirements of most third-party payors and accrediting agencies (including CARF, The Joint Commission, COA, and NCQA)
Additional resources in the PracticePlanners® series:
Progress Notes Planners contain complete, prewritten progress notes for each presenting problem in the companion Treatment Planners.
Documentation Sourcebooks provide the forms and records that mental health professionals need to efficiently run their practice.
For more information on our PracticePlanners®, including our full line of Treatment Planners, visit us on the Web at: www.wiley.com/practiceplanners
See More
PracticePlanners® Series Preface xi

Acknowledgments xiii

Introduction 1

Sample Treatment Plan 8

Activities of Daily Living (ADL) 11

Aging 19

Anger Management 27

Anxiety 36

Borderline Personality 45

Chemical Dependence 52

Depression 63

Employment Problems 72

Family Conflicts 79

Financial Needs 88

Grief and Loss 94

Health Issues 100

Homelessness 107

Independent Activities of Daily Living (IADL) 114

Intimate Relationship Conflicts 124

Legal Concerns 133

Mania or Hypomania 141

Medication Management 150

Obsessive-Compulsive Disorder (OCD) 157

Panic/Agoraphobia 164

Paranoia 173

Parenting 181

Posttraumatic Stress Disorder (PTSD) 190

Psychosis 200

Recreational Deficits 208

Self-Determination Deficits 216

Sexuality Concerns 226

Social Anxiety 235

Social Skills Deficits 243

Specific Fears and Avoidance 251

Suicidal Ideation 259

Appendix A: Bibliotherapy Suggestions 269

Appendix B: References for Evidence-Based Chapters 285

Appendix C: Recovery Model Objectives and Interventions 305
See More
ARTHUR E. JONGSMA, JR., PHD, is Series Editor for the bestselling PracticePlanners®. Since 1971, he has provided professional mental health services to both inpatient and outpatient clients. He was the founder and director of Psychological Consultants, a group private practice in Grand Rapids, Michigan, for 25 years. He is the author or coauthor of over 50 books on treatment planning and has conducted training workshops for mental health professionals around the world.
DAVID J. BERGHUIS, MA, LLP, is in private practice and has worked in community mental health for more than a decade. He is also coauthor of numerous titles in the PracticePlanners® series.
TIMOTHY J. BRUCE, PHD, is Professor and Associate Chair of the Department of Psychiatry and Behavioral Medicine at the University of Illinois College of Medicine. In addition to maintaining a diverse clinical practice, Dr. Bruce is active in classroom and clinical teaching as well as educational program administration. His major areas of interest and contributions to the literature have been in the evidence-based practice of clinical psychology, psychotherapy research, and the teaching of clinical psychology. Dr. Bruce has received over three dozen awards for his professional efforts to date.
See More