The Family Therapy Treatment Planner, with DSM-5 Updates, 2nd Edition
ISBN: 978-1-119-06307-0
368 pages
December 2014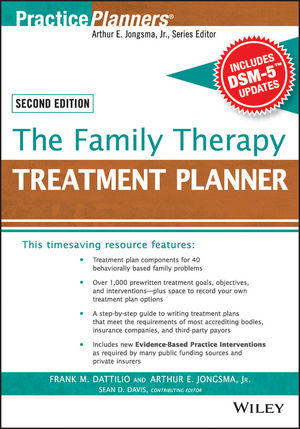 This timesaving resource features:
Treatment plan components for 40 behaviorally based presenting problems
Over 1,000 prewritten treatment goals, objectives, and interventions—plus space to record your own treatment plan options
A step-by-step guide to writing treatment plans that meet the requirements of most accrediting bodies, insurance companies, and third-party payors
Includes new Evidence-Based Practice Interventions as required by many public funding sources and private insurers
PracticePlanners® THE BESTSELLING TREATMENT PLANNING SYSTEM FOR MENTAL HEALTH PROFESSIONALS
The Family Therapy Treatment Planner, Second Edition provides all the elements necessary to quickly and easily develop formal treatment plans that satisfy the demands of HMOs, managed care companies, third-party payors, and state and federal agencies.
New edition features empirically supported, evidence-based treatment interventions
Organized around 40 main presenting problems including child/parent conflicts, depression, abuse, death and loss issues, blended family problems, and loss of family cohesion
Over 1,000 prewritten treatment goals, objectives, and interventions—plus space to record your own treatment plan options
Easy-to-use reference format helps locate treatment plan components by behavioral problem
Designed to correspond with The Family Therapy Progress Notes Planner, Second Edition and the Brief Family Therapy Homework Planner, Second Edition
Includes a sample treatment plan that conforms to the requirements of most third-party payors and accrediting agencies including CARF, The Joint Commission (TJC), COA, and the NCQA
Additional resources in the PracticePlanners® series:
Progress Notes Planners contain complete, prewritten progress notes for each presenting problem in the companion Treatment Planners.
Homework Planners feature behaviorally based, ready-to-use assignments to speed treatment and keep clients engaged between sessions.
For more information on our PracticePlanners®, including our full line of Treatment Planners, visit us on the Web at: www.wiley.com/practiceplanners
See More
PracticePlanners® Series Preface x

Acknowledgments xiii

Introduction 1

Sample Treatment Plan 8

Activity/Family Imbalance 11

Adolescent/Parent Conflicts 19

Adoption Issues 29

Alcohol Abuse 35

Anger Management 47

Anxiety 55

Blame 63

Blended Family Problems 71

Child/Parent Conflicts 79

Communication 85

Compulsive Behaviors 91

Death of a Child 99

Death of a Parent 105

Dependency Issues 111

Depression in Family Members 117

Disengagement/Loss of Family Cohesion 125

Eating Disorder 133

Extrafamilial Sexual Abuse 143

Family Activity Disputes 151

Family Business Conflicts 157

Family Member Separation 163

Family-of-Origin Interference 169

Financial Changes 175

Geographic Relocation 181

Incest Survivor 187

Infidelity 197

Inheritance Disputes Between Siblings 203

Interfamilial Disputes Over Wills and Inheritance 209

Interracial Family Problems 213

Intolerance/Defensiveness 219

Jealousy/Insecurity 227

Life-Threatening/Chronic Illness 235

Multiple Birth Dilemmas 241

Physical/Verbal/Psychological Abuse 247

Religious/Spiritual Conflicts 257

Reuniting Estranged Family Members 263

Separation/Divorce 269

Sexual Orientation Conflicts 279

Traumatic Life Events 287

Unwanted/Unplanned Pregnancy 295

Appendix A Bibliotherapy Suggestions 303

Appendix B Professional References for Evidence-Based Chapters 321

Appendix C Recovery Model Objectives and Interventions 345
See More
ARTHUR E. JONGSMA, JR., PHD, is the Series Editor for the bestselling PracticePlanners®. Since 1971, he has provided professional mental health services to both inpatient and outpatient clients. He was the founder and director of Psychological Consultants, a group private practice in Grand Rapids, Michigan, for 25 years. He is the author or coauthor of over 50 books on treatment planning and has conducted training workshops for mental health professionals around the world.
FRANK M. DATTILIO, PHD, ABPP, maintains a dual faculty appointment in the Department of Psychiatry at Harvard Medical School and the University of Pennsylvania School of Medicine. He is the recipient of numerous awards, including the award for Distinguished Psychologist by the American Psychological Association's Division 29. He has more than 200 professional publications and fourteen books in the areas of marital and family discord, anxiety disorders, and forensic and clinical psychology.
SEAN D. DAVIS, PHD, is Assistant Professor and Site Director of Alliant International University's Marriage and Family Therapy program and a licensed marriage and family therapist in private practice in Sacramento, California.
See More