Sustainable Futures in the Built Environment to 2050: A Foresight Approach to Construction and Development
ISBN: 978-1-119-06381-0
304 pages
February 2018, Wiley-Blackwell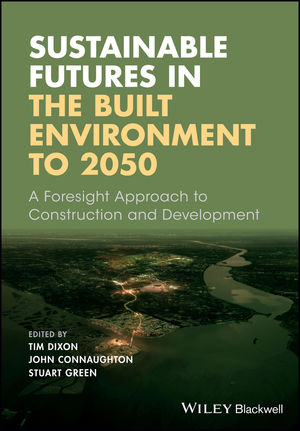 Sustainable Futures in the Built Environment provides an insight on both construction and development issues and examine how we can transition to a sustainable future by 2050 bringing together leading research and practice at building, neighbourhood and city levels.

Coverage includes the 'hard end' of the built environment (across the scales of buildings, communities and cities), and the 'softer' end in terms of how professional practice will need to adapt to these trends. Invaluable source for researchers and postgraduate students as well as built environment professionals.
See More
List of Contributors ix
Notes on Contributors x
Foreword xiv
Preface xvii
Acknowledgements xix
Book Endorsements xx
1 Introduction: Foresight and Futures Studies in Construction and Development 1
Tim Dixon, John Connaughton and Stuart Green
Part 1 Sustainability and the Built Environment 25
2 Climate Change, Resilience and the Built Environment 27
Janet F. Barlow, Li Shao and Stefan T. Smith
3 Sustainability in Real Estate Markets 50
Jorn van de Wetering
4 From the 'Sustainable Community' to Prosperous People and Places: Inclusive Change in the Built Environment 72
Saffron Woodcraft and Constance Smith
5 Smart and Sustainable?: The Future of 'Future Cities' 94
Tim Dixon
6 Sustainable Infrastructure 117
Martino Tran, Jim Hall, Robert Nicholls, Adrian J. Hickford, Modassar Chaudry and Geoff Watson
7 Sustainable Design of the Built Environment 137
Lorraine Farrelly
Part 2 Changing Professional Practice 155
8 Planning for Sustainability: Reflections on a Necessary Activity 157
Joe Doak and Gavin Parker
9 Sustainable Construction: Contested Knowledge and the Decline of Professionalism 172
Stuart Green
10 Sustainable Procurement 194
John Connaughton and Will Hughes
11 Social Media in the Built Environment 223
Bob Thompson
Part 3 Provocations about the Future: Practitioners' Viewpoints 249
12 Sustainability through Collaboration and Skills Development 251
Andy Ford and Aaron Gillich
13 Built Environment Professionals as Sustainability Advocates 270
Gerard Healey
Part 4 Transformative Technologies and Innovation 285
14 Energy Interactions: The Growing Interplay between Buildings and Energy Networks 287
Phil Coker and Jacopo Torriti
15 Sustained Innovation Uptake in Construction 310
Graeme D. Larsen
16 Humanising the Digital: A Cautionary View of the Future 325
Ian J. Ewart
Part 5 Conclusions and Common Themes 337
17 Understanding and Shaping Sustainable Futures in the Built Environment to 2050 339
Tim Dixon, John Connaughton and Stuart Green
Index 339
See More
Tim Dixon is Professor of Sustainable Futures in the Built Environment, School of the Built Environment, at University of Reading, UK.
John Connaughton is Professor of Sustainable Construction and Head of Construction Management and Engineering, School of the Built Environment, at University of Reading, UK.
Stuart Green is Professor of Construction Management, School of the Built Environment at University of Reading, UK.
See More