Innovative Learning for Leadership Development: New Directions for Student Leadership, Number 145
ISBN: 978-1-119-06729-0
120 pages
March 2015, Jossey-Bass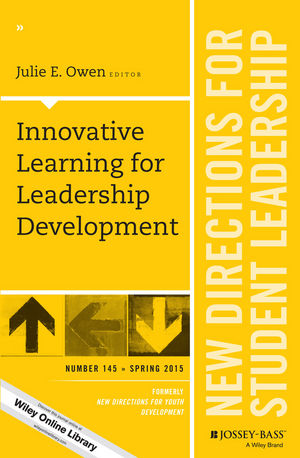 Critically examine the intersections of learning and leadership. Using L. Dee Fink's taxonomy of signicant learning as a scaffold, experts in leadership education explain connections between emerging scholarship of teaching and learning and current trends in leadership, how to develop a more complex understanding of the levers of leadership learning, the environments that promote meaningful and measurable leadership learning, and the evidence behind such a practice.
This volume examines:
the role of leadership educator,
the roles of authenticity (being true to one's self) and criticality in education (interrogating beliefs and questioning power dynamics),
select learning theories and their implications for leadership learning, and
strategies for constructing leadership-related learning outcomes and assessing leadership learning.
The Jossey-Bass quarterly report series
New Directions for Student Leadership
explores leadership concepts and pedagogical topics of interest to high school and college leadership educators. Issues are grounded in scholarship and feature practical applications and best practices in youth and adult leadership education.
See More
SERIES EDITORS' NOTES 1
Susan R. Komives, Kathy L. Guthrie
EDITOR'S NOTES 5
Julie E. Owen
1. Transforming Leadership Development for Significant Learning 7
Julie E. Owen
Leadership education is undergoing a transformation where powerful pedagogies and emerging knowledge about the scholarship of teaching and learning supplant long held and often-outmoded practices of leadership education. This transformation requires new commitments to evidence-based practice, critical consciousness, and more complex understanding of the levers of leadership learning.
2. Building Critical Capacities for Leadership Learning 19
Mark Anthony Torrez, Melissa L. Rocco
Cognitive elements of transformational learning, particularly metacognition and critical self-reflection, are discussed as essential considerations for leadership development in the 21st century. The importance of
developmentally sequencing leadership-learning experiences and addressing evolving complexities of leadership identity are also explored.
3. Navigating Leadership Complexity Through Critical, Creative, and Practical Thinking 35
Jennifer M. Pigza
Leadership education that intentionally addresses critical, creative, and practical thinking enhances significant learning for students and deepens the leadership practices of educators. This chapter explores specific applications in the areas of graduate leadership education, action research, service immersion program, and advising conversations. Additionally, it presents a framework of pathways to social change and suggests how such a framework can be useful to students and leadership educators.
4. Integrative and Interdisciplinary Approaches to Leadership Development 49
Julie E. Owen
Integrating diverse conceptions of leadership across different disciplines, perspectives, and epistemologies is imperative if leaders are to operate in a global and networked world. Interdisciplinary and integrative leadership courses and digital learning communities are featured examples.
5. Valuing Human Significance: Connecting Leadership Development to Personal Competence, Social Competence, and Caring 59
Paige Haber-Curran, Scott J. Allen, Marcy Levy Shankman
This chapter examines humanistic ways of understanding learning; connects leadership learning to the concepts of personal competence, social competence, and caring; and introduces the model of emotionally intelligent leadership.
6. Connecting to Experience: High-Impact Practices for Leadership Development 71
Kerry L. Priest, Nicholas A. Clegorne
Leadership educators can leverage high-impact experiences to enhance student leadership development. This chapter describes three key practices—sociocultural conversations with peers, mentoring, and membership in off-campus organizations—as levers of leadership learning. Illustrations of the practice in context and reflections from practitioners and students are also included. The chapter concludes with considerations of context, developmental readiness, and best practices of experiential education.
7. Connecting to Communities: Powerful Pedagogies for Leading for Social Change 85
Wendy Wagner, Patricia Mathison
This chapter explores the use of powerful pedagogies such as servicelearning, cultural immersion, and community-based research to enhance leadership development. Four key principles are presented that
describe how leadership educators can facilitate community-based learning in a way that creates an optimal learning environment for students, while also engaging ethically with individuals and organizations in the community.
8. Formative Assessment as an Effective Leadership Learning Tool 97
J. Matthew Garrett, Jill M. Camper
Formative assessment can be a critical and creative practice in leadership education and significantly enhance student learning, leader development, and leadership development. This chapter seeks to frame the use of assessment as both a best practice in leadership education and as an integral component to effective leadership learning pedagogy.
INDEX 107
See More
January 05, 2015
Jossey-Bass Launches New Directions for Student Leadership Series
Connect with Wiley Publicity
January 5, 2015 (San Francisco, CA) – Jossey-Bass, a Wiley Brand, publisher of higher education, student affairs and youth development, announced today it is launching the New Directions for Student Leadership series. This series will explore dimensions of the development of leadership in high school youth and college students to aid leadership educators who design educational programs for students.
New Directions for Student Leadership will premier in March 2015. The first issues and their editors include "Innovative Learning for Leadership Development" (Julie Owen, George Mason University), "Developing Ethical Leaders" (Arthur Schwartz, Widener University), "Engagement and Leadership for Social and Political Change" (Kathleen Knight Abowitz and Michael Evans, Miami University Ohio), and "Student Leadership Development through Recreation and Athletics" (Don Stenta, Ohio State University, and Cara McFadden, Elon College).
Series editors will be Susan R. Komives and Kathy L. Guthrie. Komives is professor emerita from the University of Maryland, cofounder of the National Clearinghouse for Leadership Programs and coauthor or coeditor of a dozen books, including Exploring Leadership, Handbook for Student Leadership Development, and Leadership for a Better World. She is former coprincipal investigator of the international Multi-Institutional Study of Leadership and the Leadership Identity Development model. She is the 2013 recipient of the Lifetime Achievement Award from ACPA: College Student Educator's International. Guthrie is associate professor in higher education at Florida State University and coordinator of the Undergraduate Certificate in Leadership Studies. She has coedited a New Directions for Student Services sourcebook titled "Developing Undergraduate Student Leadership Capacity" and recently coauthored "Cultivating Leader Identity and Capacity in Students from Diverse Backgrounds." Additionally, Guthrie serves on the editorial board for Journal of Leadership Education, Journal of College and Character, and Journal of Student Affairs Research and Practice.
Komives and Guthrie observe "the world today needs more and better leaders from all contexts who are able to work together on messy problems. We feel this New Directions series will provide current and relevant information for educators and administrators working with students of all ages to develop their leadership capacity and leader identity." They have planned issues and welcome proposals on timely topics that will broaden and deepen current practices in leadership education. Refer to http://news.wiley.com/NDSL for more information.
Jossey-Bass publishes ten New Directions series, including New Directions for Higher Education and New Directions for Student Services. These quarterly publications are found in libraries and available for individual subscription. Individual issues are also available for purchase at www.josseybass.com/highereducation.
See More
Learn more about