Practical Guide to International Standardization for Electrical Engineers: Impact on Smart Grid and e-Mobility Markets
ISBN: 978-1-119-06741-2
272 pages
September 2016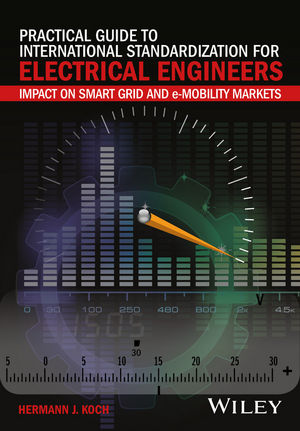 Practical Guide to International Standardization for Electrical Engineering provides a comprehensive guide to the purpose of standards organizations, their relationship to product development and how to use the standardization process for cost-effective new product launch. It covers major standardization organizations in the field of Electrical Engineering offering a general overview of the varying structures of national standardization organizations, their goals and targets.
Key questions for standardization are answered giving the reader guidance on how to use national and international standards in the electrical business. When shall the company start to enter standardization? How to evaluate the standardization in relationship to the market success? What are the interactions of innovations and market access? What is the cost of standardization? What are the gains for our experts in standardization?
Key features:
Provides guidance on how to use national and international standards in the electrical business.
Global active standardization bodies featured include IEEE, IEC and CIGRE as well as regional organizations like CENELEC for Europe, SAC for China, DKE for Germany, and ANSI for USA.
Case studies demonstrate how standardization affects the business and how it may block or open markets.
Explains the multiple connections and influences between the different standardization organizations on international, regional or national levels and regulatory impact to the standardization processes.
Two detailed focused case studies, one on Smart Grid and one on Electro-Mobility, show the influence and the work of international standardization. The case studies explain how innovative technical developments are promoted by standards and what are the roles of standardization organizations are.
A valuable reference for electrical engineers, designers, developers, test engineers, sales engineers, marketing engineers and users of electrical equipment as well as authorities and business planners to use and work with standards.
See More
Hermann Koch, Siemens AG, Germany
Hermann Koch currently works in the field of high voltage switchgear and high voltage transmission lines with Siemens in Germany. He became Principal Expert after overseeing the installation of the first second generation GIL (gas insulated transmission lines) in Geneva, Switzerland in 2001. He is IEEE Fellow and Chairman of IEEE PES Substations Committee Working Group of the Gas-insulated Substations (GIS) book. In IEC he is Secretary of SC 17C High Voltage Switchgear Assemblies. In CIGRE he is member of the Strategic Advisory Group of SC B3 Substations. He has published 150 technical papers and holds 31 patents in the field of gas insulated technology.
See More
At first glance Standards, and particularly International Standards, appear to have a very clear and singular function; to define widely applicable technical performance requirements within their scope of application. Of course this is a key purpose of Standards but the role and influence of Standards and the Standardization process are much broader than they might at first appear. Knowledge of, and engagement with, Standards and the processes by which they are produced is invaluable for engineers and scientists throughout the life cycle of any product of service; from research and development, through production and service, and to end of life and disposal.
Development of new Standards should always take place to address a market need. This need may derive directly from a customer desire to implement new technology, services or facilities, it may be driven by developments in technology within the suppliers of products and services but more typically it is a combination of these factors. In any case there will typically be pre-Standardization activities undertaken among international experts to establish the maturity of the intended field of Standardization and to establish a common language, definitions and mutual understanding within the field. Whether done internally by Standardization bodies or externally by organizations such as CIGRE this process of establishing a common language and understanding is key to effective Standardization. Pre-Standardization activity also commonly highlights areas where critical knowledge is lacking and thereby provides feedback for further research and development required prior to establishment of a Standard or Standards. Finally pre-Standardization can also identify aspects which should not be Standardized, for example because there is no common approach possible or because they are subject to specific local requirements.
Once initiated, a key strength of the Standardization process itself is that it brings together a wide range of stakeholders with a need to establish clear, unambiguous requirements that are deliverable (at reasonable cost) and are mutually acceptable to all. Since Standards address aspects such as technical performance, operation & operational facilities, safety, environmental impact, testing and interoperability, it is common for researchers, designers, manufacturers, testing facilities, users, regulators and consultants to be engaged in their development. As well as resulting in an effective Standard, this process provides each and every participant with a valuable insight into the perspectives of other stakeholders in the field which is difficult to gain effectively by other means. It is also a great training ground in the arts of negotiation and compromise!
Finally, even the best Standard will have scope for improvement once it has been applied and used by a wide range of stakeholders. Feedback into the Standards-making process from the widest possible stakeholder base is vital to ensure the best possible Standard and to ensure that developments within the scope of application are addressed. So, in summary, Standards and the processes by which they are prepared have a considerable influence on the activities of engineers working in the field of electrical engineering and a knowledge of, and ideally participation in, this activity is undoubtedly advantageous and may even be considered essential.
Mark Walldron CIGRE TC Chairman
Modern societies would not work properly without standards. From basic commodities like bulbs or a sheet of paper to highly complex machineries and power plants: Nothing runs without technical rules. Norms and standards as commonly recognized state of the art lay down not only interfaces as precondition for exchangeability, comparability and interoperability. The user independent of being a consumer or an integrator also obtains assurance regarding the required level of safety and quality.
In this manner the term safety means to comprehensively protect humans, animals and objects against any harm regardless of the threat scenario. The key is to already take the necessary precautions at the design phase of a new product to reduce any risk to a minimum. A standard represents the extensive experience of many experts – engineers, scientists, safety experts, environmentalists as well as consumer advocates. If a product fulfills the requirements of such a consensus]driven standard a high level of safety is automatically classified. Designers and developers benefit from the standard in the way that their work becomes more efficient and reliable. Thereby, the standard only provides basic requirements so that there is still enough space for innovation and creativity. Hence, standards by no means impede innovation but lay down a level playing field on which competitors can build different solutions with unique selling propositions.
However, standardization requires the input of many experts that provide their knowledge for the common property. Moreover, companies delegating experts into standardization bear the costs of travelling and personnel. But, companies also benefit from direct participation within standard committees by shaping the standard to their advantage or gaining knowledge prior to the publication of a standard. To sum up, not only the individual standard setters, but also the whole society benefits from standardization since standards promote technological acceptance and open]mindedness. Standardization can achieve a highly operational and economical benefit which is estimated around 16 billion Euros per year for Germany.

Bernhard Thies
Chairman of the Board of Directors, DKE Technical Standardization, Electric, Electronic and Information Technology, Frankfurt, Germany



Many assertions are made about standardization and standards – and the most of them are true! Now let us take a look at them from various perspectives.
Firstly, from a governmental perspective, standards support regulatory requirements and help to achieve societal goals such as safety in operation, user and environmental friendliness, energy efficiency and sustainability. Further, standards set the scene by stipulating the commonly accepted basic requirements that various vendors have agreed on. These same vendors compete in markets based on product features, performance, quality and price. Through this mechanism standards help to intensify competition.
If true international standards are widely adopted in global target markets the major advantage for vendors using the standards is to capitalize on their broad market acceptance so reducing country specific re]design or re]engineering.
Finally product users benefit from the extensive variety of products made by different vendors and at the same time they can be confident with the conformity to legal regulations. In addition they benefit from interoperability in heterogeneous multi]vendor solutions. Furthermore these standards provide investment security from simple machinery to complex large scale industrial plants. After extolling all the merits of using standards we should not however forget to honor those who make them – he innumerable technical experts in the committees and working groups of standards developing organizations. Any such committee can consider itself more than fortunate if it has highly skilled, knowledgeable and experienced industry experts contributing to its standardization work. Experts such as Dr. Hermann J. Koch. I can thoroughly recommend Hermann Koch' practical guide which provides "ands on"expert knowledge. The international standardization community would benefit greatly if there were more key experts like Hermann Koch.

Markus Reigl, Dipl-Ing, MA
Head of the Corporate Department for Technical Regulation and Standardization, Siemens AG, Berlin and Munich, Germany



Major technological innovations in the areas such as renewable energy resources, storage, electric vehicles, automation, measurement devices, protection and control, materials, DC technology and robotics resulted in a paradigm shift of how we use electricity. The electric power and energy industry is in a crucial transition phase as initiatives we take today will affect how the grid is operated for years to come. In this fast ]pace environment, standards are even more critical for both users and vendors to streamline deployment of both existing and new technologies and support interoperability among devices and systems as well as the use of best industry practices.
Active participation in development of Standards has been helping our membership to enhance and protect current and future investments, shape industry practices, and influence new developments. IEEE members need to be even more engaged and with support and leadership from the IEEE Standards Association continue working diligently to better serve our industry in releasing standards in timely fashion.

As we emphasize importance of IEEE standards and technical reports, it is important to remember that they have been providing fundamental value to our industry since the dawn of electricity. Presently, a lot of countries in the world have industry regulations/codes based on IEEE related standards. The goal of IEEE, including IEEE Power and Energy Society (PES) which publishes over 40% of IEEE standards, is to continue developing required standards and focus on promoting them globally.

This book by one of the industry leaders in developing standards, Dr. Herman Koch, is very important to raise the awareness and communicate importance of standards, including recent developments.

Damir Novosel
IEEE PES President
See More