CWNA Certified Wireless Network Administrator Official Deluxe Study Guide: Exam CWNA-106
ISBN: 978-1-119-06776-4
912 pages
March 2015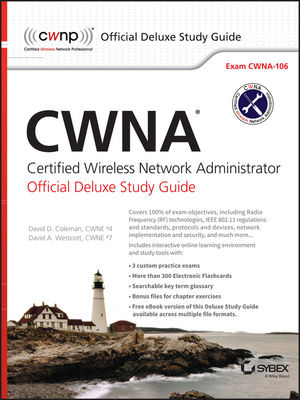 Complete CWNA-106 prep, with full coverage and hands-on practice
CWNA Certified Wireless Network Administrator Deluxe Study Guide is your official study guide for the leading wireless certification program. Updated for the new CWNA-106 exam, this book provides coverage of all exam objectives, plus review questions and hands-on exercises that help you build your skills and your confidence before exam day. Start with a pre-assessment test to find out how much you already know, then fill in the gaps with detailed coverage of radio frequency technology, regulations and standards, protocols and devices, network implementation and security, RF site surveying, and much more. Sybex's interactive online learning environment and test bank gives you access to hundreds of questions and robust study tools, including chapter tests, practice exams, flashcards, a glossary of key terms, and bonus chapter material — all to help you prepare for and increase your chances of passing the exam the first time around.
Find your starting point with a pre-assessment test
Get up to speed on all CWNA-106 exam objectives
Sharpen your practical skills with hands-on exercises
Test your knowledge with practice exam questions
Savvy candidates know that strategic prep is essential to first-time success, and CWNA Certified Wireless Network Administrator Deluxe Study Guide is your toolbox for building the next step in your wireless career.
See More
Foreword xxiii
Introduction xxv
Assessment Test lvi
Chapter 1 Overview of Wireless Standards, Organizations, and Fundamentals 1
Chapter 2 Radio Frequency Fundamentals 31
Chapter 3 Radio Frequency Components, Measurements, and Mathematics 63
Chapter 4 Radio Frequency Signal and Antenna Concepts 107
Chapter 5 IEEE 802.11 Standards 161
Chapter 6 Wireless Networks and Spread Spectrum Technologies 199
Chapter 7 Wireless LAN Topologies 237
Chapter 8 802.11 Medium Access 263
Chapter 9 802.11 MAC Architecture 283
Chapter 10 WLAN Architecture 325
Chapter 11 WLAN Deployment and Vertical Markets 371
Chapter 12 WLAN Troubleshooting and Design 399
Chapter 13 802.11 Network Security Architecture 459
Chapter 14 Wireless Attacks, Intrusion Monitoring, and Policy 499
Chapter 15 Radio Frequency Site Survey Fundamentals 533
Chapter 16 Site Survey Systems and Devices 561
Chapter 17 Power over Ethernet (PoE) 595
Chapter 18 802.11n 621
Chapter 19 Very High Throughput (VHT) and 802.11ac 659
Chapter 20 Bring Your Own Device (BYOD) 697
Appendix A Answers to Review Questions 735
Appendix B Abbreviations and Acronyms 783
Certifications 784
Organizations and Regulations 784
Measurements 785
Technical Terms 786
Index 797
See More
David D. Coleman, CWNE #4, is the Global Training Manager for Aerohive Networks. He instructs IT professionals from around the world in the administration, security, design, and troubleshooting of WLANs. David A. Westcott, Xim CWNE #7, has been a certified trainer for more than 20 years, providing vendor and custom wireless training around the world to government agencies, corporations, and universities.
Both have authored half a dozen books for wireless-system designers and technicians.
See More
Learn more about