E-book
Recognizing and Engaging Employees For Dummies
ISBN: 978-1-119-06780-1
384 pages
August 2015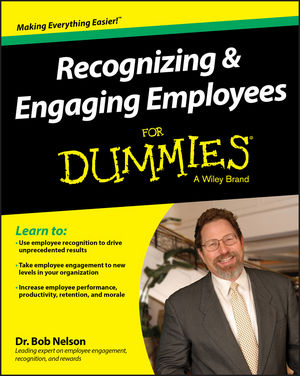 Improve engagement, productivity, and motivation with effective employee recognition
Recognizing and Engaging Employees for Dummies gives you the tools and information you need to improve morale, productivity, and personal achievement with a successful employee recognition program. Written by a world-leading authority in employee recognition, this book walks you step-by-step through the design and implementation process and describes the incentives that work, the behaviors to reward, and the mechanisms that must be in place for the program to be effective in the long term. You'll learn how to pinpoint the places where engagement and recognition could improve the bottom line, and how to structure the reward for optimal balance between motivational, financial, and organizational effectiveness. With clear explanations and a fun, friendly style, this book is your quick and easy guide to boosting productivity, profit, and customer satisfaction.
Most Americans who leave their jobs cite lack of recognition as the driving factor. When your employees feel appreciated, they stick around, work harder, achieve more, and drive your business onward and upward. This book shows you how to bring that dynamic to your workplace, with step-by-step guidance and helpful advice.
Design successful recognition programs
Create powerful incentives for employees
Reduce turnover, improve engagement, and drive excellence
Foster a happier and more productive workplace
Happy employees are productive employees. They get results. They innovate. They are the force behind the advancement of industries. Effective employee recognition programs are self-sustaining motivational tools that keep the fire lit. If you're ready to spark the flame, Recognizing and Engaging Employees for Dummies is the ideal guide for designing, implementing, and maintaining the program your employees have been waiting for.
See More
Introduction 1
Part I: Enhancing Employee Engagement through Recognition 5
Chapter 1: The Quest for Engagement 7
Chapter 2: Strategies for an Engaged Workforce 21
Chapter 3: How Recognition Drives Employee Engagement 43
Part II: The Fundamentals of Employee Recognition 61
Chapter 4: The Importance of Employee Recognition Today 63
Chapter 5: The Principles of Employee Recognition 81
Chapter 6: The Manager's Role in Recognizing Employees 97
Chapter 7: Getting Managers to Recognize Employees 113
Part III: Implementing Recognition throughout the Organization 133
Chapter 8: Creating a Culture of Recognition 135
Chapter 9: Engaging and Recognizing Individuals 155
Chapter 10: Engaging and Recognizing Teams 171
Chapter 11: Implementing Organizational Recognition 189
Part VI: Creating and Sustaining a Culture of Recognition 207
Chapter 12: Recognition and Technology 209
Chapter 13: Sustaining and Reenergizing Recognition Efforts 225
Chapter 14: Troubleshooting Recognition Problems 241
Part V: Issues and Challenges in Recognizing and Engaging Employees 257
Chapter 15: Selling Recognition to Senior Management 259
Chapter 16: Recognizing and Engaging Millennials 273
Chapter 17: Engaging and Retaining High?]Potential Employees 289
Part VI: The Part of Tens 311
Chapter 18: Top Ten Ironies of Motivation 313
Chapter 19: Top Ten Trends in Employee Recognition 323
Chapter 20: Ten No?]Cost Strategies for Recognizing and Engaging Employees 335
Index 349
See More
Dr. Bob Nelson is considered one of the world's leading experts on employee engagement, recognition, and rewards. He is president of Nelson Motivation, Inc., a management training and consulting company that helps organizations improve their administration practices, programs, and systems.
See More