Children, Health and Well-being: Policy Debates and Lived Experience
ISBN: 978-1-119-06951-5
168 pages
September 2015, Wiley-Blackwell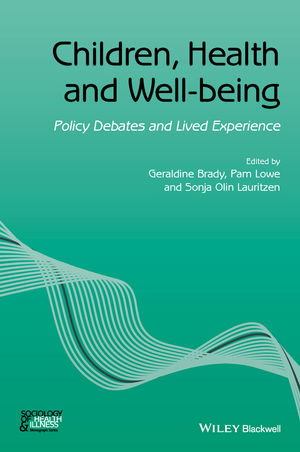 This book brings together new and leading scholars, who demonstrate the importance of research
with
children and from a child perspective, allowing for a fuller understanding of the meaning and impact of health and illness in children's lives.
Demonstrates the importance of research with children and research from a child perspective, in order to fully understand the meaning and impact of health and illness in children's lives
Encourages critical reflection on contemporary health policy and its relationships to culturally specific ways of knowing and understanding children's health
Brings together new and leading scholars in the field of children's health and illness
Moves the highly important issue of children's health into the mainstream sociology of health and illness
See More
Notes on contributors vii
1 Connecting a sociology of childhood perspective with the study of child health, illness and wellbeing: introduction 1
Geraldine Brady, Pam Lowe and Sonja Olin Lauritzen
2 Where is the child? A discursive exploration of the positioning of children in research on mental–health-promoting interventions 13
Disa Bergnehr and Karin Zetterqvist Nelson
3 Biologising parenting: neuroscience discourse, English social and public health policy and understandings of the child 27
Pam Lowe, Ellie Lee and Jan Macvarish
4 Obesity in question: understandings of body shape, self and normalcy among children in Malta 41
Gillian M. Martin
5 'You have to do 60 minutes of physical activity per day . . . I saw it on TV': Children's constructions of play in the context of Canadian public health discourse of playing for health. 55
Stephanie A. Alexander, Caroline Fusco and Katherine L. Frohlich
6 Parents' experiences of diagnostic processes of young children in Norwegian day-care institutions 69
Terese Wilhelmsen and Randi Dyblie Nilsen
7 The meaning of a label for teenagers negotiating identity: experiences with autism spectrum disorder 83
Lise Mogensen and Jan Mason
8 What am I 'living' with? Growing up with HIV in Uganda and Zimbabwe 98
Sarah Bernays, Janet Seeley, Tim Rhodes and Zivai Mupambireyi
9 Food, risk and place: agency and negotiations of young people with food allergy 112
Marie-Louise Stjerna
10 Negotiating pain: the joint construction of a child's bodily sensation 126
Laura Jenkins
11 Understanding inter-generational relations: the case of health maintenance by children 140
Berry Mayall
Index 153
See More
Geraldine Brady is a Senior Research Fellow at Coventry University. Her research engages with policy and medicalised discourses that shape ideas about children's health and behaviour. She is Co-convenor, with Pam Lowe, of BSA's West Midlands Medical Sociology Group.

Pam Lowe is a Senior Lecturer in Sociology at Aston University. Her research is centred around women's reproductive health, with a particular interest in pregnancy, contraception and parenting.

Sonja Olin Lauritzen is Professor Emerita of Education at Stockholm University. She has a research interest in health surveillance, the construction of normality and parental understandings of child health. She is the editor of Medical Technologies and the Life World; The Social Construction of Normality (with L-C Hydén, 2007).
See More
More in this series