E-book
The Group Therapy Treatment Planner, with DSM-5 Updates, 3rd Edition
ISBN: 978-1-119-07482-3
336 pages
July 2015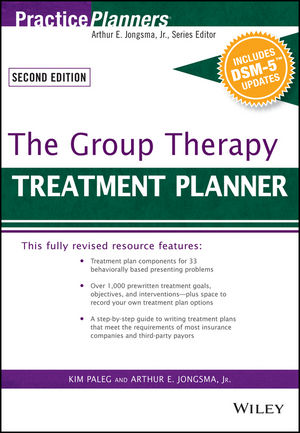 This fully revised resource features:
Treatment plan components for 33 behaviorally based presenting problems
Over 1,000 prewritten treatment goals, objectives, and interventions—plus space to record your own treatment plan options
A step-by-step guide to writing treatment plans that meet the requirements of most insurance companies and third-party payors
The Group Therapy Treatment Planner, Second Edition provides all the elements necessary to quickly and easily develop formal treatment plans that satisfy the demands of HMOs, managed care companies, third-party payors, and state and federal review agencies.
A critical tool for mental health professionals developing formal treatment plans for working with a variety of groups
New edition features expanded coverage and outlines entirely new areas including utilizing group therapy to treat panic/agoraphobia, PTSD/trauma, adult ADHD, obsessive-compulsive disorder, and borderline personality disorder
Streamlined interventions and fully updated language make this edition easier to use and more clinically applicable
Saves you hours of time-consuming paperwork, yet offers the freedom to develop customized treatment plans
Organized around 33 main presenting problems with a focus on applying a group therapy approach to a wide variety of disorders
Over 1,000 well-crafted, clear statements describe the behavioral manifestations of each relational problem, long-term goals, short-term objectives, and clinically tested treatment options
Easy-to-use reference format helps locate treatment plan components by behavioral problem
Includes a sample treatment plan that conforms to the requirements of most third-party payors and accrediting agencies (including HCFA, JCAHO, and NCQA)
See More
PracticePlanners® Series Preface xi
Acknowledgments xiii
Introduction 1
Adult Children of Alcoholics (ACOA) 17
Anger Control Problems 26
Anxiety 35
Assertiveness Deficit 43
Attention-Deficit/Hyperactivity Disorder (ADHD)—Adult 52
Borderline Personality Disorder 61
Bulimia 69
Caregiver Burnout 77
Chemical Dependence 83
Child Molester—Adolescent Male 92
Chronic Pain 101
Codependence 110
Depression 117
Domestic Violence Offenders—Male 126
Domestic Violence Survivors—Female 135
Grief/Loss 145
HIV/AIDS 153
Incest Offenders—Adult Male 163
Incest Survivors—Adult Female 173
Infertility 181
Obsessive-Compulsive Disorder (OCD) 189
Panic/Agoraphobia 197
Parenting Problems 207
Phobias—Specific/Social 216
Posttraumatic Stress Disorder (PTSD) 226
Rape Survivors 237
Separation/Divorce 244
Shyness 253
Single Parents 263
Stepparenting 271
Toxic Parent Survivors 280
Type A Stress 289
Vocational Stress 300
Appendix A: Bibliotherapy References 308
Appendix B: Recovery Model Objectives and Interventions 315
See More
ARTHUR E. JONGSMA, Jr., PhD, is Series Editor for the bestselling PracticePlanners®. Since 1971, he has provided professional mental health services to both inpatient and outpatient clients. He managed a group private practice for 25 years and is now a staff member at Life Guidance Services in Grand Rapids, Michigan.
KIM PALEG, PhD, is a clinical psychologist in private practice in Berkeley, California. She is the author of The Ten Things Every Parent Needs to Know and Kids Today, Parents Tomorrow, and coauthor of When Anger Hurts Your Kids, When Anger Hurts Your Relationship, and Couple Skills.
See More