Training and Development For Dummies
ISBN: 978-1-119-07633-9
456 pages
May 2015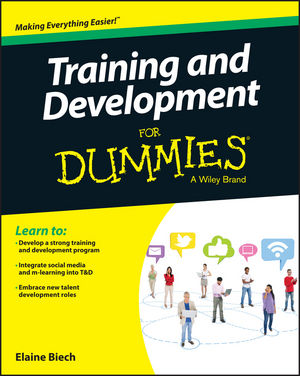 Develop and deliver a robust employee training and development program
Training and Development For Dummies gives you the tools you need to develop a strong and effective training and development program. Covering the latest in talent development, this informative guide addresses classroom, virtual, and blended learning to open up your options and help you design the program that's right for your company. You'll explore the different modes of formal learning, including social learning, m-learning, and MOOCs, and delve into the benefits and implementation of self-directed and informal learning. The discussion covers mentoring and coaching, rotational and stretch assignments, and how to align talent development with the company's needs. You'll learn how to assess employee skills, design and deliver training, and evaluate each step of the process to achieve the goals of both the employee and the organization.
Most employees have some weaknesses in their skill sets. A robust training program allows you to strengthen those skills, and a development program brings all employees up to the highest possible level of productivity and success. This book helps you create consistency in your company by developing and delivering the exact training and development program your people need.
Develop a strong training and development program
Foster a supportive and innovative work environment
Learn about social learning, m-learning, and MOOCs
Assess and evaluate your staff more effectively
A great training and development program boosts performance, productivity, job satisfaction, and quality of services, while reducing costs and supervision. Investing in your employees gives an excellent ROI, as talent development is a primary driver behind both motivation and loyalty. Training and Development For Dummies shows you how to reap these benefits, with step by step guidance and essential expert insight.
See More
Foreword xiv
Introduction 1
Part I: So You're Going to Be a Trainer 5
Chapter 1: What's Training and Development? 7
Chapter 2: Why Adults Learn 25
Chapter 3: The Training Cycle 41
Part II: Designing the Best Darn Training in the World 53
Chapter 4: Assessing Needs and Developing Learning Objectives 55
Chapter 5: Developing the Training Design 73
Chapter 6: Nuances of Using Technology for Learning 113
Chapter 7: Being Prepared to Succeed 129
Part III: Showtime: Delivering a Dynamic Training Session 157
Chapter 8: Implementing Training Designs: Your Job as a Facilitator 159
Chapter 9: It's Showtime: Delivering Success 181
Chapter 10: Mastering Media and Other Visuals 207
Chapter 11: Training with Style 227
Chapter 12: Addressing Problems: What's a Trainer to Do? 251
Part IV: It's Not Over Yet: The Follow ]Up 279
Chapter 13: Evaluation: It's Not Over Yet! 281
Chapter 14: Transfer of Learning 307
Part V: The Professional Trainer 317
Chapter 15: The Consummate Professional 319
Chapter 16: Trainer Certification 331
Chapter 17: The Future of the T&D Profession 345
Part VI: The Part of Tens 373
Chapter 18: Ten Tips to Start Off on the Right Foot 375
Chapter 19: Ten Webinar Warmups 385
Chapter 20: Ten Ways to Save Time While Training 391
Chapter 21: Ten Icebreakers That Work 397
Chapter 22: Ten Guidelines for M ]Learning Success 409
Index 417
See More
Elaine Biech has been in the training and consulting field for over a quarter of a century. She is President of ebb associates inc, an organizational development and custom training design firm that helps organizations work through large-scale change, and has been featured in The Wall Street Journal.
See More