The Wiley Handbook of School Choice
ISBN: 978-1-119-08235-4
584 pages
May 2017, Wiley-Blackwell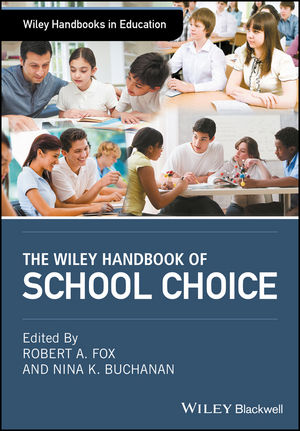 The Wiley Handbook of School Choice
presents a comprehensive collection of original essays addressing the wide range of alternatives to traditional public schools available in contemporary US society.
A comprehensive collection of the latest research findings on school choices in the US, including charter schools, magnet schools, school vouchers, home schooling, private schools, and virtual schools
Viewpoints of both advocates and opponents of each school choice provide balanced examinations and opinions
Perspectives drawn from both established researchers and practicing professionals in the U.S. and abroad and from across the educational spectrum gives a holistic outlook
Includes thorough coverage of the history of traditional education in the US, its current state, and predictions for the future of each alternative school choice
See More
Notes on Contributors viii
Introduction 1
Robert A. Fox and Nina K. Buchanan
1 A Brief History of Public Education in the United States 13
Sylvia L. Mendez, Monica S. Yoo, and John L. Rury
2 A Brief and Future History of School Choice 28
Guilbert C. Hentschke
3 School Choice: An Overview of Selected International Perspectives 46
Charles J. Russo and Nina Ranieri
4 A Political Scientist Looks at American School Choice 57
Jeffrey R. Henig
5 The Economics of School Choice 69
Sean P. Corcoran and Sarah A. Cordes
6 Philosophical Understandings of American School Choice 81
Terri S. Wilson
7 Private Schools 96
Ronald L. Reynolds
8 The Case for Private Schools 117
Joe McTighe
9 The Case Against Private Schooling 131
Jeanne M. Powers and Amanda U. Potterton
10 Private Schooling in Portugal: The Road to Freedom 149
Rodrigo Queiroz e Melo
11 Magnet Schools: History, Description, and Effects 158
Jia Wang and Joan Herman
12 The Case For Magnet Schools 180
Gladys Pack
13 The Case Against Magnet Schools 194
Christine H. Rossell
14 Specialist Schools in England: Reflections from across the Atlantic 215
Hannah Chestnutt and Christopher Chapman
15 Description and Brief History of Charter Schools: What are the Main Issues? What Do the Data Say About Their Effectiveness? 224
Gary Miron
16 The Case for Charters 237
Susan Aud Pendergrass and Nora Kern
17 The Case Against Charter Schools 252
F. Howard Nelson
18 Lessons the United States Can Learn From Sweden's Experience with Independent Schools 267
Gunnel Mohme
19 An Introduction to Educational Vouchers 275
John F. Witte
20 The Case for School Vouchers 287
Patrick J. Wolf and Anna J. Egalite
21 The Weak Case for Vouchers 304
Christopher Lubienski and T. Jamison Brewer
22 Lessons the United States Can Learn From Chile's Experience with School Vouchers 322
Claudio Sapelli
23 A Description and Brief History of Home Schooling in America 329
Brian D. Ray
24 A Case for Home Schooling 344
Darren A. Jones
25 Home Schooling: Putting Parental Rights Over Children's Best Interest 362
Martha Albertson Fineman
26 What the United States Can Learn from Canada's Experience with Home Schooling 376
Deani Van Pelt and Lynn Bosetti
27 Making the Choice to go Online: Exploring Virtual Schooling as an Option for K ]12 Students 384
Leanna Archambault and Kathryn Kennedy
28 The Case for K ]12 Online Learning 403
Jered Borup and Kathryn Kennedy
29 K–12 Online Learning and School Choice: Growth and Expansion in the Absence of Evidence 421
Michael K. Barbour
30 Virtual Schooling in Australia: From "School of the Air" to "Distance Education" 441
Jennifer Buckingham
31 Losing the War of Ideas? Why Teachers Unions Oppose School Choice 450
Robert Maranto and Evan Rhinesmith
32 Religion in Schools 465
Elizabeth Green and Ray Pennings
33 Educating Students with Disabilities in the School Choice Context 478
Lauren Morando Rhim and Eileen Ahearn
34 School Choice and Legal Issues 493
Suzanne E. Eckes and Regina Umpstead
35 A Critical Look at Parental Choice: Is Parental Choice a Broken Promise? 507
Kathryn Hill and Janelle Scott
36 School Choice: The Impact of Ethnicity, Race, Diversity, and Inclusion 517
Nina K. Buchanan
37 Media Coverage of School Choice 532
Alex Medler
Conclusion 549
Robert A. Fox and Nina K. Buchanan
Index 555
See More
ROBERT A. FOX is Professor Emeritus, University of Hawaii at Hilo. Dr. Fox's previous positions have included member of the Hawaii State Board of Education, a seat on the Board of Directors of the National Education Association, Chair of the NEA Higher Education Caucus, Vice Chair of the American Association of University Professors' Collective Bargaining Congress, and President of the University of Hawaii Professional Assembly. He is an author of over 50 papers and presentations on school choice.
NINA K. BUCHANAN is a Senior Editor of the Journal of School Choice and Professor Emerita at the University of Hawaii at Hilo. Dr. Buchanan has published widely in gifted education, project-based learning, and national and international school choice. Her publications include Conducting Research and Evaluation in Gifted Education: A Handbook of Methods and Applications (1991), which is still in wide use.
See More
More in this series