E-book
Energy Audits and Improvements for Commercial Buildings
ISBN: 978-1-119-08421-1
384 pages
March 2016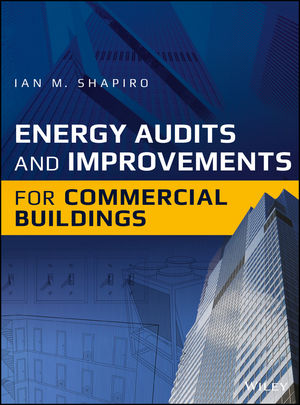 The Intuitive Guide to Energy Efficiency and Building Improvements
Energy Audits and Improvements for Commercial Buildings provides a comprehensive guide to delivering deep and measurable energy savings and carbon emission reductions in buildings. Author Ian M. Shapiro has prepared, supervised, and reviewed over 1,000 energy audits in all types of commercial facilities, and led energy improvement projects for many more. In this book, he merges real-world experience with the latest standards and practices to help energy managers and energy auditors transform energy use in the buildings they serve, and indeed to transform their buildings.
Set and reach energy reduction goals, carbon reduction goals, and sustainability goals
Dramatically improve efficiency of heating, cooling, lighting, ventilation, water and other building systems
Include the building envelope as a major factor in energy use and improvements
Use the latest tools for more thorough analysis and reporting, while avoiding common mistakes
Get up to date on current improvements and best practices, including management of energy improvements, from single buildings to large building portfolios, as well as government and utility programs
Photographs and drawings throughout illustrate essential procedures and improvement opportunities. For any professional interested in efficient commercial buildings large and small, Energy Audits and Improvements for Commercial Buildings provides an accessible, complete, improvement-focused reference.
See More
Acknowledgments ix
Chapter 1 Introduction 1
Chapter 2 Overview 5
Chapter 3 Field Guide 17
Chapter 4 Envelope 27
Chapter 5 Lighting 71
Chapter 6 Heating 99
Chapter 7 Cooling and Integrated Heating/Cooling Systems 117
Chapter 8 Heating and Cooling Distribution 137
Chapter 9 Ventilation 151
Chapter 10 Identifying Heating and Cooling Equipment 167
Chapter 11 Controls 171
Chapter 12 Water 189
Chapter 13 Electric Loads (Other than Lighting) 217
Chapter 14 Gas Loads (Other than Heating and Domestic Hot Water) 237
Chapter 15 Advanced Energy Improvements 239
Chapter 16 Estimating Savings 247
Chapter 17 Financial Aspects of Energy Improvements 257
Chapter 18 Reporting 265
Chapter 19 Sector-Specific Needs and Improvements 271
Chapter 20 Project Management 281
Chapter 21 Operation, Maintenance, and Energy Management 295
Chapter 22 Portfolio Programs 305
Chapter 23 Resources 317
Appendix A Building Material R-Values 319
Appendix B Window Ratings 321
Appendix C Air-Mixing Method of Airflow Measurement 323
Appendix D Recommended Illuminance 325
Appendix E Lighting Power Allowances—Space-by-Space 327
Appendix F HID Lighting Designations 329
Appendix G Lighting Software 331
Appendix H Lighting Reflectances 333
Appendix I Room Air Conditioner Efficiency Requirements 335
Appendix J Chiller Efficiency Requirements 337
Appendix K Existing Exhaust Schedule 339
Appendix L Existing Outdoor Air Schedule 341
Appendix M Proposed Outside Air Schedule 343
Appendix N Simplified Model of a Building Entering or Recovering from Setback 345
Appendix O Gas Pilot Sizes and Gas Use 347
Appendix P Estimated Existing Motor Efficiencies, Pre-1992 349
Appendix Q Equipment Expected Useful Life 351
Appendix R Request for Proposal for Energy Audits 359
Appendix S Energy Audit Review Checklist 363
Appendix T Energy Preventive Maintenance Schedule 367
Index 369
See More
IAN M. SHAPIRO is the founder and co-owner of Taitem Engineering in Ithaca, NY, an award-winning consulting firm he started in 1989. He has been a visiting lecturer at Cornell University, Tompkins-Cortland Community College, and Syracuse University, and is the co-author of Green Building Illustrated along with Francis D.K. Ching. His research and writing covers a range of topics including heating and cooling systems, building envelope, water conservation, and indoor air quality. He is a frequent contributor to ASHRAE Journal.
See More