Clinical Interviewing, with Video Resource Center, 5th Edition
ISBN: 978-1-119-08423-5
624 pages
June 2015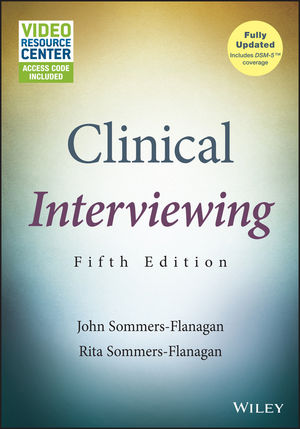 The classic guide to proven, practical strategies for conducting effective interviews
Clinical Interviewing, Fifth Edition blends a personal and easy-to-read style with a unique emphasis on both the scientific basis and interpersonal aspects of mental health interviewing. It guides clinicians through elementary listening and counseling skills onward to more advanced, complex clinical assessment processes, such as intake interviewing, mental status examination, and suicide assessment. Fully revised, the fifth edition shines a brighter spotlight on the development of a multicultural orientation, the three principles of multicultural competency, collaborative goal-setting, the nature and process of working in crisis situations, and other key topics that will prepare you to enter your field with confidence, competence, and sensitivity. Included with this text is an access code for the Video Resource Center that features commentary from the authors, as well as counseling demonstrations that show what clinical interviewing skills look like in different environments and with a range of clients.
Effective interviewing skills will serve to support your career for decades to come, and will help you to accurately diagnose your clients while earning their trust and creating an environment in which they feel safe and open to discussion. In Clinical Interviewing, Fifth Edition you'll find:
DSM-5™ content emphasizing case formulation and treatment planning
A greater emphasis on collaborative goal setting and the client as expert
New discussion on multicultural counseling, orientation, and competency
Research supporting evidence-based relationships
Coverage of assessment and interviewing via e-mail, telephone, texting, instant messaging, and online chatting
Structured protocol for conducting a face-to-face, telephone, or video conferencing/Skype mental status examination interview
Clinical Interviewing, Fifth Edition
is a valuable resource that will lead you through the art of interviewing diverse clients.
See More
Video Resource Center Contents xi
Preface xiii
Acknowledgments xix
About the Authors xxi
PART ONE BECOMING A MENTAL HEALTH PROFESSIONAL 1
Chapter 1 Introduction: Philosophy and Organization 3
Welcome to the Journey 4
Theoretical Orientations 8
Goals and Objectives of This Book 19
Summary 19
Suggested Readings and Resources 20
Chapter 2 Foundations and Preparations 21
Defining Clinical Interviewing 22
Self-Awareness 30
The Physical Setting 36
Professional and Ethical Issues 43
Summary 55
Suggested Readings and Resources 56
PART TWO LISTENING AND RELATIONSHIP DEVELOPMENT 57
Chapter 3 Basic Attending, Listening, and Action Skills 59
Attending Behavior 60
Moving Beyond Attending 68
Nondirective Listening Behaviors 70
The Pull to Reassurance 83
Directive Listening Behaviors 84
Summary 94
Suggested Readings and Resources 95
Chapter 4 Directives: Questions and Action Skills 97
Section One: Using General and Therapeutic Questions 98
Section Two: Directive Interviewing Techniques (AKA Directives) 116
Summary 133
Suggested Readings and Resources 134
Chapter 5 Evidence-Based Relationships 135
Carl Rogers's Core Conditions 136
Evidence-Based Psychoanalytic and Interpersonal Relationship Concepts 149
Additional Theoretical- and Evidence-Based Concepts Related to the Therapeutic Relationship 160
Concluding Comments 166
Summary 166
Suggested Readings and Resources 167
PART THREE STRUCTURING AND ASSESSMENT 169
Chapter 6 An Overview of the Interview Process 171
Structural Models 172
The Introduction: First Contact 173
The Opening 183
The Body 191
The Closing 196
Termination 202
Summary 205
Suggested Readings and Resources 205
Chapter 7 Intake Interviewing and Report Writing 207
What Is an Intake Interview? 207
Objectives of Intake Interviewing 208
Factors Affecting Intake Interview Procedures 227
Brief Intake Interviewing 228
The Intake Report 230
Summary 246
Suggested Readings and Resources 247
Chapter 8 The Mental Status Examination 249
Objectivity 250
What Is a Mental Status Examination? 250
The Generic Mental Status Examination 252
When to Use Mental Status Examinations 283
Summary 285
Suggested Readings and Resources 286
Chapter 9 Suicide Assessment 289
Personal Reactions to Suicide 290
Suicide Statistics 291
Suicide Risk Factors 292
Suicide Assessment Interviewing 302
Suicide Intervention 317
Professional Issues 322
Summary 325
Suggested Readings and Resources 327
Chapter 10 Diagnosis and Treatment Planning 329
Principles of Psychiatric Diagnosis 329
Diagnostic Assessment: Methods and Procedures 337
The Science of Clinical Interviewing: Diagnostic Reliability and Validity 339
A Balanced Approach to Conducting Diagnostic Clinical Interviews 341
Treatment Planning 347
Summary 360
Suggested Readings and Resources 361
PART FOUR INTERVIEWING SPECIAL POPULATIONS 363
Chapter 11 Interviewing in a Diverse and Multicultural World 365
Four Large Worldviews 367
Other Diverse Client Populations 383
Cultural Complexities and Identities 390
Assessment and Culture-Bound Syndromes 391
Professional Considerations 395
Summary 397
Suggested Readings and Resources 397
Chapter 12 Challenging Clients and Demanding Situations 399
Challenging Clients 400
Demanding Situations: Crisis and Trauma 419
Summary 430
Suggested Readings and Resources 431
Chapter 13 Interviewing and Working With Young Clients 433
Considerations in Working With Children 434
The Introduction 435
The Opening 438
The Body of the Interview 449
The Closing 461
Termination 464
Summary 464
Suggested Readings and Resources 465
Chapter 14 Principles and Tips for Interviewing Couples and Families 467
Some Ironies of Interviewing Couples and Families 468
Interviewing Stages and Tasks 470
Special Considerations 492
Summary 502
Suggested Readings and Resources 502
Chapter 15 Interviewing in Online and Other Non–Face-to-Face (Non-FtF) Environments 505
Technology as an Extension of the Self 506
Non-FtF Assessment and Intervention Research 512
Ethical and Practical Issues: Problems and Solutions 516
Conducting Online or Non-FtF Interviews 522
Summary 525
Suggested Online Training Resources 526
Appendix: Extended Mental Status Examination—Interview Protocol 527
References 537
Author Index 581
Subject Index 591
About the Video Resource Center 597
See More
JOHN SOMMERS-FLANAGAN, PHD, is Professor of Counselor Education at the University of Montana. He serves as a mental health consultant for Trapper Creek Job Corps. His research interests include clinical interviewing, parent consultations, and adolescent psychotherapy.
RITA SOMMERS-FLANAGAN, PHD, is Professor of Counselor Education at the University of Montana. She provides mental health consultation at Trapper Creek Job Corps, and has taught and written in the area of applied, practical ethics for the past twenty years.
John and Rita Sommers-Flanagan bring their signature engaging style to this clear and instructive guide to the art and science of becoming an effective therapeutic interviewer.
See More
Instructors Resources
Request a print evaluation copy
Contact us

See More
See Less