E-book
Signage and Wayfinding Design: A Complete Guide to Creating Environmental Graphic Design Systems, 2nd Edition
ISBN: 978-1-119-08582-9
320 pages
May 2015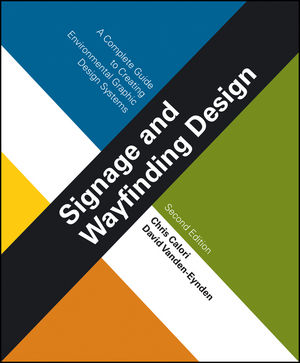 A new edition of the market-leading guide to signage and wayfinding design
This new edition of Signage and Wayfinding Design: A Complete Guide to Creating Environmental Graphic Design Systems has been fully updated to offer you the latest, most comprehensive coverage of the environmental design process—from research and design development to project execution. Utilizing a cross-disciplinary approach that makes the information relevant to architects, interior designers, landscape architects, graphic designers, and industrial designers alike, the book arms you with the skills needed to apply a standard, proven design process to large and small projects in an efficient and systematic manner.
Environmental graphic design is the development of a visually cohesive graphic communication system for a given site within the built environment. Increasingly recognized as a contributor to well-being, safety, and security, EGD also extends and reinforces the brand experience. Signage and Wayfinding Design provides you with Chris Calori's proven "Signage Pyramid" method, which makes solving complex design problems in a comprehensive signage program easier than ever before.
Features full-color design throughout with 100+ new images from real-world projects
Provides an in-depth view of design thinking applied to the EGD process
Explains the holistic development of sign information, graphic, and hardware systems.
Outlines the latest sign material, lighting, graphic application, and digital communication technologies
Highlights code and updated ADA considerations
If you're a design professional tasked with communicating meaningful information in the built environment, this vital resource has you covered.
See More
Foreword to the Second Edition viii
Foreword to the First Edition x
Acknowledgments xii
Introduction xv
1 What Is Environmental Graphic Design? 2
The Spectrum of EGD Activity 5
The Importance of EGD Today 10
Digital Information Systems and EGD 16
You Can't Learn This in College 21
What's Ahead in This Book 22
2 The Design Process 24
The Client Is Part of the Process 26
The Design Process Applied to EGD 26
Phase 1: Data Collection and Analysis (Predesign) 28
Phase 2: Schematic Design 30
Phase 3: Design Development 38
Phase 4: Documentation 48
Phase 5: Bidding (Postdesign) 60
Phase 6: Fabrication/Installation Observation 65
Phase 7: Postinstallation Evaluation 77
Chapter Wrap-Up 78
3 Overview of the Signage Pyramid Method 80
Genesis of a Design Approach 80
The Signage Pyramid's Component Systems 81
The Signage Pyramid and Resource Allocation 84
Chapter Wrap-up 89
4 The Information Content System 90
Kinds of Sign Information Content 91
Hierarchy of Content 98
Developing the Sign Information Content System 100
Navigation: Message Hierarchy and Proximity 111
Other Factors Affecting the Sign Information Content System 114
Pictorial Information Content 123
Signage Master Plans 125
Chapter Wrap-Up 125
5 The Graphic System 126
Typography Overview 127
Choosing a Typeface 129
Typographic Treatment 134
Typographic Considerations in Signage for People Who Read by Touch 141
Symbols and Arrows 143
Diagrams 150
Other Graphic Elements 156
Color 157
Layout 165
Overview of Sign Graphic Application Processes 181
Chapter Wrap-up 191
6 The Hardware System 192
Shape 193
Connotations of Form 200
Sign Mounting Considerations 203
Sign Size Considerations 209
Sign Lighting Overview 212
Sign Materials Overview 218
Basic Sign Materials 222
Electronic Digital Display Units 236
Stock Sign Hardware Systems 244
Sign Materials and Codes 246
Overview of Sign Coatings and Finishes 247
Chapter Wrap-up 255
Gallery 256
Image Credits 286
Bibliography 292
Index 295
See More
Chris Calori and David Vanden-Eynden are principals of Calori & Vanden- Eynden/Design Consultants, an award-winning, internationally recognized design office devoted to making people's lives better with thoughtful, visually-compelling signage and wayfinding programs. Both Ms. Calori and Mr. Vanden- Eynden are Fellows of the Society for Environmental Graphic Design (SEGD) and are members of the AIGA. Ms. Calori is a Professional Affiliate of the American Institute of Architects New York Chapter.
Committed design thinkers and educators, Chris and David have taught and lectured on design at professional conferences and at notable universities, including Yale, the University of Cincinnati, The Ohio State University, California State University at Long Beach, and New York City's Fashion Institute of Technology.
Forewords by Tom Geismar and Ivan Chermayeff
See More