Diabetes For Dummies, 5th Edition
ISBN: 978-1-119-09072-4
432 pages
August 2015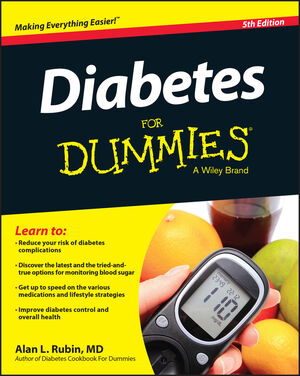 The straight facts on treating diabetes successfully
With diabetes now considered pandemic throughout the world, there have been enormous advances in the field. Now significantly revised and updated, this new edition of Diabetes For Dummies includes the latest information on diabetes medications and monitoring equipment, new findings about treating diabetes in the young and elderly, new ways to diagnose and treat long- and short-term complications, updated nutritional guidelines, new tools for measuring blood sugar and delivering insulin to the body, and much more.
There's no question that the burden of diabetes is increasing globally: it's estimated that 387 million people worldwide are living with diabetes, and that staggering number is expected to increase an additional 205 million+ by 2035. If you or a loved one is part of this overwhelming statistic, you can take comfort in the sensitive and authoritative information provided in this hands-on guide. From monitoring and maintaining your glucose to understanding the importance of exercising and eating right—and everything in between—Diabetes For Dummies takes the guesswork out of living with diabetes and empowers you to take control and keep your life on a healthy track.
Reduce your risk of diabetes complications
Discover the latest and the tried-and-true options for monitoring blood sugar
Get up to speed on the various diabetes medications and lifestyle strategies
Improve diabetes control and overall health
If you're one of the millions of diabetics or pre-diabetics in search of an accessible and up-to-date resource to help you manage this disease, Diabetes For Dummies is the trusted guide you'll turn to again and again.
See More
Introduction 1
Part I: Getting Started with Diabetes 7
Chapter 1: Dealing with Diabetes 9
Chapter 2: Making the Diagnosis with the Glucose and Hemoglobin A1c 19
Chapter 3: Recognizing the Various Types of Diabetes 33
Part II: Knowing How Uncontrolled Diabetes Affects Your Body 51
Chapter 4: Avoiding Short ]Term Complications 53
Chapter 5: Warding Off Long ]Term Complications 67
Chapter 6: Preserving Sexual Function and Protecting Pregnancy 101
Part III: Managing Diabetes: The "Thriving with Diabetes" Lifestyle Plan 121
Chapter 7: Self ]Testing for Glucose and Other Key Tests 123
Chapter 8: Tackling What You Eat: Healthful Nutrition 155
Chapter 9: Metabolic Surgery: A Possible Cure for Type 2 Diabetes 181
Chapter 10: Creating Your Exercise Plan 209
Chapter 11: Medications: What You Should Know 231
Chapter 12: Assembling Your Diabetes Team 267
Part IV: Special Considerations for Living with Diabetes 277
Chapter 13: Managing Diabetes in Children 279
Chapter 14: Diabetes and the Elderly 295
Chapter 15: Dealing With Occupational and Insurance Problems 305
Chapter 16: Eyeing What's New in Diabetes Care 317
Chapter 17: Discovering What Doesn't Work When You Treat Diabetes 325
Part V: The Part of Tens 335
Chapter 18: Ten Commandments for Excellent Diabetes Care 337
Chapter 19: Ten Myths about Diabetes That You Can Forget 343
Chapter 20: Ten Ways to Get Others to Help You 349
Appendix: Mini ]Cookbook 355
Index
See More
Alan Rubin, MD, is the author of Diabetes Cookbook For Dummies, Type I Diabetes For Dummies, Prediabetes For Dummies, High Blood Pressure For Dummies, Thyroid For Dummies, and Vitamin D For Dummies. He is a professional member of the Endocrine Society and American Diabetes Association.
See More