Sales Management For Dummies
ISBN: 978-1-119-09422-7
360 pages
October 2015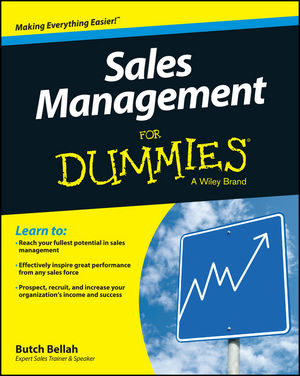 Guide your sales force to its fullest potential
With a proven sales management and execution process, Sales Management For Dummies aids organizations and individuals in reaching the highest levels of success. Although selling products or services is a central part of any sales job, there's much more to it. With this fun and accessible guide, you'll go beyond the basics of sales to learn how to anticipate clients' needs, develop psychologist-like insight, and so much more.
Because few people go to school to earn degrees in selling, sales talent is developed in the field. Unfortunately, most training efforts fail to reach their objectives, in large part because of the absence of any kind of reinforcement or coaching. This book is your one-stop guide to managing an existing or start-up sales force to succeed in every area of sales—from prospecting to closing.
Shows you how to reach your fullest potential in sales
Helps you effectively inspire great performance form any sales force
Demonstrates how to prospect, recruit, and increase your organization's income and success
Teaches you how to manage sales teams to greatness
If you're one of the millions of salespeople or sales managers worldwide looking for a fast, easy, and effective way to get the most out of your sales force, the tried-and-true guidance presented inside sets you up for success.
See More
Introduction 1
Part I: Welcome to the World of Sales Management 7
Chapter 1: You're a Sales Manager — Now What? 9
Chapter 2: So You Got the Job, Now What Do You Do? 19
Chapter 3: Establishing Good Working Relationships across Departments 41
Part II: Building the Team 59
Chapter 4: Who's On First: Building Your Best Team 61
Chapter 5: Adding New Players to the Team 77
Chapter 6: Hiring and Onboarding New Staff 87
Chapter 7: Defining Your Sales Process and Training Your Team 105
Part III: Training and Development 129
Chapter 8: Defining Your Expectations 131
Chapter 9: Ongoing Training and Helping Your Salespeople Grow 147
Chapter 10: Creating and Running an Effective Sales Meeting 167
Part IV: Sales Meetings and Key Performance Indicators 187
Chapter 11: Measuring What Matters: Key Performance Indicators 189
Chapter 12: Assessing Performance: Keeping Score and Celebrating Wins 209
Chapter 13: Addressing Poor Performance: Counseling and Critiquing Effectively 227
Part V: Now You're Managing 241
Chapter 14: Inspiring Your Superstars: Managing Your Best People 243
Chapter 15: Making Cuts: When It's Time to Let Someone Go 261
Chapter 16: Managing for the Future: Developing Careers of Future Leaders 279
Part VI: The Part of Tens 297
Chapter 17: Ten Traits of a Successful Sales Manager 299
Chapter 18: Ten Things that Destroy Your Credibility 305
Chapter 19: Ten Signs of a Struggling Salesperson 311
Chapter 20: Top Ten Apps for a Busy Manager 317
Index 323
See More
Butch Bellah is an expert salesperson, trainer, author, motivational speaker, and one-time stand-up comedian. For more than 30 years, he has honed his sales skills and trained others in the fine art of gaining more appointments, winning more business, and retaining more customers.
See More