E-book
Practical Leadership in Community Colleges: Navigating Today's Challenges
ISBN: 978-1-119-09488-3
240 pages
June 2016, Jossey-Bass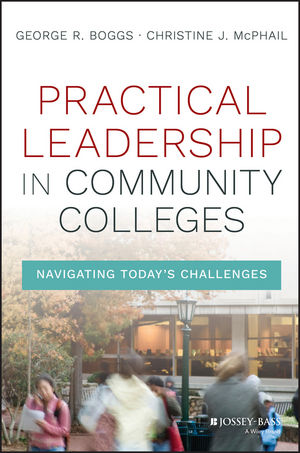 Anticipate, manage, and overcome the complex issues facing community colleges
Practical Leadership in Community Colleges offers a path forward through the challenges community colleges face every day. Through field observations, reports, news coverage, and interviews with leaders and policy makers, this book digs deep into the issues confronting college leaders and provides clear direction for managing through the storm. With close examination of both emerging trends and perennial problems, the discussion delves into issues brought about by changing demographics, federal and state mandates, public demand, economic cycles, student unrest, employee groups, trustees, college supporters, and more to provide practical guidance toward optimal outcomes for all stakeholders. Written by former presidents, including a past president of the American Association of Community Colleges, this book provides expert guidance on anticipating and managing the critical issues that affect the entire institution. Both authors serve as consultants, executive coaches, and advisors to top leaders, higher education institutions, and leadership development programs throughout the United States.
Community colleges are facing increasingly complex issues from both without and within. Some can be avoided, others only mitigated—but all must be managed, and college leaders must be fully prepared or risk failing the students and the community. This book provides real-world guidance for current and emerging leaders and trustees seeking more effective management methods, with practical insight and expert perspective.
Tackle the college completion challenge and performance-based funding initiatives
Manage through economic cycles, declining support, and calls for accountability
Delve into the issues of privatization and employee unionization
Execute strategies to align institutional goals and mission
Manage organizational change and new ways of thinking that are essential in today's competitive environment
Manage issues involving diversity, inclusiveness, and equity
Prepare adequately for campus emergencies
Community colleges are the heartbeat of the nation's higher education system, and bear the tremendous responsibility of serving the needs of a vast and varied student body. Every day may bring new issues, but effective management allows institutions to rise to the challenge rather than falter under pressure. Practical Leadership in Community Colleges goes beyond theory to provide the practical guidance leadership needs to more effectively lead institutions to achieve results and serve the students and the community.
See More
Foreword xv
Dr. Belle Wheelan
Preface xix
How This Book Is Structured xx
How to Use This Book xxi
Acknowledgments xxv
About the Authors xxvii
1. Leadership Issues Management 1
Thinking About Leadership 1
Thinking About Issues 3
Life Balance 10
Anticipating Issues and Potential Outcomes 10
Issues to Consider 11
References 12
2. Mission 15
Questioning the Mission 15
Mission Generations 17
Completion Challenge 21
Balancing Access and Success 22
Transition, Progression, and Transfer 23
Accreditation and Mission 24
Push from the For-Profit Sector 24
Technological Development 25
Legislative Mandates 25
Funding the Mission 26
Workforce Preparation Issues 27
Developing Partnerships 28
Curricular Reform 28
Community College Baccalaureates 30
Organizations and Initiatives 31
Reform Effectiveness 35
A Framework for Mission Management 36
Issues to Consider 39
References 41
3. Accountability, Scorecards, Regulations, and Accreditation 49
Accountability 49
Scorecards 53
Regulations 54
Accreditation 57
Issues to Consider 60
References 62
4. Finance, Cost, and the Economy 65
Economic Benefits of Higher Education 65
Effect of Economic Cycles 65
Saving for Retirement 69
Tuition Increases and College Costs 69
Responses to Economic Cycles 72
Fundraising and Entrepreneurialism 73
Issues to Consider 77
References 78
5. Diversity, Equity, and Inclusion 81
Beyond the Open Door 81
Understanding DEI 82
Institutionalizing DEI 83
DEI Issues 85
Campus Climate Issues 86
Recruitment and Support Issues 87
Communication Issues 88
Gender Bias Issues 89
Students with Disabilities Issues 90
Affirmative Action Issues 90
Immigration Issues 91
Racial Issues 92
Men of Color Issues 92
Veterans Issues 94
LGBT Issues 95
Managing DEI Issues 96
Sustaining Diversity, Equity, and Inclusion 99
Issues to Consider 100
References 106
6. Governance, Communication, and Media Relations 111
Trustees 111
Media Relations 118
Delegation and Internal Governance 123
Communication 126
Collective Bargaining 126
Civility 128
Issues to Consider 133
References 135
7. Organizational Change to Promote Student Success 137
Leading Organizational Change 137
The Completion Agenda 139
Models for Change 140
Resistance to Change 141
Organizational Change and Classroom Practice 144
Organizational Change and Student Support Services 148
A Time for Change: AACC's Reclaiming the American Dream 150
Sustaining Momentum: Managing the Change 152
Issues to Consider 155
References 156
8. Safety and Security 161
Responsibility for Safety and Security 161
Commitment and Enforcement 162
Truth and Consequences of Crime Reporting 164
Leadership Practices for Safety and Security Management 166
Key Safety and Security Management Leadership Questions 169
Resources 170
Athletics 174
Cybersecurity Issues 174
Issues to Consider 176
References 178
Conclusion 181
Reform and Redesign 181
Accountability and Transparency 182
Change and the Evolving Mission 182
Diversity, Equity, and Inclusion 183
Stakeholder Demands 183
Safety and Security 184
New Requirements for Leadership 184
Rewards of Leadership 184
Reference 185
Index 187
See More
GEORGE R. BOGGS is president and CEO emeritus of the American Association of Community Colleges and superintendent/president of Palomar College in San Marcos, California. An active author and speaker, Boggs is the recipient of many awards and honors including the Public Broadcasting System's Terry O'Banion Prize for Teaching and Learning for "triggering the most significant educational movement of the past decade."
CHRISTINE J. MCPHAIL is the managing principal for the McPhail Group LLC, a higher education consulting firm, former president of Cypress College, emerita professor of higher education and founder of the Community College Leadership Doctoral Program at Morgan State University, and a coach for Achieving the Dream, a national nonprofit reform network dedicated to community college student success and completion. She is a recipient of the AACC National Leadership Award and the League for Innovation in the Community College Terry O'Banion Leadership Award. McPhail is the editor of one of AACC's best-selling publications, Establishing and Sustaining Learning Centered Community Colleges.
See More
Learn more about