E-book
Languages In The World: How History, Culture, and Politics Shape Language
ISBN: 978-1-119-09667-2
400 pages
February 2016, Wiley-Blackwell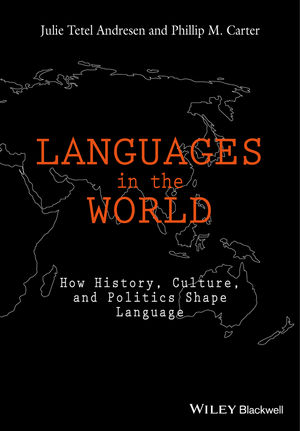 This innovative introduction outlines the structure and distribution of the world's languages, charting their evolution over the past 200,000 years.
Balances linguistic analysis with socio-historical and political context, offering a cohesive picture of the relationship between language and society
Provides an interdisciplinary introduction to the study of language by drawing not only on the diverse fields of linguistics (structural, linguist anthropology, historical, sociolinguistics), but also on history, biology, genetics, sociology, and more
Includes nine detailed language profiles on Kurdish, Arabic, Tibetan, Hawaiian, Vietnamese, Tamil, !Xóõ (Taa), Mongolian, and Quiché
A companion website offers a host of supplementary materials including, sound files, further exercises, and detailed introductory information for students new to linguistics
See More
Map 0.1 World map with language families xi
Figure 0.1 IPA consonants xii
Figure 0.2 IPA vowels xii
About the Website xiii
List of Maps and Figures xv
Preface xvii
Part I Linguistic Preliminaries: Approach and Theory
Introductory Note: On Language 1
1 All Languages Were Once Spanglish 3
The Mexican State of Coahuila y Tejas 3
What Is Language? 4
How Many Languages Are There? 6
How and When Did Language Get Started? 9
The Structure of Spanglish 13
Final Note: The Encounter of Spanish and English on Television in the United States 17
Exercises 18
Discussion Questions 20
Notes 20
References 21
Further Reading 21
2 The Language Loop 22
The Australian Walkabout 22
Introducing the Language Loop 23
Language and Cognition 26
Language, the World, and Culture 28
Language and Linguistic Structure 31
Language, Discourse, and Ideology 32
On Major and Minor Languages 33
Final Note: The Contingencies of Time, Place, and Biology 35
Exercises 37
Discussion Questions 37
Notes 38
References 38
Further Reading 39
3 Linguistics and Classification 40
The Role of Sanskrit in Philology 40
Of Linguistics, Philology, Linguists, and Grammarians 42
Genetic Classification 46
Areal Classification 48
Typological Classification 51
Functional Classification 55
Final Note: The Role of Sanskrit in India Today 57
Exercises 58
Discussion Questions 59
Notes 60
References 60
Further Reading 61
Part II Effects of Power
Introductory Note: On Power 63
4 Effects of the Nation-State and the Possibility of Kurdistan 65
Lines Are Drawn in the Sand 65
The Status of Language on the Eve of the Nation-State 66
The Epistemology of the Nation-State 69
The French Revolution, German Romanticism, and Print Capitalism 71
Standardization and the Instilling of Vergonha 75
Language and Individual Identity 76
What's Race Got to Do with It? 78
The Problematic Race–Nation–Language Triad 79
Final Note: The Kurds Today – Different Places, Different Outcomes 84
Language Profile: Kurdî / [Kurdish (Indo-European)] 85
Exercises 90
Discussion Questions 91
Notes 91
References 92
Further Reading 93
5 The Development of Writing in the Litmus of Religion and Politics 94
The Story of the Qur'an 94
Magico-Religious Interpretations of the Origins of Writing 95
Steps Toward the Representation of Speech 97
Types of Writing Systems 100
Religion and the Spread of Writing Systems 105
The Always Already Intervention of Politics 108
Orality and Literacy 111
Final Note: Azerbaijan Achieves Alphabetic Autonomy 114
Language Profile: [Arabic (Afro-Asiatic)] 114
Exercises 119
Discussion Questions 122
Notes 123
References 124
Further Reading 124
6 Language Planning and Language Law: Shaping the Right to Speak 125
Melting Snow and Protests at the Top of the World 125
Language Academies: The First Enforcers 127
Another Look at Prescriptivism 129
Making Language Official: A Tale of Three Patterns 131
Language Policy and Education: A Similar Tale of Three Patterns 139
Language Planners and Language Police 144
Final Note: Choosing Death or Life 146
Language Profile: [Tibetan (Sino-Tibetan)] 147
Exercises 152
Discussion Questions 153
Notes 154
References 155
Further Reading 156
Part III Effects of Movement
Introductory Note: On Movement 159
7 A Mobile History: Mapping Language Stocks and Families 161
Austronesian Origin Stories 161
Population Genetics and Links to Language 162
A Possible Polynesian Reconstruction 166
Linguistic Reconstructions Revisited 168
Proto-Indo-European and Its Homeland 173
Other Language Stocks and Their Homelands 176
Models of Spread 183
Lost Tracks 186
Final Note: On Density and Diversity 187
Language Profile: 'Olelo Hawai'i [Hawaiian (Austronesian)] 187
Exercises 194
Discussion Questions 195
Notes 195
References 196
Further Reading 197
8 Colonial Consequences: Language Stocks and Families Remapped 198
Eiffel Towers in Vietnam 198
Time-Depths and Terminology 199
The Middle Kingdom: Government-Encouraged Migrations 201
Linguistic Geography: Residual Zones and Spread Zones 203
Spreading Eurasian Empires: The Persians, Mongols, Slavs, and Romans 206
Religions as First Nations and Missionaries as Colonizers 213
English as an Emergent Language Family 215
Final Note: Creoles and the Case of Krey` ol Ayisyen 218
Language Profile: Ti´eng Việt [Vietnamese (Austro-Asiatic)] 219
Exercises 223
Discussion Questions 226
Notes 226
References 228
Further Reading 229
9 Postcolonial Complications: Violent Outcomes 230
Tamil Tigers Create New Terrorist Techniques 230
What's in a Name? Burma/Myanmar 232
Modern Sudan: The Clash of Two Colonialisms 235
The Caucasian Quasi-States: Two Types of Conflict 238
Poland's Shifting Borders 242
Terrorism on the Iberian Peninsula: Basque and the ETA 244
Québécois Consciousness and the Turbulent 1960s 245
The Zapatista Uprising and Indigenous Languages in Chiapas 247
Final Note: The Parsley Massacre in the Dominican Republic 249
Language Profile: Tamil (Dravidian) 250
Exercises 254
Discussion Questions 255
Notes 256
References 257
Further Reading 257
Part IV Effects of Time
Introductory Note: On Time 259
10 The Remote Past: Language Becomes Embodied 261
Look There! 261
Seeking Linguistic Bedrock 262
The Primate Body and Human Adaptations to Language 263
Evolution in Four Dimensions 269
The Genetic Story 270
Grammatical Categories and Deep-Time Linguistics 275
Complexity and the Arrow of Time 279
Final Note: The Last Stone Age Man in North America 282
Language Profile: !Xóõ [Taa (Khoisan)] 283
Exercises 288
Discussion Questions 288
Notes 289
References 290
Further Reading 291
11 The Recorded Past: 'Catching Up to Conditions' Made Visible 292
Mongolian Horses 292
Chapter 3: The Invariable Word in English 294
Chapter 4: The Shift to Head-Marking in French 295
Chapter 5: Writing and e-Arabic 299
Chapter 6: Mongolian Cases 301
Chapter 7: Reformulating Hawaiian Identity 304
Chapter 8: Varieties of Chinese – Yesterday and Today 306
Chapter 9: Juba Arabic Pidgin, Nubi, and Other African Creoles 310
Final Note: Language Change in Progress 313
Language Profile: ìîíãîë õçë [Mongolian (Mongolic)] 315
Exercises 320
Discussion Questions 321
Notes 322
References 323
Further Reading 323
12 The Imagined Future: Globalization and the Fate of Endangered Languages 324
Gold in the Mayan Highlands 324
Beyond the Nation-State: The Globalized New Economy 325
Money Talks: What Language Does It Speak? 327
When the Language Loop Unravels 329
Language Hotspots 332
Rethinking Endangerment 334
Technology to the Rescue 336
Anishinaabemowin Revitalization in Wisconsin 339
What Is Choice? 341
Final Note: Our Advocacies 342
Language Profile: K'iche' [Quiché (Mayan)] 342
Exercises 347
Discussion Questions 349
Notes 350
References 350
Glossary 353
Subject Index 359
Language Index 373
See More
Julie Tetel Andresen is Professor of English and former Chair of Linguistic at Duke University. A linguistic historiographer focusing on French, German, British, and American theories of language from the eighteenth to the twenty-first centuries, she is the author of Linguistics and Evolution: A Developmental Approach (2013) and Linguistics in America 1769–1924: A Critical History (1996).

Phillip M. Carter is Assistant Professor of English and Linguistics at Florida International University. Specializing in immigrant and ethnolinguistic minority communities in the Unites States, his work on the language varieties and cultural practices of U.S. Latinos has been published in leading journals, including Language in Society, English Worldwide, Journal of Sociolinguistics, American Speech, and Language in Linguistics Compass.
See More