Ancient Greek Civilization, 3rd Edition
ISBN: 978-1-119-09815-7
336 pages
October 2016, Wiley-Blackwell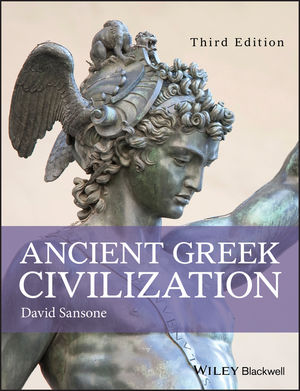 The third edition of Ancient Greek Civilization is a concise, engaging introduction to the history and culture of ancient Greece from the Minoan civilization to the age of the Roman Empire.
Explores the evolution and development of Greek art, literature, politics, and thought across history, as well as the ways in which these were affected by Greek interaction with other cultures
Now includes additional illustrations and maps, updated notes and references throughout, and an expanded discussion of the Hellenistic period
Weaves the latest scholarship and archeological excavations into the narrative at an appropriate level for undergraduates
See More
List of Figures vii
List of Maps xi
List of Timelines xiii
Foreword: Looking Backward xv
1 The Greeks and the Bronze Age 1
2 Iron Age Greece 29
3 The Poems of Hesiod and Homer 49
4 Poetry and Sculpture of the Archaic Period 67
5 Symposia, Seals, and Ceramics in the Archaic Period 87
6 The Birth of Philosophy and the Persian Wars 107
7 Setting the Stage for Democracy 125
8 History and Tragedy in the Fifth Century 147
9 The Peloponnesian War: A Tale of Thucydides 167
10 Stage and Law Court in Late Fifth-century Athens 191
11 The Transformation of the Greek World in the Fourth Century 211
12 Greek Culture in the Hellenistic Period 233
Afterword: Looking Forward 263
Glossary 283
Index 287
See More
David Sansone is Professor Emeritus of Classics at the University of Illinois at Urbana-Champaign. He is a former editor of Illinois Classical Studies, served on the editorial boards of Classical Philology and Bryn Mawr Classical Review, and been a member of the Board of Directors of the American Philological Association. While his research focuses on Greek literature of the Classical Period, his publications include work on such subjects as textual criticism, theories of the origin of sport, Bronze Age iconography, John Milton, and Richard Wagner. He is the author of Greek Athletics and the Genesis of Sport (1988), Plutarch: Lives of Aristeides and Cato (1989), and Greek Drama and the Invention of Rhetoric (Wiley Blackwell, 2012).
See More