Counselling Psychology: An Introduction
ISBN: 978-1-119-10686-9
472 pages
September 2017, Wiley-Blackwell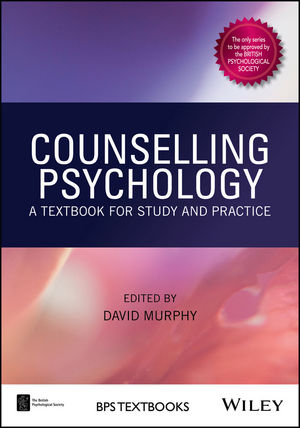 A complete introduction to the theory and practice of contemporary counseling psychology
An excellent resource for students at undergraduate or graduate level, Counselling Psychology: A Textbook for Study and Practice provides valuable insights into the key issues associated with theory and practice in this field. The contributors represent a diverse array of approaches, reflecting the rich diversity within the area, and care is taken to avoid favoring any one approach. The book begins with an overview of the historical and philosophical foundations of counseling psychology, before taking a detailed look at major therapeutic approaches and exploring issues associated with specific client populations, ethics, research design and more. In particular, the text seeks to explain how counseling psychology differs from and informs other areas of contemporary applied psychology. The result is an engaging balance of the personal and academically rigorous, presented in a highly accessible format.
An authoritative introduction to and key issues involved with the theory and practice of counseling psychology for students and practitioners at all levels
Considers all major approaches to psychotherapy including existential, person-centered, experiential, psychodynamic, and cognitive-behavioral
Explores issues commonly encountered when working with specific client groups including children, people with intellectual disabilities, and emergency trauma victims
A BPS Textbook in Psychology, accredited by the British Psychological Society
See More
About the Contributors xi
Foreword xix
PART 1 Introduction and Foundations 1
CHAPTER 1 Introduction to the Textbook on Counselling Psychology 3
David Murphy
CHAPTER 2 A History of British Counselling Psychology 8
Alan Frankland
CHAPTER 3 Counselling Psychology: Assumptions, Challenges, and Aspirations 22
Stephen Joseph
CHAPTER 4 Philosophical Issues in Counselling Psychology 36
Simon du Plock
PART 2 Approaches to Counselling Psychology 53
CHAPTER 5 Existential Counselling Psychology 55
Elaine Kasket
CHAPTER 6 Person-Centred Experiential Counselling Psychology 72
David Murphy
CHAPTER 7 Psychodynamic Counselling Psychology 88
Andrea Halewood
CHAPTER 8 Cognitive-Behavioural Counselling Psychology 104
Windy Dryden
CHAPTER 9 Transpersonal Counselling Psychology 120
John Rowan
CHAPTER 10 Pluralistic Counselling Psychology 134
Terry Hanley, Laura Winter, John McLeod, and Mick Cooper
CHAPTER 11 Psychotherapy Integration for Counselling Psychology 150
Michael J. Lambert and John C. Norcross
PART 3 Working with Client Groups 169
CHAPTER 12 Counselling Psychology for Children and Young People 171
Terry Hanley, Jasmina Frzina, and Nafeesa Nizami
CHAPTER 13 Counselling Psychologists Working with People with Special Needs and Disabilities 185
Anne Emerson
CHAPTER 14 Counselling Psychology for Clients with Asperger Syndrome 200
Anja Rutten
CHAPTER 15 Counselling Psychology for Trauma in Emergency Services Occupations 214
Noreen Tehrani
PART 4 Socio-cultural Issues 229
CHAPTER 16 Sexualities in Counselling Psychology 231
Eric E. Arnold and Melanie E. Brewster
CHAPTER 17 Social Class in Counselling Psychology 249
William Ming Liu and Alex J. Colbow
CHAPTER 18 Issues of Race and Ethnicity in Counselling Psychology 265
Ohemaa Nkansa-Dwamena
CHAPTER 19 Gender in Counselling Psychology 281
Meg-John Barker and Christina Richards
PART 5 Professional Issues 297
CHAPTER 20 Developing Ethical Awareness Whilst Training to Be a Counselling Psychologist 299
Pam James
CHAPTER 21 Practice Ethics for Counselling Psychology 315
Dee Danchev
CHAPTER 22 The Politics of Counselling Psychology 330
Colin Feltham and Richard House
CHAPTER 23 Supervision in Counselling Psychology 346
Mary Creaner and Ladislav Timulak
CHAPTER 24 Training in Counselling Psychology 361
Ewan Gillon, Ladislav Timulak, and Mary Creaner
PART 6 Research in Counselling Psychology 377
CHAPTER 25 Research Ethics in Counselling Psychology 379
Dee Danchev
CHAPTER 26 An Introduction to Qualitative Research in Counselling Psychology 394
John McLeod
CHAPTER 27 An Introduction to Quantitative Research in Counselling Psychology 408
Duncan Cramer
CHAPTER 28 Hermeneutic Single Case Efficacy Design for Counselling Psychology 425
Robert Elliott and Mark Widdowson
CHAPTER 29 Theory-Building Case Studies for Counselling Psychology 439
William B. Stiles
Index 453
See More
David Murphy Ph.D., CPsychol., AFBPsS., is a person-centered experiental psychotherapist wit a particular interest in the field of trauma, and the Course Director for the Master's program in person-centered counselling and psychotherapy at the University of Nottingham, UK. He previously held the position of Honorary Psychologist in Psychotherapy and the Centre for Trauma, Resilience and Growth, Nottingham Healthcare HHS Trust.
See More
More in this series