Business Funding For Dummies
ISBN: 978-1-119-11159-7
432 pages
April 2016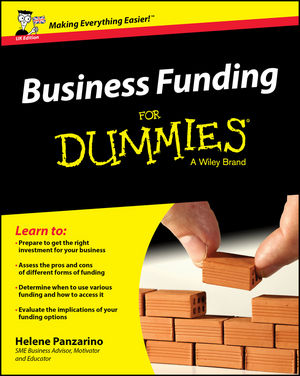 Get the business funding you need to secure your success
The issue of funding is one of the biggest pain points for small- and medium-sized businesses—and one that comes up on a daily basis. Whether you're unsure about how to go about getting a loan, unfamiliar with the different options available to you or confused as to which would be the right solution for your particular business, Business Funding For Dummies provides plain-English, down-to-earth guidance on everything you need to successfully fund your business venture.
Friendly, authoritative, and with a dash of humor thrown in for fun, this hands-on guide takes the fear out of funding and walks you step-by-step through the process of ensuring your business is financially viable. From crowd funding and angels to grants and friends, families, and fools, it covers every form of funding available—and helps you hone in on and secure the ones that are right for your unique needs.
Includes mini case studies, quotes, and plenty of examples
Offers excerpts from interviews with financiers and entrepreneurs
Topics covered include all forms of funding
Covers angels in the UK and abroad
If you're the owner or director of a small-to-medium-sized business looking to start an SME, but have been barking up the wrong tree, Business Funding For Dummies is the fast and easy way to get the funds you need.
See More
Introduction 1
Part I: Getting Started on Funding Your Business 7
Chapter 1: Preparing for Funding at Any Stage of Growth 9
Chapter 2: Recognising the Stages of Business Funding 25
Chapter 3: Preparing the Groundwork for Raising Funds 49
Chapter 4: Becoming Investment Ready 105
Chapter 5: Loving the Paperwork: Preparing Your Business Plan 107
Chapter 6: Creating a Winning Pitch 125
Chapter 7: Making a Successful Pitch 143
Chapter 8: Getting Help 161
Part III: Exploring Your Funding Options 175
Chapter 9: Finding Free Money 177
Chapter 10: Securing Early-Stage Funding 193
Chapter 11: Securing Accelerator Finance 211
Chapter 12: Considering Debt and Other Bank Funding 225
Chapter 13: Understanding Equity Funding 249
Chapter 14: Considering Alternative Finance 273
Part IV: Going for Growth 299
Chapter 15: Measuring Performance 301
Chapter 16: Getting a Mentor 325
Chapter 17: Exploring Strategies for Growth 339
Part V: The Part of Tens 363
Chapter 18: Ten (Plus One) Pitfalls to Avoid 365
Chapter 19: Ten Things Funders Don't Tell You 375
Chapter 20: Ten (Plus One) Terms You Need to Know before Raising Start-Up Capital 383
Index 391
See More
Helene Panzarino is an entrepreneur, educator, mentor and advisor with nearly twenty years of experience helping thousands of SMEs understand, prepare for, and access traditional and alternative funding options at all stages in their business growth. A frequent round table participant, media guest, and event speaker, Helene combines hands-on experience with theoretical know-how, and a passion to share this with the wider community.
See More