Personal Finance For Dummies, 8th Edition
ISBN: 978-1-119-11429-1
480 pages
December 2015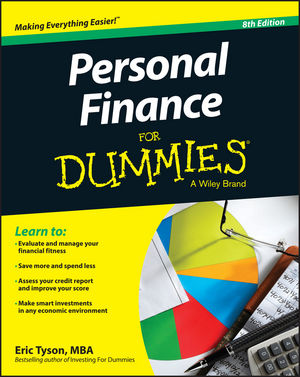 Understand personal finance and put your money to work!
Is your money working to increase your wealth? If not, it's time to take stock of your financial situation. Personal Finance For Dummies, 8th Edition offers time-tested financial tips and advice on how to continue to grow your financial assets in light of the changing market and economic conditions. A new breed of fiscal consciousness has arisen—and it's high time for you to join the movement by taking control over your financial life. This relevant text guides you through major financial subject areas, such as budgeting, saving, getting out of debt, making timely investment choices, and planning for the future. By looking at all aspects of your financial wellbeing, you can pinpoint the areas in which you need to change your strategy, and can identify how you can use the assets you have to continue to grow and protect your wealth.
Personal finance is an important topic, as your financial wellbeing has an integral impact on so many aspects of your life. Taking the pulse of your finances every now and then is critical to ensuring that you're on the right track—and to identifying the areas in which you can improve your financial strategies.
Explore time-tested financial tips and advice that help improve your financial wellbeing
Consider how different aspects of your financial life work with and against one another, and how to bring them into alignment to enhance your overall financial situation
Discover updated recommendations and strategies that account for changing market and economic conditions
Look at your financial situation from a new perspective, and understand what you can do to improve it
Personal Finance For Dummies, 8th Edition shows you how to take stock of your financial situation and put your money to work.
See More
Introduction 1
Part I: Getting Started with Personal Finance 5
Chapter 1: Improving Your Financial Literacy 7
Chapter 2: Measuring Your Financial Health 19
Chapter 3: Managing Where Your Money Goes 39
Chapter 4: Establishing and Achieving Goals 51
Part II: Spending Less, Saving More 71
Chapter 5: Dealing with Debt 73
Chapter 6: Reducing Your Spending 91
Chapter 7: Trimming Your Taxes 119
Part III: Building Wealth through Investing 143
Chapter 8: Considering Important Investment Concepts 145
Chapter 9: Understanding Your Investment Choices 173
Chapter 10: Investing in Funds 193
Chapter 11: Investing in Retirement Accounts 211
Chapter 12: Investing in Taxable Accounts 233
Chapter 13: Investing for Educational Expenses 247
Chapter 14: Investing in Real Estate: Your Home and Beyond 259
Part IV: Insurance: Protecting What You Have 299
Chapter 15: Insurance: Getting What You Need at the Best Price 301
Chapter 16: Insurance on You: Life, Disability, and Health 319
Chapter 17: Covering Your Assets 347
Part V: Where to Go for More Help 361
Chapter 18: Working with Financial Planners 363
Chapter 19: Using Technology to Manage Your Money 381
Chapter 20: On Air and in Print 393
Part VI: The Part of Tens 399
Chapter 21: Survival Guide for Ten Life Changes 401
Chapter 22: Ten Tactics to Thwart Identity Theft and Fraud 415
Glossary 421
Index 437
See More
Eric Tyson (www.erictyson.com) is an internationally acclaimed and best-selling personal finance book author, syndicated columnist, and speaker. He is also the author of Investing For Dummies and coauthor of Home Buying Kit For Dummies, both national bestsellers.
See More