The Power of Example: Anthropological Explorations in Persuasion, Evocation and Imitation
ISBN: 978-1-119-11832-9
212 pages
July 2015, Wiley-Blackwell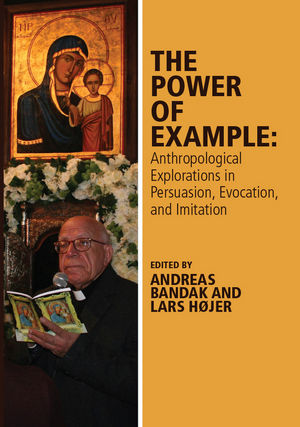 The Power of Example is an interdisciplinary examination of the integral role that examples and exemplification play in anthropological theory and practice.
Explores the evocative and persuasive power, both positive and negative, of 'exemplary examples' in social life
Includes contributions from established and up-and-coming anthropologists, as well as leading scholars of religious and cultural studies
Features an international array of case studies on exemplification from Left radical activists in Denmark to scientific metrological practice in Brazil
See More
Notes on Contributors
Introduction: the power of example (Lars Højer and Andreas Bandak)
Ritual, value, and example: on the perfection of cultural representations (Joel Robbins)
The burden of being exemplary: national sentiments, awkward witnessing, and womanhood in occupied Palestine (Lotte Buch Segal)
Exemplary series and Christian typology: modelling on sainthood in Damascus (Andreas Bandak)
Double standards: examples and exceptions in scientific metrological practices in Brazil (Antonia Walford)
Revolution is the way you eat: exemplification among left radical activists in Denmark and in anthropology (Stine Krøijer)
The failed image and the possessed: examples of invisibility in visual anthropology and Islam (Christian Suhr)
Paradoxical paradigms: moral reasoning, inspiration, and problems of knowing among Orthodox Christian monastics (Alice Forbess)
How to do things with examples: Sufis, dreams, and anthropology (Amira Mittermaier)
Anthropological tropes and historical tricksters: pilgrimage as an 'example' of persuasion (Simon Coleman)
Of figures and types: brokering knowledge and migration in Indonesia and beyond (Johan Lindquist)
Index
See More
Andreas Bandak is an Assistant Professor in the Department of Cross-Cultural and Regional Studies at the University of Copenhagen. Co-editor of Qualitative Analysis in the Making (with Daniella Kuzmanovic, 2014), Dr. Bandak has published articles in an array of prestigious peer-reviewed journals, including Current Anthropology, Ethnos, and Religion and Society. His research focuses on Christian minorities in Syria, where he has done extensive fieldwork in and around Damascus, and he is currently working on effects of the Syrian conflict in Lebanon.
Lars Højer is an Associate Professor in the Department of Cross-Cultural and Regional Studies at the University of Copenhagen. He is the project leader of 'Escalations: A Comparative Ethnographic Study of Accelerating Change', a three-year project funded by the Danish Council for the Independent Research│Humanities that includes Dr. Højer's own research on the social, economic, religious,and political aspects of transition processes in urban and rural post-socialist Mongolia. He has published in a number of prominent peer-reviewed journals, including Journal of the Royal Anthropological Institute, Ethnos and Social Anthropology.
See More
More in this series