E-book
Communications Writing and Design: The Integrated Manual for Marketing, Advertising, and Public Relations
ISBN: 978-1-119-11892-3
216 pages
March 2017, Wiley-Blackwell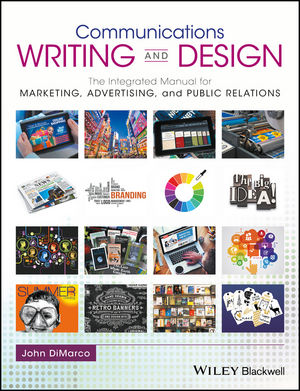 Communications Writing and Design is an integrated, project-based introduction to effective writing and design across the persuasive domains of communication.
Build a strong foundation of core writing and design skills using professionally-designed examples that illustrate and reinforce key principles
Readers learn and analyze techniques by creating 15 projects in marketing, advertising, PR, and social media with the help of strategy suggestions, practical tips, and professional production techniques
Written by an experienced professional and teacher, with a focus on the cross-disciplinary nature of contemporary communication work
Learning is reinforced through a variety of pedagogical features: learning objectives, helpful mnemonics, real-life projects and applications, chapter references for further study, and end-of-chapter summaries and exercises
A companion website with multimedia slides, exam questions, learning videos, and design guides provides additional learning tools for students and instructors
See More
Acknowledgements vii
Foreword ix
Preface xi
1. The Connectivity between Research, Writing, and Design 1
2. Writing Technical, Persuasive, and News Communication 9
3. Communication Design 45
4. Creative Research Methods 83
5. Design Tools 103
6. Marketing Projects 123
7. Advertising Projects 145
8. Public Relations Projects 163
9. Social Media for Marketing, Advertising, and Public Relations 191
Index 199
See More
John DiMarco, Ph.D, is Associate Professor of Communications at St. John's University in New York, USA, as well as creator and founder of PortfolioVillage.com. For over 20 years, he has provided technical writing, public relations, marketing, graphic design, instructional design, and training in his own firms, DiMarco Associates and PortfolioVillage, Inc.,and for organizations including Long Island University and CANON, USA. His research interests include digital media, design thinking, persuasion, and creativity. He has published numerous articles and chapters, as well as the books: Career Power Skills (2013), Digital Design for Print and Web (Wiley, 2010), Web Portfolio Design and Applications (2006), and Computer Graphics and Multimedia (2006).
See More