Clinical Anaesthesia, 5th Edition
ISBN: 978-1-119-11982-1
192 pages
September 2016, Wiley-Blackwell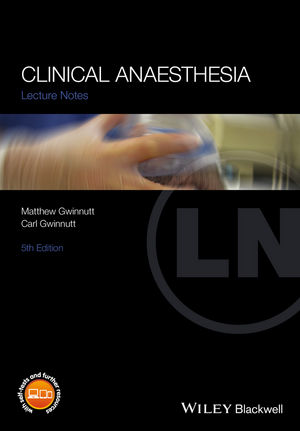 Clinical Anaesthesia Lecture Notes provides a comprehensive introduction to the modern principles and practices of anaesthesia for medical students, trainee doctors, anaesthetic nurses and other health professionals working with anaesthetists. This fifth edition has been fully updated to reflect changes in clinical practice, guidelines, equipment and drugs.
Key features include:
• A new chapter on the roles of the anaesthetist
• Increased coverage of the peri-operative management of the overweight and obese patient, as well as an introduction to the fundamental aspects of paediatric anaesthesia
• Coverage of recent developments within the specialty, including the rapidly growing recognition of the importance of non-technical skills (NTS), and the management of some of the most common peri-operative medical emergencies
• Links to further online resources
• A companion website at www.lecturenoteseries.com/anaesthesia featuring interactive true/false questions, SAQs, and a list of further reading and resources
Full-colour diagrams, photographs, as well as learning objectives at the start of each chapter, support easy understanding of the knowledge and skills of anaesthesia, allowing confident transfer of information into clinical practice.
See More
Contributors vi
Preface vii
Acknowledgements viii
Abbreviations ix
About the companion website xii
1 An introduction to anaesthesia 1
2 Anaesthetic assessment and preparation for surgery 7
3 Anaesthetic equipment and monitoring 25
4 Drugs and fluids used during anaesthesia 45
5 The practice of general anaesthesia 64
6 Local and regional anaesthesia 90
7 Specialized areas of anaesthesia 99
8 Recovery from anaesthesia 110
9 Perioperative medical emergencies: recognition and management 132
Index 172
See More
Matthew Gwinnutt MB ChB (Hons) FRCA, Specialist Trainee in Anaesthesia, Health Education North West, Mersey School of Anaesthesia, UK.

Carl Gwinnutt, MB BS MRCS LRCP FRCA, Emeritus Consultant, Salford Royal Hospitals NHS Foundation Trust, UK.
See More
"Anesthesiology can sometimes appear abstract to the undergraduate student, but Lecture Notes: Clinical Anesthesia would seem to be the bookto demystify the topic and engage this group of readers. This textbook is aimed at physicians' assistants and operating department practitioners in addition to medical students.
This book is perfectly pitched to the novice in terms of structure and content. It is a thin and light book that covers the breadth of our specialty succinctly while still giving adequate attention to detail. Chapters are laid out in an intuitive fashion cover pharmacology, equipment, and the practice of general anesthesia, followed by a chapter dedicated to subspecialized areas of anesthesia. The authors have included topics that reflect the broader role of the modern anesthesiologist as a perioperative physician, specifically preoperative risk stratification, postoperative pain management, and the nontechnical skills necessary for anesthesia practice.......Information is attractively presented, and good use is made of illustrations, especially in the section on maintaining the airway and decision making in relation to this.....Online guidelines and major anesthesia society websites are referenced throughout the text. The hyperlinked references that are provided make the ebook version very useful for quick referral and to access further reading material....Lecture Notes: Clinical Anesthesia is a well-thought-out book that serves as an excellent introductory anesthesia text". (Anesthesia & Analgesia- Jan 17)
See More
More in this series