E-book
The Hard Hat: 21 Ways to Be a Great Teammate
ISBN: 978-1-119-12013-1
128 pages
April 2015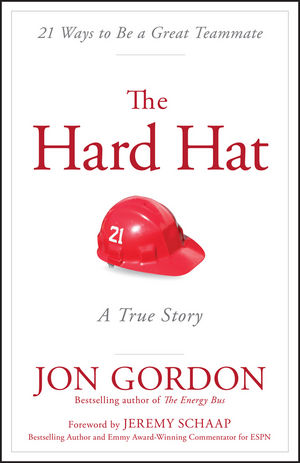 Great teammates don't just impact you today; they impact you for the rest of your life.
From the moment Jon Gordon heard about George Boiardi and the Hard Hat he was intrigued and captivated. Over the years he visited George's coaches, attended several "21 Dinners" held in his honor, met his family, talked to his teammates and observed how he inspired all who knew him.
The Hard Hat is an unforgettable true story about a selfless, loyal, joyful, hard-working, competitive, and compassionate leader and teammate, the impact he had on his team and program and the lessons we can learn from him.
The book features:
A True Story about George Boiardi, his Team and their Legacy.
21 Lessons to be a Great Teammate
Insights from George's Teammates and Coaches that Bring the Lessons to Life.
21 Exercises to help you Build a Great Team
Infused with practical insights and life changing lessons, The Hard Hat will inspire you to be the best teammate you can be and to build a great team.
*100% of author's royalties go to support the Mario St. George Boiardi Foundation
See More
Foreword by Jeremy Schaap ix
Author's Note xiii
Part One The Hard Hat 1
Chapter 1 Unforgettable 3
Chapter 2 We Know Who Our People Are 5
Chapter 3 The Hard Hat 7
Part Two George (Narrated by Coach Jeff Tambroni) 9
Chapter 4 Mario St. George Boiardi 11
Chapter 5 Well Done Is Better than Well Said 13
Chapter 6 Chosen 15
Chapter 7 Selfless Leadership 17
Chapter 8 A Difference Maker 21
Chapter 9 The Heart of a Leader 25
Chapter 10 A Mother's Touch 27
Chapter 11 A Defining Moment 29
Chapter 12 The Spirit of a Team 33
Part Three How to Be a Great Teammate 37
Chapter 13 George's House 39
Chapter 14 Learning from George 43
Chapter 15 21 Ways to Be a Great Teammate 47
1. Sweat More 48
2. Remember WD > WS 49
3. Choose to Be Humble and Hungry 50
4. Pursue Excellence 51
5. Share Positive Contagious Energy 52
6. Don't Complain 54
7. Do It for Your Team, Not for Applause 55
8. Show You Are Committed 56
9. Never Take a Play Off 57
10. Hold Yourself and Your Team Accountable 58
11. Treat Everyone with Respect and Expect Everyone to Do the Same 60
12. Give All and Take Nothing 61
13. Communicate 62
14. Connect 63
15. Become a "Come with Me" Teammate 64
16. Practice Selfless Compassion 65
17. Show You Care 66
18. Be a Loyal Friend 68
19. Love Your Team 69
20. Sacrifice 70
21. Leave the Place Better than You Found It 72
Chapter 16 21: A Way of Life (Narrated by Rob Pannell) 75
Part Four Legacy 77
Chapter 17 Great Teammates Impact You Forever 79
Chapter 18 Live and Lead Like George 81
Chapter 19 What Would George Do? 87
Chapter 20 A Hall of Fame Legacy 89
Chapter 21 21 Exercises to Build a Great Team 91
Afterword 97
The Mario St. George Boiardi Foundation 101
Photos 103
Become A Great Teammate 111
Build Your Best Team 112
Other Books by Jon Gordon 113
See More
JON GORDON is the author of numerous bestselling books and his inspirational talks have inspired audiences around the world. His principles have been put to the test by countless Fortune 500 companies, school districts, hospitals, sports teams, and nonprofits. Jon invites you to visit and connect with him at JonGordon.com or on Twitter @JonGordon11.
See More