E-book
Samsung Galaxy S6 for Dummies
ISBN: 978-1-119-12062-9
320 pages
June 2015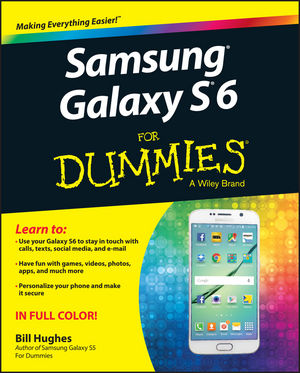 Explore the capabilities of your Samsung Galaxy S 6 with this definitive guide!
Learning to use a new phone can be both difficult and frustrating. With confusing documentation and baffling support, the references provided by phone manufacturers can be intimidating. Enter Samsung Galaxy S 6 For Dummies! This extensive yet practical guide walks you through the most useful features of your new Samsung Galaxy S 6—and it shows you all the best tricks to getting the most out of your device. With an accessible and fun, yet informative writing style, this is a text that you'll refer to again and again as you explore the capabilities of your new smartphone!
Samsung is the largest phone manufacturer in the world, so it's no wonder that its flagship smartphone products—the Galaxy S line—have made quite a splash. Built around the Android operating system, the Galaxy S 6 is so much more than a phone, it is a mobile device with endless capabilities, so why not explore and use that functionality?
Set up and configure your new smartphone to fit your needs and preferences
Review the phone's features and capabilities
Access key functionality, such as texting, emailing, accessing the internet, using navigation, capturing photos and videos, social networking, watching movies, downloading apps, securing and synching your phone with your PC
Expand the capabilities of your Samsung Galaxy S 6 by downloading new software upgrades
Samsung Galaxy S 6 For Dummies clearly explains the features and capabilities of your new phone—and will have you up and running on your smartphone in no time!
See More
Introduction 1
Part I: Getting Started with the Samsung Galaxy S6 7
Chapter 1: Exploring What You Can Do with Your Phone 9
Chapter 2: Beginning at the Beginning 23
Part II: Communications 49
Chapter 3: Calling People 51
Chapter 4: Discovering the Joy of Text 65
Chapter 5: Sending and Receiving E?]mail 75
Chapter 6: Managing Your Contacts 95
Part III: Live on the Internet: Going Mobile 111
Chapter 7: You've Got the Whole (Web) World in Your Hands 113
Chapter 8: Playing in Google's Play Store 125
Part IV: Entertainment Applications 147
Chapter 9: Sharing Pictures 149
Chapter 10: Playing Games 167
Chapter 11: Mapping Out Where You Want to Be 177
Chapter 12: Playing Music and Videos 189
Part V: Productivity Applications 209
Chapter 13: Using the Calendar 211
Chapter 14: On the Road Again: Taking Your Work with You on Your Phone 223
Chapter 15: Talking with S?]Voice 235
Part VI: The Part of Tens 243
Chapter 16: Ten Ways to Make Your Phone Totally Yours 245
Chapter 17: Ten Ways to Make Your Phone Secure 257
Chapter 18: Ten Features to Look for Down the Road 275
Index 283
See More
Bill Hughes is an experienced marketing strategy executive with over two decades of experience in sales, strategic marketing, and business development. Bill has worked with Microsoft and has also led initiatives to develop new products and solutions with several high-level technology organizations.
See More